Written by: Greg Ellifritz
This series consists of the details of recent shooting practice sessions I have completed.  It is my hope that by sharing some of my practice routines, more shooters will be inspired to add structured drills with measurable progress standards into their own practice sessions.
-Greg
My stated practice plan this year was to begin each session with the Guerilla Approach Consistency Drill.  I ran the drill three times with my Glock 17 pistol.  It was pretty ugly.
Round 1-  with four misses = 22.94
Round 2-  with four misses = 21.60
Round 3- with two misses = 23.82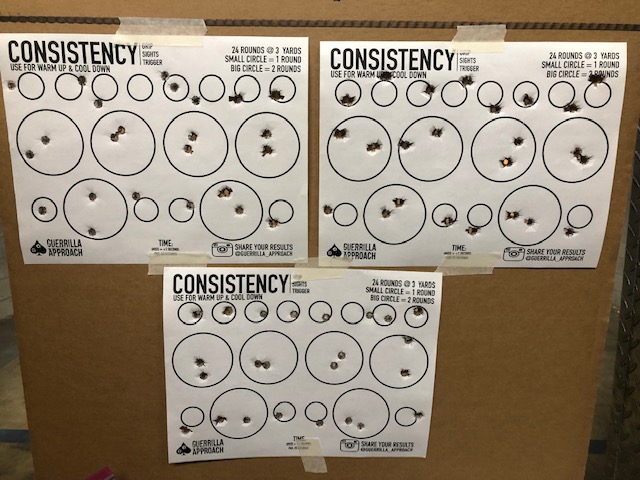 Last week was the first time I'd run all three attempts under the par time of 25 seconds.  This week is the first time in seven months that I've failed all three attempts.  Oh well.  Sometimes the range gods aren't smiling.
I ran a quick 15-minute shooting practice today after the Consistency drills:
I started with the Hardwire Tactical Super Test run with Glock 17 duty gun. I ended up with a 281/300. That isn't horrible (270 is a passing score), but it isn't my best performance either.  I really like the Trijicon XDR sights on my pistol.  The only thing I don't like is the more dramatic point of impact change at longer ranges.  At about 15 yards and farther, I have to adopt a six o'clock hold on the bullseye.  I regularly forget that and send some shots high.
After I fired the drill with my duty pistol, I did the drill's younger brother the Hardwire Tactical Snubby Super Test with my Glock 42 (I know it isn't a snubby). 140/150.
As I am going down to Costa Rica next week, I wanted to get some revolver practice in.  The most commonly carried gun in Latin American countries is a four inch .38 revolver.  I always try to brush up on my revolver skills before I travel in the region just in case.
I picked out my favorite revolver (a Smith and Wesson pre-model 27 with 31/2 inch barrel) and ran the Snubby Super test once with .38 ammo and once with the gun loaded with .357 magnum ammo.  I scored 138 with the .38 loads and 139 with the magnums.  I think the score difference was based on the fact that I performed the .38 run first and that served as a "warm up" for the magnums.
I used the remaining rounds left in the G17 mags to run some Bill Drills at 20 feet.  I shot the remaining rounds from the G42 mags single handed at the same range.
Rounds fired:
131 rounds 9mm Glock 17
30 rounds .380 Glock 42
30 rounds .38 and .357 magnum S&w pre-27