Written by: Greg Ellifritz
My friend Claude Werner recently wrote an article where he postulated most shooters don't do any real structured practice with their firearms.  They plink or play, but they generally don't perform drills designed with realistic standards in order to improve performance.  In the article, Claude talked about sharing details and photos of his practice routines to give novice shooters an idea about how they might better spend their practice time.
I think that is a wonderful idea.  I plan on sharing the drills I shoot in my weekly practice sessions.  Hopefully, you will get a little value out of my posts.
Today's practice drill started with the "standard" drill with which I am starting off all of this year's practice sessions.  I shot the Guerrilla Approach Consistency target two times with my Glock 17.  I did much better than I shot it last week.
The first run was 23.96 with 3 misses for a total time of 26.96
The second run was 23.64 with three misses for a total time of 26.64.
I'm closing in on that 25 second par time!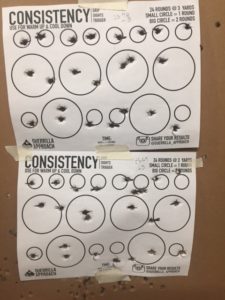 After that, I decided I needed to work on some mid range accuracy and speed drills.  I also wanted to work on some one hand shooting.  The drill I chose to accomplish this goal was a  version of Ken Hackathorn's "The Test."   All rounds fired at 10 yards on a B-8 center from the ready position,  it has three stages:
– 10 rounds with both hands in 10 seconds
–  5 rounds in 10 seconds, right hand only.
– 5 rounds in 10 seconds, left hand only.
20 rounds total. Possible score= 200.
I ran this drill four times.  I didn't score each individual stage.  My goal was to keep as many rounds as possible in the black and all of the rounds in the scoring ring.  I kept all in the rings.  66 out of the 80 shots stayed in the black.  I'm pretty happy with that.  Most of my shots outside the black were with my left hand.  I'm going to have to do more left handed shooting in future sessions.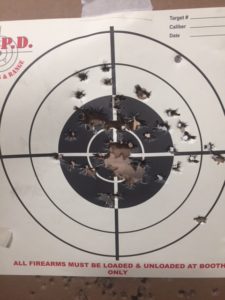 That was 128 total rounds out of my Glock 17.
I finished up the session as I usually do by choosing a drill from Claude Werner's book Indoor Range Practice Sessions to shoot with one of my backup guns.
Today I shot my Glock 42 .380 on  the New Mexico Handgun License Competency demonstration.  Instead of shooting it on a full sized target, I used a B-8 Bullseye.  I also shot it as fast as I could while attempting to keep all the rounds in the black.  The drill is as follows:
Procedure – You will fire 15 rounds from three yards and 10 rounds from seven yards.
a. Place the target at 3 yards.
b. Load with a maximum of 15 rounds. Come to Low Ready. When ready, raise the pistol and fire 15 rounds, reloading as necessary.
c. Bring the target back and mark your hits with masking tape.
d. Send the target out to 7 yards. Load with a maximum of 10 rounds. Come to Low Ready. When ready, raise the pistol and fire 10 rounds, reloading as necessary.
e. Bring the target back and count your hits.
J. Success measurement – You must have eighteen (18) hits within the 12″ x 18″ box to pass the competency demonstration. Hits on the silhouette outside the box do not count.
I fired these 25 rounds and then had three rounds left over in a magazine.  I fired those three right handed only at seven yards.  28 rounds total and all but two stayed in the black.  I'll take that from my little .380.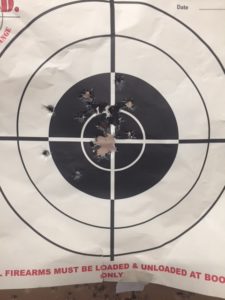 I did have a strange malfunction with the gun that I hadn't seen before.
Muzzle is down in the photo. Round is stuck vertically in the chamber and down the mag well.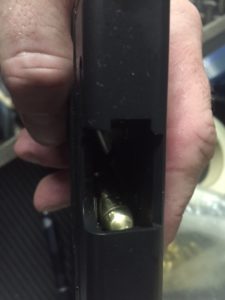 Second to last round in mag. The round fired before this one ejected, but slide didn't fully go into battery on this round.
Tap rack. Slide still not in battery. Mag out. Rack rack. Ends up with cartridge trapped this way.  Odd.
Overall, 128 rounds out of the G-17 and 28 out of the G-42 today.  I'll post another practice session next week.