Written by Greg Ellifritz
One of the students in last weekend's Extreme Close Quarters Gunfighting class wrote an exceptional after action review.  If you are curious about the topics I cover in a class like this, please check out the link below.  Thanks to Salvatore for taking the time to write such a detailed review.
AAR: Extreme Close Range Gun Fighting with Greg Ellifritz
"The reason I so highly recommend Greg as a trainer is his versatility. Most good trainers tend to be very focused on a particular skill set: a shooter, a knife expert, a combatives guy, whatever.  Greg does it all.  Literally.  He teaches shooting, knife, impact weapons, combatives, dealing with the threat of explosives, and medical.  I can also attest to the fact that he is not just a "jack-of-all-trades."  Greg is very skilled in all of these fields.  So, this gamut of skill and experience gives him a perspective on integrating these various elements into the "whole" of self-defense and self-preparedness that very few other trainers offer and this approach really comes through in his teaching."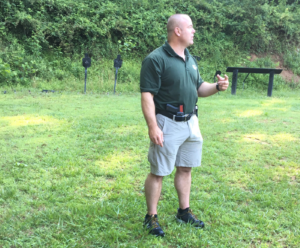 If you would like to attend a future class, check out my schedule.
If you would like to see other student reviews of my classes, check out my Class Review and Student Feedback page.