Massad Ayoob's review in American Handgunner of "Responding to the Close Range Handgun Threat" class at the 2013 Rangemaster Tactical Conference
"Ohio cop and tactical trainer Greg Ellifritz did a splendid presentation on integrating hand to hand work with belly to belly death duels, including how to stall another man's draw in time to get your gun into play, and how (and why) it's sometimes best to flow from your blocking of his gun into a disarm instead of a draw and shoot tactic.  The circumstances dictate the response."
Sgt. Chuck Humes, writing in Law Officer Magazine, June 2009:
"Time is ruthless in its ability to crush the mediocre, while spotlighting those who deserve the "quality" moniker.  Greg Ellifritz has earned such a quality reputation.  The training officer for a Central Ohio police agency, Ellifritz is an accomplished martial artist and his reputation is growing rapidly as an independent trainer and writer.  I would expect that he'll be in the forefront of the next generation of "big gun" law enforcement trainers."
Ralph Mroz writing a review about Greg's Extreme Close Quarters groundfighting class in Combat Handguns Magazine:
"Some eye opening and valuable lessons were learned about our equipment, and the limitations of our folding knives were revealed."
Dave Spaulding writing in American Cop Magazine (April 2006):
"I first saw this technique taught by Greg Ellifritz, a Columbus, Ohio area cop and one of the finest hand-to-hand and knife skills instructors I've worked with."
Course AAR: Tactical First Aid and "System Collapse" Medicine from OP-FOR.com
"Overall I really, really enjoyed the class. It really enforced the need for some empty hand skills, the off-side carry of a fixed blade and really knowing how to run your gun in a variety of environments."
 AAR of Tactical First Aid Class from Black Flamingo Tactical
"This class by far was the best course I have ever taken."
"The class was the best firearms related class I have ever taken.  I would highly recommend everyone to take this class.  I firmly believe that if you have the skills and knowledge to use a firearm to take a life; you need the skills and knowledge to save a life as well.  After taking Tactical First Aid and "System Collapse" Medicine given by Greg Ellifritz of Active Response Training, I know now that I can save a life!
A review on Op-For.com about my Tactical First Aid class:
"I give Greg Ellifritz and his Tactical First Aid and "System Collapse" Medicine course a strong thumbs-up. I like the format, I like the content, I like his delivery; I think he hit the right balance of lecture and prac-app; he gets his point across and has a deft touch with questions and explanations. As he is not a medical professional, he speaks to laymen in terms they (we!) can understand. I would and will take that class again, and I strongly recommend it to you."
Med Class AAR from Chris Kelley.org
"Really glad I spend the $ and time to go through the tactical med class today that was expertly delivered by Greg Ellifritz of Active Response Training.  My only regret is that I didn't do it sooner.  While I'm by no means a qualified medical professional, I know a lot more and at least have a chance to do some good if I'm ever in the situation where I need to."
 AAR Review of "Basic Knife for the Concealed Carry Operator" on M4Carbine.net
"He is probably one of the most well rounded instructors I have ever trained with and brings a wealth of experience to the table."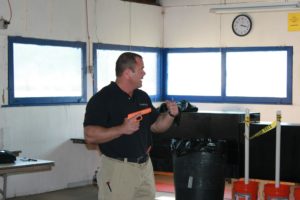 Confessions of Preparedness Junkies' Review of the "System Collapse" Tactical Medicine Class
"… I'm pretty sure I said something to the effect of "I wish someone would teach a WROL medicine class".  This class was EXACTLY that class.  I can't say "EXACTLY" strongly enough."
"Honestly, this put my EMT-B class to shame…..Freaking awesome!!"
"I would absolutely recommend this class to anyone."
Student's comments after taking TDI's Field Emergency Medicine Class
"I wanted to personally thank you for taking the time and effort to put together one of the finest courses I have ever been a part of, the Field Emergency Medicine course.  The scope of expertise and diversity of knowledge brought by the team of instructors was second to none.  I feel like I've been to medical school. In fact a good description of the class may be: The most important combat and civilian emergency medicine condensed into three intensive days."
After Action Report on "Defensive Knife for Concealed Carry" Class on Charlie-Bravo-Six
"Ellifritz presented the material in a highly professional manner with attention to the needs of the student body….Please find the time/resources in your limited training schedules to take a course with Greg Ellifritz and Active Response Training. You will not be disappointed."
Comments about TDI Knife Class hosted by Rick Hinderer on USN Forums
"We both took a lot away from your knowledge and ability to teach basic skills plus but in away that is easily understood and very retainable!"
"I took away a lot from the class and was very impressed with Greg's knowledge and ability."
"I was one who was a little nervous as I'd never taken any edged weapon training before and had no experience, but Greg is fantastic instructor and the class is very well suited for both inexperienced folk (like me) and those who've been around the block with this topic before. Well worth every penny…"
" …this class is well suited for anyone, from complete novice (myself or a young female would fell comfortable with the instruction and techniques) to someone with some self-defense training that is looking to add knife defense to their repertoire."
"The man is not only a goldmine of information but a patient and interactive individual who's always promptly and thoroughly answered my questions."
Review of Integrated Impact Weapons Class on Bladeforums.com
"More than worth the drive (4 hours) and the cost of the class. Greg is an excellent instructor …"
"The class covered way more material, all of which was well presented and students got plenty of instruction and insights….It was my first visit to TDI, won't be my last."
"The instructors were tremendous and very approachable and knowledgeable."
"Greg is an excellent instructor. His class was easy to follow, covered a lot of material during the allotted time, but not so much that the material couldn't be retained. He was very personable, kept the class fun without getting too far off topic, and was more than willing to stop for questions. I highly recommend him as an instructor, and I would love to train with him again"
Review of Greg's Police Defensive Knife Training class at TDI on Bladeforums.com
"I would recommend this class to everyone in LE and I plan on passing what I learned to my fiancé. It is really very simple and brutally effective. I had a lot of fun."
"The class was a great confidence booster and I bit of a real wakeup call."
 "…top notch training. Realistic scenarios without all the romance of other knife fighting systems."
Review of TDI's Active Shooter/Killer Class on thrumylens.org
"Greg (President of Active Response Training) is a truly talented presenter, and the breadth and depth of his knowledge base never fails to impress."
" I anticipated that Greg Ellifritz's diabolical genius would create force on force training scenarios which were both challenging and instructive – I was not disappointed."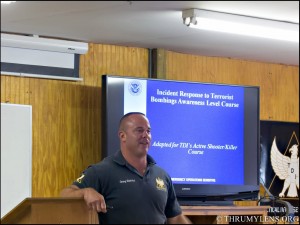 "It has been my experience that there are instructors and teachers. An instructor can provide you with information, and show you the method, a teacher will insure you gain a skill and proficiency. Greg is a teacher, he is very at ease in front of the class, personable to approach with questions during class and after and really knows his material.  He also realizes that many of us are concerned with disaster survival scenarios and brought that theorem into class, not only explaining each piece of gear we used and its shortfalls but also making us think of expedient substitutes for each item."
Review of one of Greg's Kettlebell Fitness classes (for firefighters) on ohiowrestling.net
"One of our Police Officers, Greg Ellifritz, put on a Kettlebell class for the Firefighters at my request. Greg is the resident badass cop, who is Department's training officer. Greg knows strength training and Police work. The class was great and further stoked my fire."
Review of "System Collapse" Medical Skills Class on AK47.net
"I had a great time and took several things away from this class ranging from different methods to apply an Izzy to some plants that have medicinal qualities and long term medical care. It was amazing how much information Greg was able to pack into a single day. That said I would love to see Greg do a two or even three day course. I would also like to do a class based around wilderness survival as he is obviously a wealth of knowledge on the subject.I would highly recommend this class to anyone ranging from trigger pullers to outdoorsmen to folks just wanting to know how to deal with various wounds and illnesses."
Review of Greg's TDI Knife Course at thrumylens.org
"I'll say up front that I couldn't have been more impressed with the instruction from Greg Ellifritz.  Greg has trained with most of the leading firearms and edged weapons instructors in the country, and boils that training down to a course which teaches the most practical techniques for both using a knife (fixed or folding) to defend yourself, as well as techniques for defending against a knife-wielding attacker. "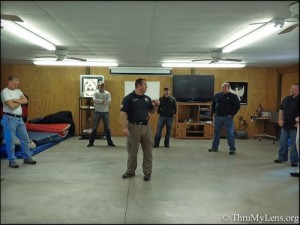 "Greg, a police instructor with thousands of hours of training in everything from knives, firearms, hand-to-hand combat and even field medicine, was knowledgeable and confident in his teaching without being cocky or overly opinionated. He was humble enough to give credit where credit was due and not pushy with his techniques. He had a likeable sense of humor but didn't let us get too far off topic before he reeled us in again. He promised he would never try to take away anything that someone had adopted to work for them and he was true to his word even praising those who had adapted different ways to accomplish a goal. We all teased him that at times he got a manically gleeful smile while sparring that indicated he had far too much fun with his job.
As a woman it's sometimes intimidating to go to a male-dominated class as sexism can be very alive and well but I felt very respected, not feared or undermined. Greg and John both listened and responded to me as an equal student to my male counterparts. While some of the other students were gentler in their sparring with me Greg gave me the training I was seeking by apply a more forceful approach that I would have to repel."
"Everyone's favorite tactical guru…"
Comments from John Farnam about Greg's Stopping Power Study
"This is a respectable study, and I like the way Greg describes his own data. No sweeping conclusions, just good, general advice."
"The second lecture was "Incident Response to Terrorist Bombings: Awareness Level Course" presented by Greg Ellifritz. I found this part of the class to be one of the most interesting. Greg went through various explosives and what they might look like. He described components, basic workings, and a general doctrine of what to do if you suspect, or are sure, there is an explosive present. He also discussed some interesting statistics and "critical distances" for various types of explosives. Basically, that is how far away you have to run to avoid getting your arse blown off."
"After the range session we broke for dinner then returned to the classroom for a great medical lecture by Greg Ellifritz. This four-hour lecture covered the injuries most likely found in an active shooter or terrorist bombing situation. Greg had an excellent set of slides depicting photos of various wounds and provided a verbal description and/or demonstration of how each might be addressed in a field-expedient manner. Airway, breathing, and evacuation considerations were also discussed. A number of different bandages and medical devices were demonstrated or passed around for familiarity. This was another excellent part of the course. Obviously you cannot learn to be a doctor, nurse, or EMT in a four hour training session. However, it certainly illustrated the need for further medical training and gave students a basic knowledge of what to do for critical wounds in the field. "