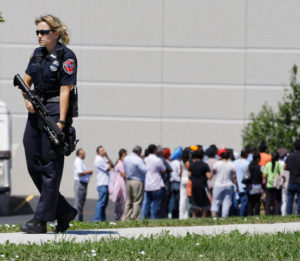 I've been reading all the information available about the mass shooting at the Sikh Temple in Wisconsin last week.  It's another tragedy that shares some of the same characteristics as other active killer events that seem to be happening on a more regular basis of late.  Most of the advice I have already written in numerous articles would be useful in a situation such as this where a mass murderer begins shooting up a place of worship.
There are a couple of points that define this shooting, making it different from others in the past.  The issues are highlighted in the articles linked below.  If you have time, check them out.  They provide the best available summary of the incident.  If you can't read the articles, check out the quotes I've pulled from them and my tactical analysis below.
"Oak Creek Police Chief John Edwards said police received a distress call at 10:25 a.m. from inside the temple. He said the shooting suspect ambushed and opened fire on Murphy, a 20-year veteran of the police force, after he showed up on scene and tried to help a victim outside. Murphy was shot by the suspect eight to nine times, Edwards said."
"The officer was about 75 yards from Page when he fired his weapon, according to a shooting chronology included in autopsy reports released Wednesday. Carlson said that wound probably would have been fatal."
"His community under attack, Sikh Temple of Wisconsin president Satwant Singh Kaleka fought back with all his strength and a simple butter knife, trying to stab a murderous gunman before taking two fatal gunshots to the leg."
"Staring down the gunman Sunday morning, Kaleka managed to find the butter knife and tried to stab Page before being shot twice near the hip or upper leg"
"Whatever time he spent in that struggle gave the women time to get cover" in the kitchen"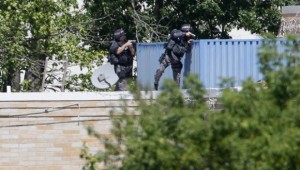 1) Stop the killing first!  All other tasks should be deferred until the killer has been neutralized!  Remember, as first responders to one of these scenes (whether citizen or LEO), your primary goal is to find and neutralize the shooter! Do not get distracted by caring for the injured. Other people can do that. Stop the killing first!
If you feel the need to treat an injured person, organize a rescue. Grab a couple people from the crowd and tell them to carry the injured person to a safer location and put pressure on the bleeding wounds. As you do so, keep alert. And then go back to the hunt as soon as possible!
Lt. Murphy heroically went to the assistance of one of the gunshot victims at a great cost.  He was ambushed and shot nine times at close range.  One wonders if some of the deaths could have been averted if he had immediately sought out the shooter rather than rendering aid to a victim.
2) Long range accuracy matters and rifles are the proper tools for the job.  The latest research shows that an active shooter shoots one person every 6-10 seconds he is on scene.  Taking the time to close the distance may result in additional victims being killed.  If you have the ability and a clear shot, you may need to take it at long range.  When is the last time you practiced shooting your handgun from 50 yards or more?  If you are an armed citizen on the scene of a mass killing, you won't have time to run to your car and grab a rifle.  You'll have to solve the problem with the gun you are wearing!
If you are a police officer, you need to have a rifle…end of story.  Officer Lenda prevented countless additional killings by shooting the murderer with a rifle from 75 yards away.  Most cops couldn't make that shot with a pistol.  Make sure you have the tools you need to solve the problem.
3) Resistance (especially armed resistance) is a viable strategy.  Most active killer situations are resolved by resisting victims.  In this day and age when violence in any form is vilified, recognize that often the only way to keep from being killed is to violently resist.  Fleeing usually works when there is some forewarning.  Locking down and hiding is also a viable strategy if you have forewarning and a secure hiding place.  If you can't do either, FIGHT!  Sometimes people just need to be given permission to do what's right.  If it makes any difference, I'm giving you that permission right now.
Even if your resistance doesn't ultimately lead to the shooter's death, you are still buying time for other victims to get to safety.  If you are going to be shot or killed anyway, I don't see much of a downside to fighting the shooter, even if you are unarmed.  Mr. Kaleka likely saved several lives when he attacked the killer here with a butter knife (other sources have identified it as a purposely-dulled Sikh ceremonial dagger).  One could only imagine how many more lives he would have saved if he could access a more effective weapon.
As painful is at is to study incidents like these, it is necessary.  Study well.  Learn the lessons.  And allow these victims to be memorialized by knowing that their deaths served a greater purpose.