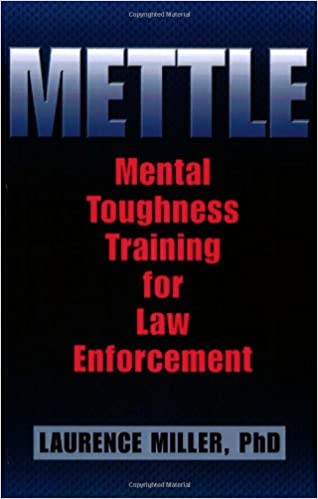 The advanced practitioner in the combative arts quickly realizes that a proper mindset trumps skill and equipment issues in a fight. Two of the most common questions that I get from my students are "How do I learn how to control my reactions to fear" and "How do I cultivate the mindset of dominating my opponent". I've finally found I book that answers those questions.
Mettle- Mental Toughness Training for Law Enforcement was written by Laurence Miller, PhD. It is a well documented book by a practicing police psychologist that explains some innovative strategies for enhancing performance in a combative context.
Not only for cops, this book has value for anyone who carries a firearm for self protection or has to deal with criminal violence in any form.
The book has chapters on: Stress Management, Arousal Control, Attention Control, Using Mental Imagery, and Post-Incident Mental Toughness Reinforcement. It also goes into great detail describing what reactions the body has under life-threatening stress and how to control them.
It is one of the best books I've found for training the mental aspect of the fight game. If you ever anticipate having to engage in violent combat, this book belongs on your bookshelf.
Another great book from Dr. Miller that you might want to check out is Practical Police Psychology.
Some of the above links (from Amazon.com and others) are affiliate links. As an Amazon associate I earn a small percentage of the sale price from qualifying purchases.