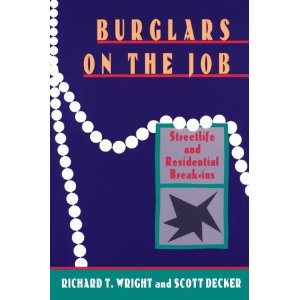 Burglary is the crime of stealing something from an unoccupied home or business.  It is one of the most common property crimes and occurs more than two million times a year in the United States.
The book Burglars on the Job by Richard Wright  is the definitive book about how burglars work. To differentiate from other books, the author conducted his research by interviewing ACTIVE burglars…not those who had been incarcerated.  It provides some great insights for any police officer or citizen who wants to protect their home.
The highlights of Wright's research include the following facts:
– Burglars are not motivated, career oriented individuals. Their burglaries are conducted to fulfill an immediate need for cash, usually to support a drug habit
– Most burglars are young, male, and poor.
– The average burglar commits fewer than 10 burglaries per year. Only 7% of burglars commit more than 50 burglaries a year.
– 87% of burglars purchased drugs with the proceeds of their crime
– 90% of burglars knew their victims, at least in a peripheral manner
– 62% of burglars extensively survey their target before the crime
– Burglars are very scared of armed homeowners. Before breaking in, burglars will call on the phone or knock on the door to make sure no one is home. After getting in, the first action they take is to do a quick "sweep" of the house to make sure it is unoccupied.
– 65% of burglars reported they would not burglarize an alarmed house under any circumstances
– 93% of burglars tried to get in and out of the house as quickly as possible
– Burglars first went to the master bedroom looking in dressers closets and around beds for cash, jewelry and guns. After that, they went to the bathroom to steal prescription drugs from the medicine cabinet. Before they left the house, they checked the living room for small electrical appliances.
– Burglars generally avoided checking children's rooms and basements
– 69% of burglars always worked with another person. An additional 8% occasionally worked with accomplices.
This book isn't for everyone.  While it has numerous interesting direct quotes from burglars about their experiences, it is written in an academic tone.  The people who will enjoy this most are those interested in preventing or investigating burglaries, police officers, and anyone who is interested in the academic study of criminology.
The book can be purchased HERE.