Written by: Greg Ellifritz
Cap City Outfitters is a local high end gun shop and gear store in central Ohio.  The folks who run the store also publish weekly training and equipment articles on the store's website.
One of the recent updates was about a shooting drill they created.  I really like the drill and think you all will benefit greatly if you include it in your practice regimen.
It requires 30 rounds, uses an NRA B-8 replacement target (or an 8 inch circle), takes 30 seconds per string  and can be shot at your local indoor range.
The course of fire is as follows with all strings of fire starting from the ready:
Both hands/freestyle at 25 yards (75 feet)
Strong hand only at 20 yards (60 feet)
Weak hand only at 15 yards (45 feet)
I ran this one last week at the range.  I like it.  Challenging, but simple.  If your trigger control isn't good enough, you'll definitely have some problems.  Here's my target shooting this one with my little Glock 42 .380 acp.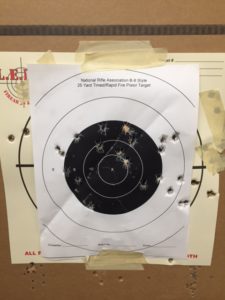 I had 8 round mags for my Glock 42, so I had to do a reload in that 30-second string as well.  That (plus the fact that I was shooting a little gun) made the drill even more challenging.  I ran it three times with the little .380.  My best score was 207.
Give it a try and see if you can beat my score.
If you would like to read more articles like this one, please sign up for my email updates.