Written by: Greg Ellifritz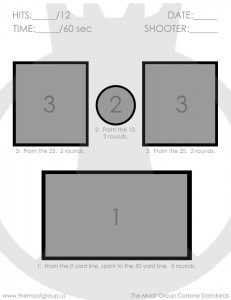 Here's a very difficult drill for all you rifle shooters out there.  This one is from the MOAT Group.  I don't know anything about their training, but this is a great drill!  It is also very humbling.  The drill is explained on the printable target itself.  Looking at the target, you can see two squares, a rectangle, and a circle.  Those are the targets for three different shooting distances.
1) Start at the target and run to the 50 yard line.  Engage the large rectangle with five shots.
2)  Run to the 10 yard line.  Put three rounds into the tiny circle.
3) Run to the 25 yard line.  Put two shots in each of the small squares.
Par time is one minute.
You can download the target HERE
Below is a video explanation of the shooting drill and the results as one of the MOAT Group instructors shoots it.

The 12 rounds fired test an awful lot of rifle shooting fundamentals.  Firing while winded, precision marksmanship, speed shooting, and knowledge of holdover are all critical components of the drill.  I found it extremely challenging.
I ran it two times, both times with my police duty AR-15 with a mounted EoTech sight.
I shot the first run standing (positions don't seem to be addressed in the drill description).  I made it five seconds under the time limit (55 total seconds).  I got nine out of twelve hits on the tiny targets.
The second time, I shot it from kneeling position.  57 seconds, but 11/12 hits.
Nope, I didn't clean the drill.  Not even close on the first time.  But that's the point…figuring out what you need to do to improve.  If you can clean every drill you shoot, you aren't improving.
I like this drill a lot because it allows for a measurable performance that can be tracked (and hopefully improved) over time.  Thanks to the guys at MOAT group for the great drill.  Go give it a try!
If you would like to see additional shooting drills to try, check out my shooting drills articles or sign up for my email updates.