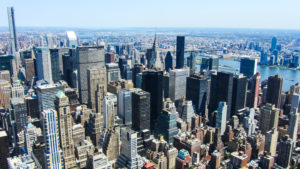 This is a guest post from my friend Ed Monk.  Ed retired after a full military career and now works as a police officer.  He owns Last Resort Firearm Training.  In this article he shares his experience carrying weapons to a recent trip to New York City.  Although the article is primarily geared towards law enforcement officers (just about the only people who can actually carry in NYC), armed citizens planning on traveling to or through New York should probably read it as well.  They have some relatively odd procedures for flying with guns in checked luggage and carrying normal capacity firearms.  Forewarned is forearmed.
– Greg
Experience with LEOSA Carrying in NYC
Ed Monk  September 25, 2016
I have traveled to New York City (NYC) twice in the past 2 years, in December of both 2014 and 2015.  As a state-certified, sworn law enforcement officer, I may carry a concealed handgun in all 50 states pursuant to the Law Enforcement Officer Safety Act (LEOSA).  So I did transport handguns to and from NYC on commercial flights, and carried my handguns concealed while in NYC on both trips.  The purpose of this article is to provide my experience in case it helps other LEOs who want to travel to NYC and wish to carry guns there.  On both trips I flew Southwest Airlines (SWA) between Little Rock and La Guardia Airport in NYC.  And, except for travel between my hotels and the airport, I spent all of my time (4-5 days both trips) in Manhattan.  My experience was mostly uneventful and pleasant.  Your results may vary.
My understanding of TSA and airline regulations require handguns to be unloaded, with magazines not in the gun, locked inside a hard-sided container, within your luggage.  The luggage that contains your locked gun case may be unlocked or locked with a TSA approved lock.  The hard-sided container holding your guns must be locked, and the TSA regs say only the owner should possess the key or combination to the lock.
In addition to my 2 guns and (removed) magazines, I also keep 3 additional items inside that locked case.  One is a printed copy of both TSA and airline regulations about flying with guns.  That way I have them should a question arise.  Another item I keep inside my gun case is a printed copy of the LEOSA, again, just in case questions arise.  The third item inside my gun case is one of my police badges on a belt holder.  My theory is that when TSA  X-ray machines look at my gun case and see what looks like a badge with my guns, or if I am asked to open the gun case (which I was asked to do on both trips by NYPD officers in La Guardia Airport) and they see my badge with my guns, I may be less likely to be "selected for additional screening."  Having the badge in the gun case may be of no benefit, but I do it just in case.
On both trips I carried 2 handguns in an aluminum case that locks with an integrated combination lock.  I don't want to keep up with (and possibly lose) yet another key.  I carried my self-defense ammo for both guns inside the same ammunition box.  I wrap a few rubber bands around the ammo box to prevent it from opening and spilling ammo in my luggage during luggage handling.  I then place the ammo box inside a running shoe in my luggage, so it is easier to find.
When I check in with my airline at the airport and declare my guns, the SWA ticket agents ask me to fill out a small card.  This includes information on me, information on my flight, and my signature stating that I understand the rules and affirm that the guns are unloaded.  For years now, I keep an extra stack of those blank cards at home and fill them out ahead of time.  Doing so saves everyone time.  The ticket agents and everyone behind me in line really appreciate that.  The SWA agents sometimes want to tape that card to your hard-sided gun case inside your luggage.  So it helps if your gun case is easy to get to, not buried under layers of clothes.
My primary carry handgun on both trips was a S&W M&P Shield 9mm with three 7-round mags.  My backup was a Kel-Tec P-32, also with a 7-round mag.  I also carried only the P-32 while running each morning in the streets of Manhattan and in Central Park.  I made sure that I had qualified with both guns as off-duty guns for my PD, and that my PD had a record of it.
My understanding is that New York has a law (SAFE Act*) restricting magazine capacity to no more than 7 rounds of ammo.  And I have never read any information that LEOSA exempts out-of-state officers from this restriction.  Since I don't want to risk being a test case, I only take and carry 7-round mags to NYC.  Since my last NYC trip, I have bought a GLOCK 43, installed new mag base plates that increase mag capacity to 7 rounds, and qualified with it as an off-duty gun.  So on my next NYC trip that G43 may cross the Mason-Dixon Line with me.
I had no issues after landing in La Guardia because no one in NY yet knew I had guns.  So I just carried.  I made sure if I left a gun in my hotel room while I was gone, I locked it inside my luggage so it would not freak out any housekeeping staff.  The few NYPD officers I encountered who found out I was carrying were cool with it.  But this was only a handful of cops out of many tens of thousands in NYC.  Again, your results may vary.
I wanted to take a guided tour of Radio City Music Hall.  They wand all visitors with metal detectors before entering for the tour.  I told an employee that I was an armed out-of-state LEO, and asked if I would be allowed to carry inside.  He said their head of security would make the decision, but the answer would either be yes, or they would allow me to lock my handgun(s) in a locker while I was on the tour.  So he told me to go ahead and purchase my ticket, which I did.
Then I waited 20 minutes for the start of the next tour.  Just before it began, the employee I spoke with used his radio to call for the man in charge of security.  The security head arrived shortly, appearing to be unhappy he had been summoned and bothered.  He asked to see my police ID, which I showed him.  He said only NYPD LEOs could carry in the building.  When I told him what the other employee had told me (I could carry or they would lock up my gun) he just shook his head no.  I got a refund for my un-taken tour, and left.
You can enter the ground floor of the Empire State Building, but to go up the elevators to the observation decks, you must go through metal detector screening.  You will also pass through metal detectors to enter the 9/11 memorial museum and to board ferries to the Statue of Liberty.  There was no security screening to ride the subway.  I went to see one Broadway show.  Security people at the theater looked in any bags people were carrying into the theater, but no metal detectors.  I went inside several big or historic churches that are open to the public with no problem.  I also entered Trump Tower and Rockefeller Center.
One day while walking along the sidewalk outside Rockefeller Center, a very polite voice behind me said, "Excuse me, sir."  I stopped, turned, and it was a NYPD officer.  He asked, "Is that a knife in your pocket?"  I was carrying a small folding knife inside a front pants pocket, with the clip exposed on the outside of the pocket.  He very politely asked me to unclip it from my pants pocket opening and slide it down inside my pocket.  He said NYC has an ordinance that makes it a crime to carry an exposed knife.  He said I should hide it because I could run into an officer who might make an issue out of it.  He then asked where I was from and what I did.  When I told him I was a cop, he asked if I was carrying a gun.  When I told him I was, he said he didn't blame me.  A very nice, professional encounter.
Several locations in Manhattan had a heavy police presence.  Time Square, Wall Street, 9/11 area, etc.  Most big tourist places.  At night, Time Square probably had over 100 uniformed NYPD officers.  Some were in full tactical gear with M4s, some on horseback, and maybe a few armored and specialized vehicles.  I never saw a NYPD officer alone, or at least not within eyesight of another officer.  It occurred to me that if I ever had to use my handgun in one of those locations, the chances of getting shot (or shot at) by one or more of those officers due to misidentification was considerable.
I planned to arrive at La Guardia Airport over 2 hours prior to my return flight out of NYC at the end of my visit, just in case checking in my luggage with guns caused a delay.  Both times it caused about a 20 minute delay.  After checking in at La Guardia Airport's SWA ticket counter for my return flight after my first visit, and declaring my guns, the SWA agent called for NYPD officers and asked me to step aside and wait on them.  About 10 minutes later, 3 uniformed NYPD officers working airport security arrived.
They were very polite.  They asked to see my driver's license and police ID.  They wrote all information from both IDs in a notebook.   Then they asked to see the guns.  So I opened my luggage and the locked gun case.  They looked at both handguns.  They did not seem to know a lot about handgun models.  They asked me the make, model, caliber and serial number of both guns.  None of the 3 NYPD officers seemed familiar with either of my guns.  They  also asked me how many rounds of ammunition each one held.  I do not know if this was to verify compliance with the SAFE Act, or they were just curious.  It was a very polite, casual conversation, not a subject interview.  After writing down all the information on both guns, and my phone number, they escorted me and my luggage to the area where TSA runs luggage through the security machine and told TSA they had cleared my guns.  We then shook hands, and said goodbye.
Before my second trip to NYC, in attempt to save time, I made a color copy of both sides of my driver's license and police ID.  I also included the written make, model, caliber and serial number of both guns, and my phone number on that piece of paper.  As before, when I declared my guns while checking in for my flight out of NYC, the airline agent called for the police.  When the officers (again 3) asked for my IDs, I gave mine to them, but also gave them the sheet of paper (to keep) with copies of my IDs, my gun info, and my phone number.  The NYPD officers were very thankful for that and said it would save them a lot of time in preparing some type of report they have to generate about such incidents.
So there you have it.  What I remember from my last 2 trips to NYC packing heat under LEOSA, and a few recommendations you can take or leave.  Remember, this was the experience of only one cop, flying one airline, and interacting with only a handful of officers out of a HUGE NYPD.
* My understanding is that the SAFE Act originally allowed NY residents who pre-owned magazines with 8-10 round capacities to keep them, but mandated that they load no more than 7 rounds in those mags (really, not making that up).  I have read that upon court challenge to that part of the law, a judge ruled that NY residents who pre-owned magazines with 8-10 round capacities can actually load mags to full capacity.  But I do not believe this applies to non-residents visiting the state.  I could be wrong.
If you would like to read more articles like this one, please sign up for my email updates.