Written by Greg Ellifritz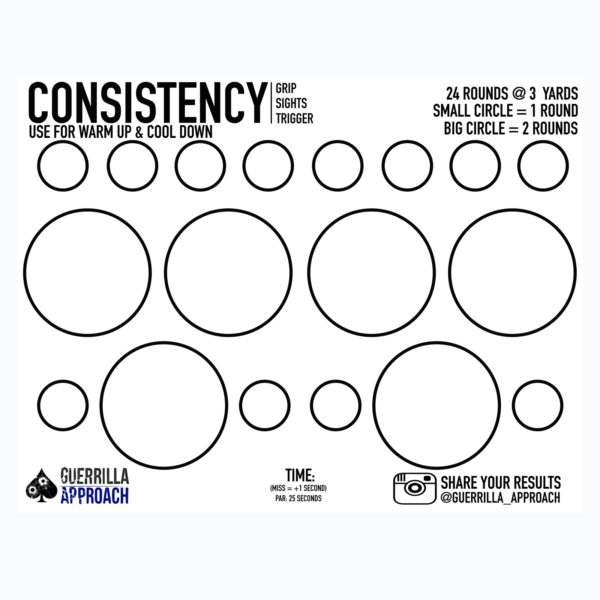 I saw this drill on Facebook and decided I had to try it. It looks kind of like "Dot Torture" but doesn't test the same skill sets. This drill is all about accuracy, trigger control and speed.
The drill requires the download of the Guerrilla Approach Consistency Target.
Once you download the target, print it out on a standard 8.5″ x 11″ piece of copy paper. Go ahead and print a few. You'll want to do this one more than once.
Set the target at three yards. The drill is to shoot one shot at each small circle and two shots on each large circle. That's a total of 24 shots (which means you will have to reload). The par time is 25 seconds. Each miss adds one second to your time.
I ran the drill three times in my practice session last week. I shot it with my Glock 17 duty pistol at the suggested three yard distance.
On my first run, I shot conservatively without hurrying. My time was 33 seconds and I had one miss.
My next run was 29 seconds and no misses.
I ran my final effort at this drill as fast as I could. I finished at 23.4 seconds with four misses.
None of my runs met the par time. That's good. It shows me where I need to improve. In the past couple years, I had been starting my pistol practice sessions with either the Humbler Drill or the Super Test. In 2018, the first drill I will perform during each practice session will be the Guerrilla Approach Consistency Target.
I'll break that par time soon.
Download the target and give this one a try. I think you'll enjoy shooting the drill.