Written by: Greg Ellifritz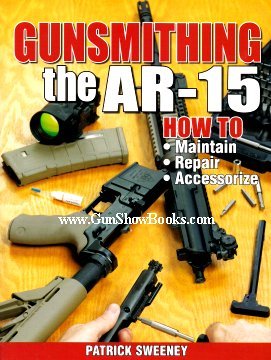 I just finished reading Patrick Sweeney's excellent book about gunsmithing the AR-15 rifle. If you own an AR-15, you owe it to yourself to pick up this book to learn how to diagnose any problems you might have and make your rifle perform better. I have attended three different AR-15/M-16 Armorer's Certification classes in the last few years and I still learned some new information by reading Mr. Sweeney's book.
One of the most useful chapters in the book is about lubrication. The author dispels all the myths about lubricating an AR-15 and describes proper lubrication of each part on the rifle by using the easy-to understand terms: Dry, Damp, Wet, and Dripping. Each part of the gun is discussed in terms of the best lubrication standard and why that part needs (or doesn't need) a particular amount of lubricant. This section alone is worth the price of the book.
I also learned new tricks for determining when to replace gas rings and the rifle's buffer spring that I had never learned in any armorer class.
Beyond these tricks, I found the author's section on extractor checks and replacement, as well as his discussion about rifle malfunctions and their root causes to be exceptionally valuable.
He ends the book by detailing a "30-Second AR-15 Checkup" and a "90-Second AR-15 Checkup" that are pure gold. Each checklist should be printed out and kept in the rifle case with your AR-15. If you have 30-90 seconds before deployment, run through the series of checks to make sure your rifle is likely to function the way you want it to.
I can't recommend this book highly enough. If you know nothing about how your AR-15 operates, you will be completely up to speed after reading it. Even if you are a seasoned armorer or gunsmith, you will learn some new tricks that will make you glad you purchased it.
Gunsmithing the AR-15 is available at Amazon.com.
Some of the above links (from Amazon.com) are affiliate links. If you purchase these items, I get a small percentage of the sale at no extra cost to you.