Written by Greg Ellifritz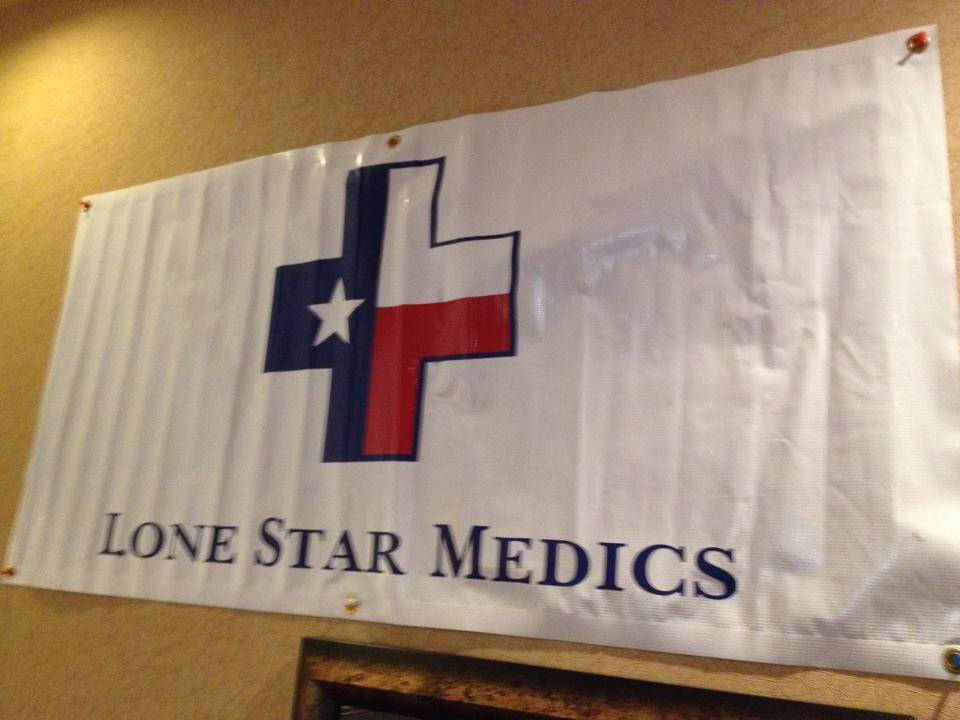 Last weekend I was honored to present at the Lone Star Medics "Field and Tactical Medicine" conference in Dallas, Texas.  The conference was organized by my friend Caleb Causey, president of Lone Star Medics.  This is the second year of the conference and it was again a tremendous success.
The conference consisted of approximately 15 different instructors all teaching two-hour blocks of material.  The instructor list was a veritable "who's who" of tactical and austere medicine.   Caleb kept me busy teaching three blocks.  I did two classes about stockpiling pharmaceutical drugs in the event of a short or long term health care system collapse.  I also conducted an improvised tourniquet skills lab.  Besides those classes, I assisted Dr. Lauren Pugliese in her two Pet First Aid classes as head leash holder and dog lifter for her canine demonstration models.   My classes had a great turnout with about 45 people attending the two big blocks and 10 more coming to the skills lab.  Lauren had about 40 people across her two classes as well.
In Lauren's classes she talked about items that should be included in a pet first aid kit and a pet bug out bag.  She told students that they could find detailed lists in the articles she's written for my website.  Students who are looking for that material should check out the links HERE and HERE.  Lauren will be writing at least one more pet first aid article for the site sometime soon as well.
I got to attend a couple classes in between my teaching gigs.  I started out with Tom Rader's "Feet 101" class that dealt with assessment, prevention, and management of common foot injuries.  Tom gave us some great information about choosing footwear, strengthening our feet, preventing and treating blisters, and assessing serious foot and ankle injuries.  That's a topic that deserves more study.  I have quite a few foot problems I'm dealing with, and several of my friends have similar issues.  I wish I would have taken Tom's class about five years ago!
I also got to see Dr. Karen Allen's class about eye injuries.  She provided information about assessing and treating common eye injuries, how to know when to go to the ophthalmologist versus treating the injury yourself, and simple tips about glasses, contact lenses, and instilling eye drops.  It was a good class.
From the students' perspective, the big hit was the TOM Manikin labs.  The TOMManiken is a $37,000 life sized first aid practice model.  It talks.  It breathes.  It spurts blood.  It does just about everything.  Caleb arranged for Techline Technologies to provide two of the TOMManikins for the students to work on.  Students had two hours of lab work on the manikin treating arterial bleeding, packing wounds, doing CPR, clearing airways, and patching sucking chest wounds.  The manikins were a great addition to the class and I enjoyed watching and helping with a couple of the lab sessions.
There were dozens of other classes that we didn't get to.  Topics covered included tourniquet use,treating shock, disaster response, PTSD, drags and carries, hemostatic agents, heat injuries, disaster dentistry, emergency childbirth, and head injuries.  It was truly a smorgasbord of superior austere medical training.
I'll be attending again next year.  You should as well.  If you can't get down to Texas, the next best thing you can do is purchase and view Caleb's Immediate Emergency Medicine DVD.  It is the absolute best medical DVD I have seen and the only one I recommend.  It covers basic gunshot wound and trauma medicine in an approachable style that is useful for both the lay person and the medical professional.
If you would like to read additional articles like this one, please sign up for my email updates.