Written by Greg Ellifritz
Lots of shooters are familiar with the original Dot Torture shooting drill.  This challenging, one box pistol workout was originally designed by trainer David Blinder and has been popularized on several well known shooting forums.
My friend and super-genius John Hearne created a new version of this popular drill.  John liked the original Dot Torture, but was frustrated that it took 50 rounds to complete.  The original version was also not optimized for the traditional double action auto pistol John carries on duty.
John took the original drill and dropped it to 30 rounds.  In doing so, he focused on drills that train the double action/single action trigger transition necessary when shooting a traditional DA auto pistol.
So far, so good.
But John wasn't done.  In a true hallmark of evil genius, John shrunk the size of the dot targets.  John said "Since I reduced the round count by 40%, I reduced the size of the targets by 40% as well to maintain the same level of difficulty."
John's new dots are SMALL.
Take a look at the printable target below.
I shot the drill yesterday.  To assess the difficulty, I set the targets at three yards.  That is the distance where I can regularly and fairly easily "clean" the original version of dot torture without getting any misses.  I've shot it clean at four and five yards before, but at those distances, my score is much less predictable.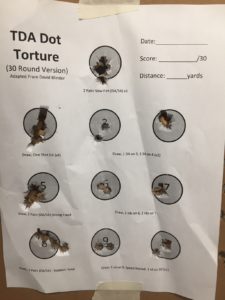 I shot it first with my duty gun (a Glock 17 9mm).  This gun obviously isn't a traditional double action so I ignored the instructions about the two different trigger pulls.  It was tough!  I threw two rounds, one in the right hand only stage and one in the left hand only stage.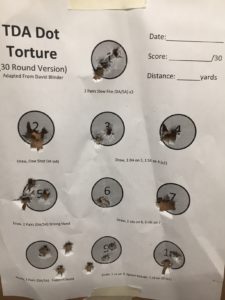 I shot the drill a second time using my Glock 42 in .380 acp.  I was dialed in and doing great until the wheels fell off with my left hand only shots.  I ended up throwing three on that stage.  The little pistol takes a lot more concentration if you want Glock "perfection."  I guess I need to work on my one-handed shooting a bit more.
I want to thank John for his innovative changes to one of my regular shooting drills.  Give it a try.  I think you may find it a bit harder than the original version.