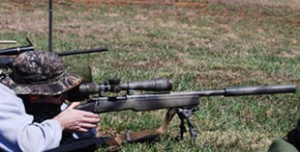 As most of you know, in addition to teaching classes through this company, I have been teaching classes at the Tactical Defense Institute for about 12 years.  TDI is a wonderful fixed site tactical training facility in southern Ohio and is one of the top shooting schools in the country.
TDI sees thousands of students in firearms classes each year.  The instructors really get a chance to see what works and what doesn't.
Recently I was speaking with fellow TDI instructor John Motil.  John is one of the few instructors who teaches some part of nearly every class offered at TDI.  He is a very experienced instructor and has a great eye for detail.
We were speaking about all the things we see in classes…what works and what doesn't work.  We decided to collaborate on a new series of articles for my webpage.  John will be writing regular updates for this site, summarizing the issues that students experience in some of the classes taught at TDI.   He will be writing up the students' and instructors' collective experiences with guns, ammunition, gear and tactics.  The goal of each article is to share high quality information in a "Lessons Learned" format so that our current and future students are better informed and better prepared for a violent world.
The first article in the series is a review of TDI's recent precision rifle course.  Precision Rifle is a general rifle course designed for hunters, target shooters, and police snipers.  It is primarily a shooting class as opposed to a sniping tactics/fieldcraft class.  It's very popular among our students and is almost always booked to capacity every time it is offered.
Without further ado, I turn things over to John Motil for his observations of the class:
Our first Precision Rifle class of the year is completed! 21 students braved some great weather and some full value wind to shoot targets to our 400 yard max distance.  As far as guns, we had Remingtons, Savages, Various AR-15s, SCAR 16/17s, and even one Ruger Mini-14 in the class.  Calibers included .223, .308, .300 Win Mag, and one 6.5 Creedmore.
Remington Model 700s performed consistently well.  The Scar 17 had a Geissele trigger and was a joy to shoot.  The AR-15 rifles generally shot well, but several shooters had problems with their particular barrel twist rate and ammunition combination.  In general, the faster twist barrels (1:7)  like the heavier/longer bullets.  The slower twist rates (1:10-1:12) usually prefer shorter bullets or bullets that weigh under 55 grains.  If you have a 1:7 rifle shooting 40 grain bullets, or a 1:12 rifle shooting 77 grain bullets, accuracy will not be good.  Test fire your load before you come to a three-day shooting school!  Students were forced to use ammunition that wasn't ideal for their individual rifles because of the recent shortages.  They showed up to class with whatever they could find, and some had accuracy problems as a result.
The class shoot off was won by long-time student Bill Kurtz, who was shooting a Remington 700 Sendero in .300 Win Mag.  He shows that it's the shooter who really makes the hits and  that skill is more important than equipment.  His heavy recoiling .300 Win Mag wasn't a detriment as he shot against people using .223 and .308 rifles.  Nice work Bill!
One of the first issues that became apparent was scope level.  I think I leveled more scopes this year that I have ever done in any other class before. Don't mount your scopes using just your eyes for verification.  It won't be level.  It's worth the money to buy two small levels or a collimator and do it right.  If the scope isn't level you will start seeing ever larger disparities between point of aim and point of impact at increasing ranges.
Another scope issue causing problems was improper eye relief.  Adjust your eye relief at your highest magnification in all shooting positions, not just sitting on a bench. Also please read your scope manual and try to adjust your scope to allow for clear viewing of your reticle. This is an individual process and the guy at the gun store mounting your scope can't do it for you.  Bring the manual and any adjustment tools with you.  We see so many new scopes we can't keep up with knowing the intricacies in adjustment for each one.  Bring your scope manual to any precision rifle class!
Check your gear before coming to any shooting class!  We had two different guns  exhibiting stuck bolts before the class even started!  One gun had extra length bedding screws interfering with the movement of the bolt.  The other had some epoxy stuck in the action!  Both of these stuck bolts were on Savage rifles.  A third gun had bedding screws loosen on the third day of class.  Arrrg!
Several students had problems using their Harris S-Type (swiveling) bipods.  The nuts would constantly loosen.  Buying a Pod-Lok to replace the locking nut on the bipod will solve the problem
As far as operator error, we saw frequent loading and ejection issues caused by short stroking the bolt guns.  They don't like to be worked slowly, run the bolt like your life depends on it!   Move it back and forth vigorously!
If you have a blade type ejector this will throw the empty case farther .   If you are a reloader or concerned about brass collection, please keep this in mind.   If you have a plunger type ejector over 10 years old it may be time to change the spring.   It's a cheap part and worth putting on a regular replacement schedule so that you don't have any issues.
If you have a odd caliber weapon, an extra long barrel, or new gun, you might want to do a barrel break-in before class.  There are lots of internet references on how to do this.  If you want the absolute best in accuracy, this is a worthwhile process. You should also buy a Dewey or Tipton coated cleaning rod that reaches from the action to the end of the barrel with an inch or two to spare.   Precision rifles need ONE PIECE cleaning rods to avoid damaging the bore.  Get a bore guide while you are at it!
One final piece of advice is to pick a gun that is well suited to your individual mission.  Extreme accuracy is admirable, but not always the prime concern.  The heavier, longer barreled rifles will usually shoot slightly better, as long as you are shooting from a prone or bench rest position.  If you have to use your gun in a field position, you'll appreciate the lighter guns and shorter barrels.  Police snipers and hunters need guns they can fire from every position, and that isn't always possible with some of the bench rest guns.
I look forward to John's next report!