Written by Greg Ellifritz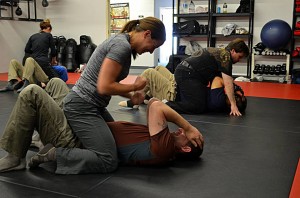 Last week, John Murphy from FPF Training hosted me for my ground fighting and Tactical Medicine classes down in Culpeper, Virginia.  It was a great time and I had fun working with about 40 very motivated students over the weekend.  Here are some photos from the class:
Ground Class
Medical class
Two students wrote reviews of the ground class.  Check them out at the Lightfighter Forum.
"As with Greg's knife and stick training, it was all presented in an easy to follow method.  It focuses more on theory than it does technique.   Keeping things simple means we can practice on our own and have a much higher probability of retaining these skills so there are there when we need them….. There is a reason why I have made the choice to train with Greg so many times over the years."
"To summarize the class, I thought it was well planned and executed – the material was appropriate to an introductory level meaning it was practical and relatively easy to learn.  Provided that one has a training partner it would not be hard to sustain what was learned and I plan on attending this same course again should it be offered in our area.   In terms of what I would change about the class – there were some inherent limitations in what we could do with one day and students who were in varying levels of physical fitness.  I think Greg absolutely made the most out of the class given those constraints.  I would love to take the same material over a multi-day class, because it would allow for more drills, more rotating drill partners and some drills that were "open ended" that forced you to select the correct responses from all the techniques learned.
 I would strongly recommend the class for those who are serious about their self-defense training and don't already have a system to handle being on the ground in a fight.  Greg is a great instructor and I will be on the lookout for other classes he offers in the future."
Another student wrote a review of the medical class on The Gun Safety Blog.
"Whether or not you carry a concealed firearm in your daily life, Greg Ellifritz's Tactical Medicine Class is one of the most important courses that you will ever take.
Greg was very knowledgeable about the subject he was teaching and knew what he was talking about. I highly recommend this class to just about anyone
Thank you to John Murphy and all the students who attended my class.  Special thanks to those of you who took the extra time to take photographs and write reviews.  I greatly appreciate your efforts and hope to come back to Virginia soon!