A couple of different firearms instructors contacted me after receiving the EXACT same email.  They were inquiring if I had received the solicitation and if I thought it was legitimate.  Here's what the email said….
Greetings,
I want to book for 2 weeks firearm training, 1 or 2 hours each day Monday to Friday (morning or evening hours) for a group of 10. We will be coming to your country for one month vacation/holiday from 28th Sept. 2012 and in line with our plans we will require 2 weeks firearm/safety training in your place just for the experience as we require no certificate at the end of the session and also to make our stay fun. We have been working for months without vacation so would want to add some fun to our upcoming vacation as this training will also help us in overcoming the fear of gun generally as most members have not touched a gun before.
The sessions should basically be a fun training experience for my group, please let me know if you can organize the training for us from your field of profession so i can finalize arrangements with my group and get back to you with more clear and specific details. Also confirm if you can arrange one on one exercise for us each day or if its better in group.
Awaits your email.
 Changi Wong
Fortunately neither of the instructors I know took them up on the offer.  One even reported it to the FBI (who wasn't interested in doing an investigation).
It turns out the whole thing was a scam.  Read about it in the link below...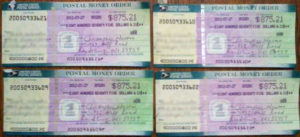 If you are a shooting instructor and received the same email, do not take Mr. Wong up on his offer!