Written by Greg Ellifritz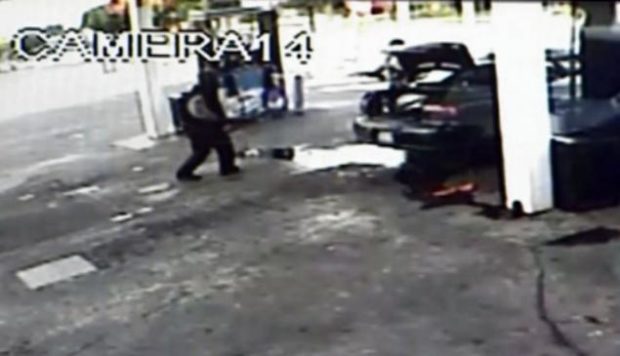 Surveillance footage was released last week after a woman shot a man outside a gas station in Houston. The woman claims that she was verbally harassed by a man who was armed with both an umbrella and a knife. She went to the trunk of her car, obtained a .22 caliber rifle and fired several shots, killing the man. She then pulled out her phone, videotaped the dying man, and drove away. She claims self defense. Others aren't so sure. Watch the surveillance video below:
What do you think? Self defense or murder?
This incident brings up some different things to talk about. Let's dig in…
1) Preclusion. This will be the biggest issue raised if she goes to trial. A reasonable person doesn't want to shoot someone unless no other options are available. Members of the jury will be asking themselves "Why didn't she stay in the store and have the clerk call the police if she was threatened." and "Why didn't she just drive away?"
These are good questions.
Even in states where "stand your ground" laws are in effect, it's always a good idea to escape if you can do it safely. Otherwise it appears that you are looking for a fight. And that looks bad to the jury deciding your fate. See my article on Preclusion for more information.
2) The weapon. It is likely that her choice of using a rifle will be an issue as well. It shouldn't matter, but public perception is important. How would you view the situation differently if she had drawn a concealed handgun from her person and shot the man as he advanced? In that case, no one would probably be watching this on LiveLeak. No charges would likely be filed.
The rifle matters…at least to some people. When she gets it from the trunk, she wasn't in immediate danger. That makes it look like premeditated murder. For those of you who carry an AR-15 in your trunk for self defense (that includes me as well), please consider the ramifications of accessing it in a self defense situation.
3) Warning shot. Her first shot went into the ground. I don't know if it was an intentional warning shot or an AD. Either way, it's a bad plan. That bullet has to go somewhere. Luckily it didn't hit an innocent person.
Something else interesting here is that the man didn't throw the punch until she fired the first shot. Even if the man was attacking her, he now has a defense in court. Truthful or not, he can state "I was just talking to the woman when she pulled out a rifle and fired a shot. I thought she was trying to kill me so I had to defend myself." Some people might even believe it depending how skillfully the defense presents the argument.
4) Firing technique. She clearly wasn't very well trained with her weapon of choice. She fired from the hip. Think about how a prosecutor might use that information. We've all heard the phrase "shooting from the hip." It means being unprepared or doing something haphazardly. Do you want to be portrayed to the jury as being a person who is unprepared or haphazard in your defensive preparations? I don't.

An expert witness can likely explain why shooting from the hip was a viable technique in this scenario, but that will cost a lot of money. Avoid the problem. Get some good training and learn how to use your weapon properly.
5) The Video. There's nothing good about her taking video of the dying man with her phone. That shows a cold-hearted callousness that most juries won't forgive. Don't be that stupid.

6) Flight. After she shoots, she finishes pumping her gas and then drives away. Bad move. To the average jury member flight = guilt. It's one thing to flee for your own safety. It's another to leave the scene of a crime. If you shoot someone, get on the phone to police and stay on scene unless your life is still in danger.

All of these things matter. Have you taken the time to consider these points and how they relate to your own situation?
I don't really know what happened here. I can believe that the woman was legitimately threatened and could have fired to defend herself. The problem is that she made a lot of mistakes that cast doubts on her story. Learn from this situation so you don't make the same mistakes.