Written by: Greg Ellifritz
Everyone seems to love it when I write about the guns and gear I encounter in my classes. Last weekend I taught an extreme close quarters handgun shooting class at FPF Training down in Virginia. I had 18 students in the class. Three of them had some fairly significant gun problems. Here's what I saw:
1) Short-barreled 1911s often have problems (especially if they have "Kimber" written on their slides).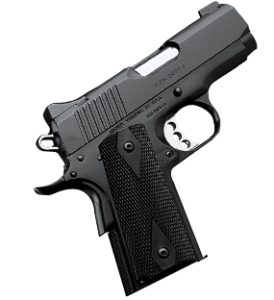 I know I'm going to get some hate mail for this one (Don't send it. I'll just ban your silly ass), but I'm going to say it anyway…
I see more problems in my classes with Kimber guns than I do from any other manufacturer. I've certainly seen some Kimbers that work well, but they are rare. I encounter problem guns so regularly that I cringe every time I see a student break out a Kimber for my class.
Let me summarize what I have learned in more than 15 years of teaching commercial firearms classes:
1) 1911 guns as a whole are less reliable than modern striker fired pistols.
2) Although some Kimber 1911s run perfectly, as a whole, Kimber 1911s are some of the worst performing 1911s I've seen.
3) Any 1911 pistol with a barrel shorter than the factory original five-inch version is less reliable than the longer barreled models
The student I had Saturday was truly the perfect storm. He was running one of the compact Kimber 1911s with a three-inch barrel in .45 acp. The students fired about 150 rounds in my class (the class was mostly fighting with a little live fire added in). I personally saw this student's Kimber 1911 malfunction at least five times. No doubt it jammed more than that as I had almost 20 students to watch.
Recreational shooters think that if they have one or two malfunctions during each box of ammo they shoot their gun is "reliable." After all, it doesn't jam on every shot. This is a huge mistake. Why would you carry a defensive gun that won't work 3-5% of the time when perfectly reliable handguns are available?
Here's the problem most folks don't understand…
Almost all guns will work pretty well when clean, well lubed, and shot slow fire with two hands on the gun in a climate controlled indoor range. Problems start popping up when we have sweaty hands (class last Saturday was in the blazing sun during 92 degree temperatures with over 80% humidity). Problems start popping up when shooting from retention or when shooting with a less than perfect grip. Under these conditions, your "reliable" 1911 shits the bed.
Here's my advice. Stay away from Kimber. Stay away from the 1911 as a defensive firearm. Really stay away from the compact 1911s.
2) Some guns do not work for some people.
I had one student who was shooting a traditional double action (with decocker) H&K USP Compact. He had two problems. The first is that he didn't truly understand the operating system of his pistol. A gun like that requires regular practice to run correctly. People who carry these guns have to practice decocking after every string of fire. This student didn't understand this procedure and was regularly reholstering a cocked gun. That's a recipe for an accidental discharge.
As soon as I noticed him holstering a cocked gun, I ordered him to stop doing it and forced him to decock after every string of fire. He seemed annoyed that I was forcing him to be safe. Folks, IT ISN'T SAFE TO HOLSTER A COCKED GUN WITHOUT APPLYING A MANUAL SAFETY FIRST! His gun didn't have the "cocked and locked" option, so he couldn't just apply a safety before holstering. He should have been decocking.
When I made him decock his pistol, we found another problem. He was a lefty and he didn't have an ambidextrous decocker. He had to transfer the pistol to his weak hand, decock, and then transfer the gun back to his strong hand to reholster. No wonder he wasn't doing it right! What a pain in the ass!
Some guns just simply don't fit some shooters. There's no reason to put up with this nonsense when so many ergonomic, quality handguns are available on the market. Find a gun that works for you. Don't automatically trust the gun store commando's advice about what gun is "best."
3) Even high quality guns can break.
On the last shooting drill another student's Gen 4 Glock 19 puked. It was a relatively new gun and hadn't been shot much. During a string of fire, the slide moved forward and off the frame. The descending leg of the slide lock spring had broken off, allowing the slide lock to fall out of the gun. With nothing holding the barrel to the frame, the slide moved forward and came off.
This is a fight stopping malfunction. There is absolutely nothing anyone can do to fix the gun other than to replace the spring and lever. I've seen this same malfunction several times. Glock will tell you that it happens because the recoil spring assembly isn't inserted into the deeper notch on the barrel and its edge rubs on the spring, thereby damaging it. I don't believe them. I had it happen on one of my own pistols numerous times and I always ensured the recoil spring was properly seated.
Even reliable guns like Glock will break sometimes. In fact, I think every Glock I've ever carried has broken at some point in time. If you run your guns hard, they will break. It's best to be able to fix your own guns and to make sure you have a plan when the inevitable happens!
One last piece of trivia…
This particular post is article number 750 on my site. That's a lot of writing in just over three years! Thanks to all of my readers for their continued attention and support!