Written by Greg Ellifritz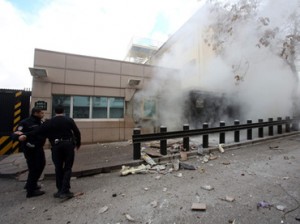 After the Oslo, Norway bombing in 2011, I wrote an article called All About Bombs.  In it, I cautioned that a likely trend in bombing incidents would be that the bomber would be wearing a uniform.
In a crisis, people wearing uniforms aren't generally questioned.  If a bomb goes off, every cop and fireman for miles around will be responding.  No one will be looking at what type of uniform someone is wearing as long as he appears like he is helping out.
On February 1st, the US Embassy in Ankara, Turkey was attacked by a suicide bomber.  How did the bomber get past security?  He was dressed as a mailman…
According to this story in Russia Today:
"The bomber, identified as leftist militant Ecevit Sanli, used six kilograms of TNT and also detonated a hand grenade during his attack on the highly-fortified embassy in the Turkish capital on Friday. Security cameras showed he was dressed up like a post carrier and was clutching an envelope while entering."
How easy is it to get a letter carrier's uniform?  What about a UPS delivery uniform?  It's very easy.  Trust me.
The uniform gives people access to areas into which they would be denied entrance if they were dressed in normal clothing.  Think about terrorists wanting to detonate a secondary device to kill a large number of police and fire personnel at a bomb scene.  Would any cops on the perimeter of a bombing incident stop a person in a paramedic uniform running up to the scene with a large first aid bag?
Nope.  And that bag might be filled with C-4 and nails instead of bandages.  I can't think of a better way to kill a lot of cops and firemen…
This is a tough tactic to stop.  My advice to you is two fold:
1) In your everyday office activities, closely scrutinize anyone who is wearing a uniform.  Realize that uniform may be a ruse for a person to get access for any number of reasons…espionage, theft, or even placing a bomb.
2) If you are a first responder to a terrorist incident, take perimeter control seriously!  Make sure you aren't the one responsible for getting your co-workers killed.
Pay attention to the tactics that foreign terrorists use.  Those same tactics will be seen here soon.