Knowing that I like data and enjoy shooting .22 pistols more than most, my friend Bob Cutajar sent me the results of his recent intensive study of a huge number of .22 rounds, charting velocity, consistency, and energy of each projectile. Bob graciously allowed me to share this useful data with all of you.
Bob tested 15 different loads and created a chart detailing his data. I was very impressed with his work. Check out the chart he created below.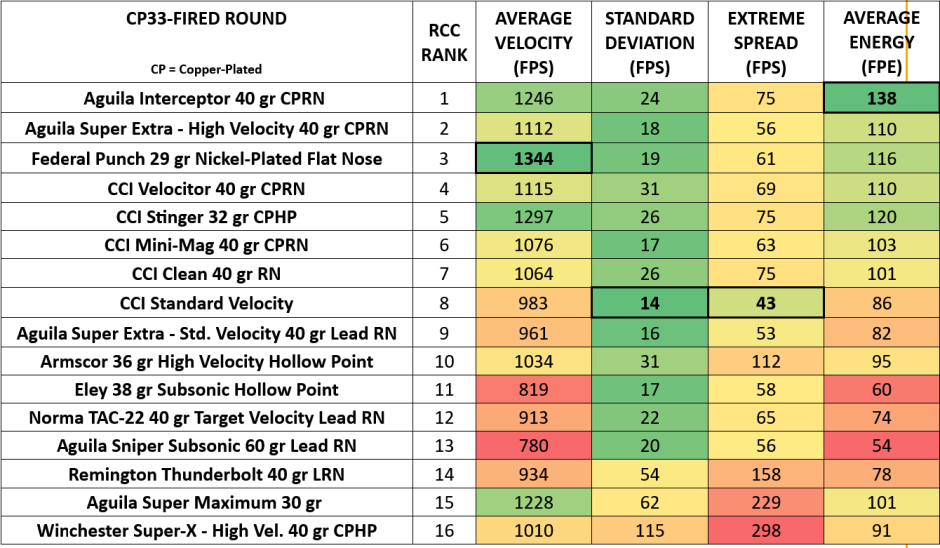 Bob's commentary:
"I recently got a Keltec CP33 pistol (5.5" barrel) and was trying to see what ammo it liked. Almost everything grouped either reasonably well or very well, and most functioned flawlessly. I started to chronograph the loads to check velocity, energy and extreme spread/standard deviation.
I wanted to share the results with you, as I know you're a fan of the CCI Velocitor. I am, too, until I compared it to both the Aguila Super Extra HV (almost identical, with a slight edge to Aguila in the ES/SD area) and the Aguila Interceptor (faster and, of course, more energy…with a slight edge to the CCI Velocitor re: ES/SD).
Here's what I got from my Caldwell chronograph (8′ from the muzzle 10-round shot groups); weather conditions were identical (850′ MSL @ Miami Rifle and Pistol Club; 85° F.; RH 78%) for all the tests.
The CP33 manual recommended 40gr high-velocity ammo only; however, I didn't experience issues with the lighter bullets or the slower speeds.

Note: the dirtiest ammo, by far, was the Remington Thunderbolt bulk pack…and the most erratic and worst overall (I can't think of a better word) ammo was the Winchester Super-X HV 40 gr CPHP; it was the worst-grouping (as you can tell from the ES/SD), but also caused numerous stoppages in the pistol… I was also disappointed in the Aguila Super Maximum, especially considering both the "erratic consistency" — one helluva oxymoron!! — and the fact that it was 1 gr heavier than the super-consistent and good-grouping Federal Punch.
The least-expensive ammo (besides the Thunderbolt): my #2, the very-accurate Aguila Super Extra HV 40 gr CPRN @ $4.99 a 50-round box.
There's not a lot of variance in the first 5 types…so it's what your gun fires most accurately and reliably, I guess!
FYI, "RCC" is my initials and subjective ranking of the ammo based on power, accuracy and semi-auto reliability in the Keltec CP33.
P.S. – I set up and was firing the CP33 as a "cheek pistol" for my testing… (5.5″ barrel)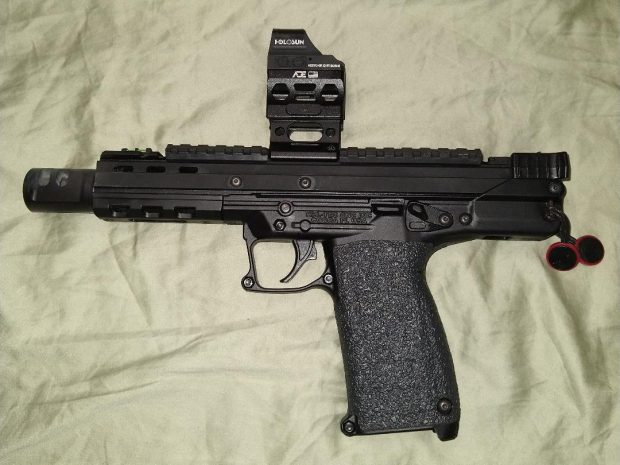 I find research like this to be very informative. Most ammo factories produce data this data, but the rounds are usually fired through extra long match-barreled rifles to increase both velocity and accuracy. Velocity differences between a 24″ rifle barrel and a five inch pistol barrel are significant.
As Bob noted, there isn't a massive amount of performance difference between the top five loads listed. The reliability and accuracy of any of these rounds is way more important than velocity, consistency, and energy. Use the chart to help pick out a few good options for your .22 handgun. Then shoot a couple boxes of each of them. For defensive use, pick the one that is most reliable and hits closest to your sights. All the velocity and energy in the world are irrelevant if your gun malfunctions or you can't hit your chosen targets.
Thanks to Bob for the excellent data analysis and for allowing me to use his work on the site. I hope it is also useful for all of you .22 handgun shooters.