Written by: Greg Ellifritz
I don't write a lot of product reviews for this site, preferring to focus on the "software" side of things instead of the "hardware" stuff.  With that said, I still appreciate quality gear.  When I encounter truly outstanding pieces of kit, I like to share them with my readers.
All of these items fit in the "outstanding" category.  I've been carrying the pocket shield for more than two years, the medical kit for just under a year, and the Eidolon holster for several months.  None have let me down in any way.  Raven is a great company.  Check out the items below and the rest of their gear at RCSGear.com.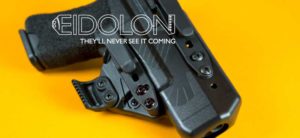 While my Keeper's Concealment holster is my favorite AIWB carry rig, the Eidolon comes in a close second.  The holster is very secure and its multiple attachment features make it adjustable to just about any configuration you may desire.  It's probably the best production AIWB holster on the market.  It doubles as a behind the hip IWB rig as well.
The only downside I've experienced with it is the fact that it took me about 30 minutes to get set up the way I like it.  There are a lot of moving parts with this thing!  But since I've set it up in my preferred configuration (similar to the picture above), it's been a great holster.
2) The ModuLoader Pocket Shield
This is an ingenious product designed by my friend Chris Fry at MDTS.  It is designed to provide a stable mounting platform for items normally carried loose in a pocket.  Almost anything can be attached to the pocket shield, but the most common items are holsters for pocket pistols, sheaths for fixed blade knives, and magazine pouches.  When mounted to the pocket shield, these items are held in a consistent, stable position to facilitate a successful drawstroke.
I tested one of the first pre-production models of the pocket shield before Raven picked it up.  I ran it with my Ruger LCP using a Desantis Nemesis Pocket Holster.  I also used it with the fixed blade Ka-Bar TDI knife.  I carried both weapons in very "non-permissive" environments where I was legal to carry weapons, but the events prohibited their carry.  Both the LCP and the TDI knife went undetected in the pockets of a pair of cargo shorts.
I most regularly carry the Raven Concealment production model now with a spare magazine for my 9mm S&W Shield.  The Shield carried in a Keeper Concealment Errand along with a spare mag in my pocket using the pocket shield makes a great summer weather carry combination.
3) The CLEER Medical Mini-Blowout Kit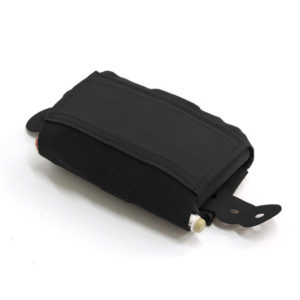 This is an extremely well-thought out miniature gunshot wound first aid kit.  Designed for the professional who is already carrying additional tourniquets on his body, this kit makes a very efficient use of space and contains all the other items that one might need to successfully treat a gunshot wound in an emergency.
The ingeniously packed kit contains:
CLEER Medical Trauma Bandage (4″ x 24″ Flat Packed compression dressing)
Celox Rapid (3″ x 24″ Z-Fold)
FOXSeal Occlusive Dressing (Contains 2 Chest Seals)
North American Rescue Tan Bear Claw Gloves (1 Pair of Large sized gloves)
CLEER Medical Easy Tape (4 – 2″ x 12″ Strips of 3M Durapore medical tape on easy release backers)
North American Rescue ARS for Needle Decompression (14 gauge x 3.25″)
Rusch Nasopharyngeal Airway (28FR with lubricating jelly
There are lots of medical kits out there claiming to be "pocket sized."  Few actually are.  This one very easily lucks into a cargo pocket.  I carry mine regularly.  It isn't cheap, but it's a well designed kit that fits almost anywhere.  Add a CAT or Soft-T tourniquet and you will be well prepared for the range or the street.
Each of these products fills a previously unfilled gap in their respective gear categories.  All are worth checking out.
*I have no financial interest in Raven Concealment and receive no commission on the sale of these products.  I wrote the article because it is good gear and you deserve to know about it.  Raven Concealment did provide me with a prototype version of the Eidolon holster free of charge for pre-production testing.  Chris Fry provided a prototype pocket shield for my testing as well.