I have two medical classes scheduled in June and July.  Both classes are nine hours long (with a short lunch break).  In addition to the description below, the classes will also cover material on using the new tourniquets most recently recommended by the Committee on Tactical Combat Casualty Care.  There will also be a block on first aid for opioid overdoses (now causing more deaths nationally than either car crashes or gun shot wounds).
Description
This hands-on class will develop proficiency in basic battlefield medical techniques utilizing the military's latest "Tactical Combat Casualty Care" protocols.
Students will learn to stop traumatic bleeding from gunshot and knife wounds using pressure bandages, tourniquets, and hemostatic agents. Self care and care under fire will also be addressed.
Students will also learn simple patient assessment techniques, how to treat a sucking chest wound and tension pneumothorax as well as field fracture immobilization and expedient c-spine immobilization. Options for assuring clear airways will be practiced.
In addition, students will learn how to treat themselves and families in the event of a long-term breakdown in our current medical system. Wound cleaning and disinfection under field conditions, and wound closure (including minor suturing) will be practiced in our "trauma lab". If time permits, students will integrate all of these skills in several practical scenarios.
Information about what types of drugs to stockpile for natural disasters or a collapse in the health care system will be discussed, along with methods for legally acquiring those pharmaceuticals. The instructor will also discuss what items should be included in a comprehensive medical kit and how to improvise those items in an austere environment.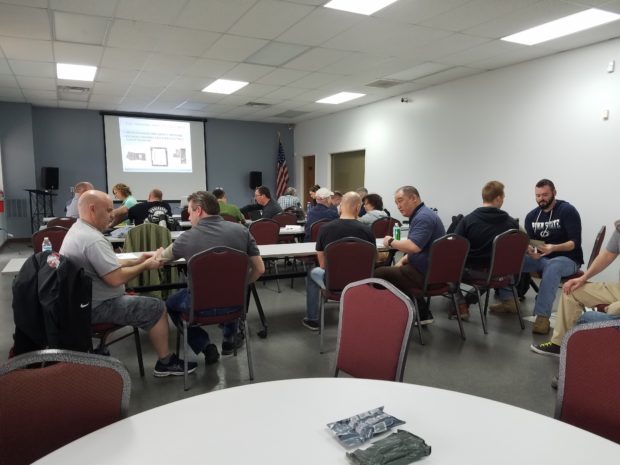 This first aid class covers all the stuff you haven't seen in your previous classes.  In real life, the scenario doesn't always end with "Call 911."  This class will prepare you for the event when no one answers your 911 call.
The first class is Saturday June 8, from 9am to 6pm.  It will be located at a private training facility just outside of Wilmington, Ohio.  Cost is $150.  To register, visit the G4 Personal Safety Website.  There are currently nine open seats.  Act quickly, this location has sold out every time I've offered the class.
The other class will be held at Blackwing Shooting Center in Delaware, Ohio.  It will be held on Saturday, July 20th from 9am to 6pm.  Cost is $175.  There are currently 16 open seats for this one.  It too, has sold out every offering at this location.  To register go to Blackwing's EventBright page.
I hope to see some of you at these upcoming events!