Written by: Greg Ellifritz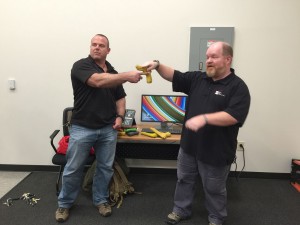 A few weeks ago, I taught the "Unthinkable" class with Dr. William Aprill in Manasass, Virginia.  The class was a resounding success with 25 students who all had great things to say about the curriculum.  A couple of the students wrote reviews of the class on the internet.  If you are curious about what the class was like, take a look at the reviews below…
The first review was written by Tim at Gun Nuts media.  Check out the link for his thoughts:
"The gun is certainly a wonderful and very powerful tool, but it's not wise to pin your survival strategies entirely upon the possession of that tool. "Unthinkable" arms you with information. Critical crucial knowledge that may not be needed every day, but if the "Unthinkable" actually happens to you it gives you enough exposure to know there is almost always something you can do to improve your situation. The exposure opens your mind (which will not be functioning at peak efficiency in a life-or-death situation) to possibilities for winning even when others might insist that all hope is lost…and that's the mindset that sees people through the worst of situations."
Another student wrote a review on  Pistol-Forum.com:
"The topics presented some hard choices that really need to be thought through prior to ever finding yourself in a similar situation. The course made it extremely evident of how important it is to align your beliefs and your behavior, or else you might find yourself compromising one or the other in the moment."
"I think this is a valuable course to take for those who are concerned with self defense and would certainly recommend it. And I'd be remiss without thanking John Murphy of FPF-Training for coordinating the excellent course and the excellent facility."
Tim shared Part Two of his thoughts on Gun Nuts Media below:
"..if it were possible I would happily trade every carbine course I've ever taken for Unthinkable because it's so much more relevant and useful for my goals than all those hours of sunburned misery doing turning drills with a carbine. It's not that the carbine courses are bad, just that it's a weapon I can't carry and so it's unlikely I would ever use the thing…but this information about how violent criminal actors select victims, simple and effective disarm techniques, and better insight into the very different mindsets that criminals and the law abiding bring to the table when their paths intersect…that's information I've been looking for all along."
If you would like to book this class with William and me, please contact me and we'll make it happen!