Written by: Greg Ellifritz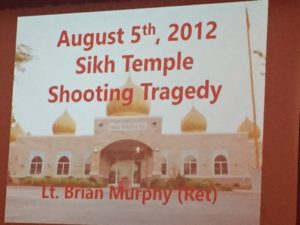 A couple weeks ago I attended an excellent lecture from retired police Lieutenant Brian Murphy.  Lt. Murphy was the first officer on the scene of the Sikh temple active killer massacre in Wisconsin back in 2012.  Lt. Murphy was shot FIFTEEN TIMES in the incident.  He survived and created a lecture to share the lessons he learned during the challenging event.
If you are unfamiliar with the shooting, I will refer you to an article I wrote back in 2012 when the initial dashcam video was released.  Take a look at what I wrote four years ago and watch the dash cam videos of the event.
Lt. Murphy started the presentation by providing some data about the police department in which he worked.  He and the other officers responding to the Sikh temple were extraordinarily well equipped and trained.  Some details:
Nearly 1/2 the officers on the department had received basic SWAT training
8 hours of training for each officer every month and monthly firearms qualifications
Rifles in every cruiser since 1997. (As a comparison, I created my agency's rifle program in 1999 and we were the first agency in Franklin county to issue rifles to patrol officers)
Helmets and rifle resistant plate armor in every cruiser since 2008
For what it's worth, the officers responding to this incident were better trained and equipped than 99% of police officers in the USA.  They still made some very serious errors.  Lt. Murphy was nearly killed.  That happened to the best of the best.  If you are working in a department that has no training and poor equipment, why do you think you would perform better?
Lt. Murphy wasn't scheduled to work that day.  He picked up a shift to allow a fellow officer the chance to have a day off.  It was a quiet Sunday morning.  Lt. Murphy told the group about the two poor decisions he made that partially set him up for failure.  The first was that he chose not to wear the backup gun he normally carried.  The second is that he chose to drive a police cruiser with a malfunctioning rifle rack.  The rack would not open reliably when the opening button was pushed.  The Lieutenant had written the problem up, but the mechanic had not fixed it yet.  Lt. Murphy decided to drive the car anyway because he wasn't expecting to need his rifle.  That complacency was the first step that led to his being shot 15 times.  How many other officers have done similar things?
The killer in this incident shot two people outside the church and then went inside to shoot several more.  While he was shooting people inside the church, several victims called 911.  Lt. Murphy was closest to the location and arrived first.  He saw two lifeless bodies on the front sidewalk, but he did not see the shooter.  He didn't attempt to grab his rifle because he knew the lock was malfunctioning.  He exited his cruiser with only his duty pistol and approached the injured people on the sidewalk.
As the killer had been inside looking out a front window, he saw Lt. Murphy pull up to the scene.  He exited a side door and circled around Murphy in the parking lot.  Murphy saw some movement and turned in that direction.  The killer fired before Murphy could even assess the threat.  The killer's first shot was fired on a jog from 40 yards away.  It hit Murphy in the lower jaw, blowing out some teeth, going down his throat to hit his vertebrae, only to be deflected and come to rest in the front of Murphy's neck.
Murphy fired back while moving to cover, but missed.  The killer's second shot blew off the tip of Murphy's left thumb and caused him to drop his gun.  He was then hit again in the left arm.
Murphy was dazed and hurt.  He moved up to a car to use for cover.  He "sucked up" too close to his cover and lost visual contact with the suspect as he gathered his senses.  He was severely injured and was unarmed.  He decided to make his way to his cruiser in the hopes that he could get his rifle rack to function and arm himself with an AR-15.
As he was doing so, the killer flanked him and directed a second barrage of gunfire toward Murphy from about 20 feet away.  The killer was shooting a 9mm Springfield Armory XD loaded with Federal 147 grain jacketed hollowpoints.  The killer ended up firing 26 total rounds at Murphy.  Fifteen of those rounds hit Murphy.  Only three of the 15 hit his body armor.  The other 12 struck his body.  He was shot in each limb, the torso and twice in the head.  The killer fired on Murphy for one minute and fifty one seconds until he was shot by the second officer arriving on the scene.
There was a small hill in the driveway approaching the church.  As the second responding officer crested the hill, he saw the killer in the parking lot.  He backed up below the crest of the hill to have some concealment in order to access his rifle.  He pulled the rifle out of the rack and then drove forward again to the top of the hill in order to engage the killer.  As he came over the crest, the killer was firing rounds at Murphy, who had rolled underneath a car for cover.
The second responding officer was a highly experienced instructor and SWAT team member.  He had been a firearms instructor for his agency for more than 20 years.  As the officer attempted to access his rifle, the sling got caught up on the car's computer and delayed his response.  Once he got the rifle free, he aimed and pulled the trigger.  Nothing happened.  The officer forgot to put a round in the chamber.
In total, it took an extremely competent officer 33 seconds to deploy and fire his rifle.  During that entire time period, the killer was firing more bullets into Murphy.  The officer hit the killer at a distance of about 90 yards, stopping the attack.
Some random suggestions from Lt. Murphy (along with commentary from me) regarding the incident:
1. Complacency kills.  Murphy was set up for failure by refusing to wear a backup gun or drive a cruiser with a functioning rifle rack.  Don't get lazy!
2. An extremely competent operator and instructor forgot to charge his AR-15 rifle before firing.  Murphy believes that all cruiser rifles should be carried with a round chambered and the safety on to avoid problems like this.  Whatever training you have, it is probably not enough to ensure that you don't make mistakes in combat.  The only way you can avoid making critical errors is by "over training" core skills.
3. The second officer yelled "drop the gun" four times before firing.  During that time period, the killer was actively shooting Murphy.  There is a time for verbal commands and a time to drop the hammer.  Don't waste time giving verbal commands if the killer is already shooting.
4. The killer conducted reconnaissance on the temple two separate times before the attack.  He visited and pretended to be interested in joining the congregation.  Members of the religious group gave him a full tour of the temple on both occasions.  Because of these tours, he was familiar with all the rooms, where the exits were located, and where likely victims would be working.  Detecting this kind of recon is one of the few ways to stop an active killing plot before the shooting actually takes place.  Be alert for "probing" efforts.
5. Seven officers responded to the shooting.  All had helmets and plate body armor.  None put their armor on.  Murphy spoke about the concept of "out of sight, out of mind."  The officers' armor and helmets were stored in their vehicle trunks.  No one thought to put it on.  Murphy thinks that all additional armor should be carried up in the front seat with the officer so that the officer can more quickly don it during an emergency.
6.  "It's your life."  According to Lt. Murphy, no police department provides adequate training for their officers.  It's your life, not your agency's.  If you want to continue living it, you have to seek out additional training, even if you do it on your own time and with your own money.
7. "What's important now."  This is Lt. Murphy's magical question.  It can be asked of students who are participating in force on force exercises to prompt them to alter their tactics when they are having difficulty.  The same question should constantly be asked by every participant in a lethal force encounter.  By focusing on important factors, the officer (or armed citizen) is much more likely to prevail.
8. "Survivors manage pain well."  Are you well practiced at managing pain?  That's an important characteristic of those who win violent encounters.  If you don't have practice managing pain, you need to do some harder things in your life.  Take up a combative martial art.  Do hard and painful workouts.  Do other difficult things.  Knowing that you can fight through pain is a critical advantage when fighting for your life.
I'll close this article with a final quote from Lt. Murphy:
"True peak performance is about operating optimally under long periods of intense stress.  That's the secret to surviving and winning."
I really enjoyed Lt. Murphy's lecture.  If he comes to an area near you, don't miss it.
If you would like to read more articles like this one, please sign up for my email updates.