Written by: Greg Ellifritz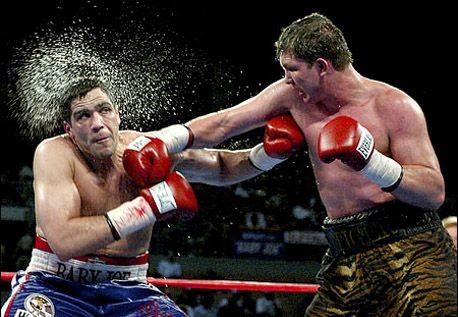 I was recently re-reading Mark MacYoung's book "In the Name of Self Defense." It's an amazing resource for anyone interested in better protecting himself.. I want to share a quote from the book:
"Until you:
1. Develop the ability to take a hit without having an emotional meltdown
2. Have firsthand experience that you can be struck and it won't "destroy" you
3. Don't get all trauma-drama-esque and "triggered" over having been hit in the past
4. Get over your fear of being struck
You:
1. Have no baseline to accurately assess danger
2. Are likely to freak out and emotionally overreact when confronted
3. More likely to get furious and overreact to the insult of being struck rather than the actual danger
4. Will attempt to negotiate and de-escalate from a position of fear
5. Will attempt to deal with the situation from a position of overconfidence
6. Will be reacting to past events instead of what's happening now.
In my experience, these words are 100% accurate. When I see people (both armed citizens and police officers) making bad use of force decisions, it is almost always because they over-reacted, under-reacted, or panicked. The cause of all these problems is the person's lack of fighting experience. Most American men haven't been punched since grade school, if ever. They've never been attacked or been in a street fight. They've never studied a combat sport where punches are thrown. They have exactly ZERO experience being hit.
Yet these same people somehow think that they understand the dynamics of fighting and self defense. They are wrong. People who haven't been hit have no clue. They are just guessing when they evaluate the severity of the situation they find themselves in. And because of their lack of experience, they make poor decisions when they have to defend themselves.
If you are reading this blog, you are a more dedicated and knowledgeable practitioner of the defensive arts than the average person. You may be one of the few people who has taken a higher level firearms or tactics class. You are the type of person who won't be content with a bare minimum CCW permit class. If you are reading this article, you want more.
If you truly want to become better at defending yourself, join a boxing gym for a few months. You don't have to enjoy it. You don't have to study the sport for the rest of your life. You don't even have to become a proficient boxer. You just have to gain some experience being hit.
Understanding the true nature of what it's like being punched in the face will enhance your abilities to defend yourself better than almost anything else on the planet. A couple months in a boxing gym will be a life-changing event.
Read the quote again. Then commit to getting hit. The benefits will far exceed anything that you can learn by taking another carbine course.
Some of the above links (from Amazon.com) are affiliate links. As an Amazon associate I earn a small percentage of the sale price from qualifying purchases.
If you would like to further support my work, head over to my Patreon page.