Written by Greg Ellifritz
I've had a busier than normal month in my cop job resulting in numerous trips to take prisoners to the county jail. If you don't know, not even cops can carry their guns inside a secure holding facility. It is the ultimate "gun free zone." Since cops are outnumbered by prisoners, they don't want to take the chance that a group of inmates takes down an officer and steals his gun.
There are gun lockers in the sallyport (garage) of any jail All cops bringing in prisoners have to secure their firearms in a gun locker before entering the actual jail facility. Spending a bunch of time going in and out of the jail this month, I noticed that none of the other cops I saw at the jail were carrying second guns. Since all guns must be locked up, in years past it was a regular sight to see officers unbuttoning shirts and fishing backup guns out of vest holsters or off their ankles to lock up before entering the jail.
This month I never saw another officer who was carrying a backup gun. Twenty years ago, it was uncommon NOT to see a cop carrying a second pistol or revolver. It seems that the police profession is forgetting some of the hard learned lessons of the "officer survival" movement in the 1970s and 1980s.
I'm a big proponent of carrying a backup gun. I can honestly say that in more than 22 years as a cop, I haven't worked a single shift (even when assigned full time to the range) without carrying a backup gun. I occasionally carry a second gun off duty as well.
The benefits are obvious. Your primary gun can break, get taken from you, malfunction, or run out of ammunition. A backup gun may be more easily accessible than the primary in some positions. You could also use the backup gun to arm an unarmed (but trained and capable) friend if you are involved in a situation where you have a little forewarning. There are lots of useful reasons to carry a second pistol.
One additional reason that most of my students haven't considered is that the primary gun could be hit by gunfire and disabled. Read about that very thing happen in the amazing gunfight account linked below: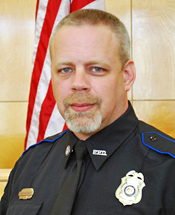 The cop profiled in the article wasn't carrying a backup gun when he was shot while executing a search warrant. His gun hand was hit by the suspect's bullet. The round blew off his middle finger and continued onward destroying his pistol. He was able to grab another downed officer's firearm and end the fight by killing the suspect while firing with his weak hand.
I have seen more than a dozen gunfight accounts where one of the participants' guns was destroyed by his opponent's gunfire. It happens more often than one might think. And it doesn't just happen to cops.
Most of you who train in defensive shooting dedicate some practice time to using the weak hand only in case your strong hand is hit by your attacker's bullet. Think it through logically. If your gun hand has been hit, isn't it likely that the gun may be hit as well? Shouldn't you have a plan for if that happens? The best plan is to be able to quickly acquire a second gun with the off hand.
There aren't many other options that cover all contingencies. While shots to the gun hand don't happen in every gunfight, they happen frequently enough to merit developing a plan for their occurrence. Furthermore, the consequences of not having that plan are likely to be fatal. If you are playing the game to win, you'll have contingency plans.
The best contingency plan for this circumstance is to carry a second gun.