Written by Greg Ellifritz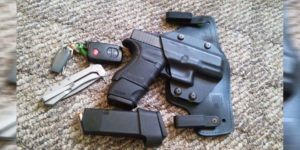 Concealed Nation has a regular feature on its website called #DIGTHERIG.  It consists of reader submitted photos about their individual chosen concealed carry weapon and holster choices.
A huge variety of guns and holsters are featured.  All are carried by someone.  Unfortunately, some of the choices are less than optimal.  Concealed Nation doesn't provide any commentary about whether the CCW choices are good or bad.  I fear that leads a lot of uneducated readers to think they are making good choices with regards to CCW weapons just because they are carrying a gun that is similar to one of the guns featured on the website.  That's not a good idea.
While most of the gun/holster combinations featured are completely adequate, some are less than ideal.  When I see some of these sub-optimal choices, I will highlight them here, telling my readers why I think that they should be making better choices.  I'm going to call my series #DON'TDIGTHERIG.
This installation of #Don'tDigTheRig is about this submission from Brandon.  He carries a:
"Glock 29 in Alien Gear Cloak 3.0 with Glock 20 mags (when applicable) filled with Underwood Xtreme Defenders and Underwoods 165gr Gold Dots and a Kershaw Amplitude 3.25."
I've spoken about hybrid IWB holsters like the one from Alien Gear before.  I don't like them and think they are a dangerous choice for concealed carry.  Check out this article  and this article for more information.  Pick an IWB holster that is either all leather or all kydex.
I've also written about the 10 mm as a self defense round.  I think it is sub-par as a choice for defense against human predators.  The recoil and blast are excessive, thereby slowing followup shots.  While plenty powerful, the 10mm is still unlikely to stop an aggressive attacker with a single shot.  Two to three hits are the norm in a defensive shooting.  Most folks can't shoot those two to three rounds with a 10mm nearly as quickly or as accurately as with a 9mm, .40, or .45.
The Glock 29 itself is fine, it's just generally too much for the average shooter to handle well.
The ammo choices Brandon is using are especially bad selections.  Despite the fancy advertising and video, the Underwood Xtreme Defender basically acts as a ball round.  The grooves in the bullet do not create a larger permanent wound cavity.  Ballistic gel is not the same as flesh.
Even if the gel results look good, science tells us that we need somewhere around 2500 feet per second of velocity to get significant permanent wound cavity enhancement from any fluid shockwaves.  The Underwood round does not reach that velocity.  That bullet design is a poor defensive choice.  In flesh, it is likely to penetrate adequately, but only make a caliber sized hole.  There are much better ammo options than this one.
The 165 grain Gold Dots are a better choice.  They expand very well, but fail to penetrate deeply enough in human flesh to reliably reach the vital organs on a larger criminal or if the shot has to be taken cross body through an arm.  The penetration results I've seen average around 10 inches in ballistic gelatin.  The FBI recommends that any defensive round penetrate at least 12 inches in calibrated ballistic gelatin.  Again, sub optimal performance.
What about the knife?  Several readers have contacted me with regards to this series.  All of the comments were asking me to provide my opinion on the carrier's knife choice as well.  I find that harder to do.  Not everyone carries a knife for purely defensive purposes.  I don't know the carrier's reason for carry, so it's hard to make definitive comments.
I will say that this knife isn't a bad choice for a defensive blade.  The frame lock is very strong and I've never seen one fail in my classes.  The only feature I don't like is the pocket clip.  I don't like my clips to be shiny and visible.  That clip also holds the knife VERY low in the pocket.  It could be a little harder to draw under stress than some other options.
Equipment isn't the most important factor in winning your defensive encounter. With that said, you don't want to intentionally diminish your performance by using bad gear. It's hard enough to win a gunfight when everything goes well. It's a lot harder when you have sub optimal equipment.
If you would like to read more articles like this one, please sign up for my email updates.