Written by Greg Ellifritz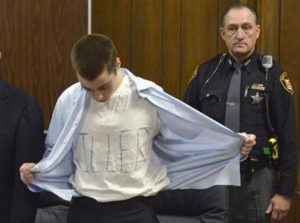 This week, a Chardon Ohio teen was sentenced to life in prison  for killing three of his classmates.  No one knows why he did it.  He admits he doesn't even know why I took a gun to school that day.
What is clear to me is that this teen is a true danger to society.  According to the article below, at his sentencing hearing:
"He calmly unbuttoned his blue dress shirt to reveal the T-shirt reading "killer," which the prosecutor noted was similar to one he wore during the shooting."
"At one point, he swiveled around in his chair toward the gallery where his own family members and those of the slain teenagers were sitting and spoke suddenly, surprising even his lawyer.
"The hand that pulls the trigger that killed your sons now masturbates to the memory," he said, then cursed at and gestured obscenely toward the victims' relatives."
Evil DOES exist in this world.  You can deny it, but you better have a plan of action when it surprises you by showing up.
Is there anyone alive who believes that better mental health screening or stricter gun control laws would have prevented this monster from killing?