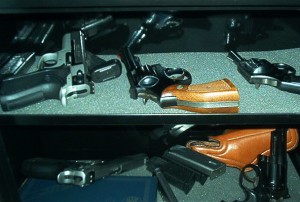 After people choose their first firearm, become comfortable with the idea of owning a gun, and perhaps gain a little proficiency with their gun handling skills, they will often want to add more guns to their collection. What guns should they buy next?
If you haven't read part one of this series, go back and do so. I'm assuming that anyone reading this has already purchased a reliable self defense handgun, preferably one of the pistols or revolvers I recommended in the earlier article. After that, what's next? Shotguns, rifles, more pistols? Here are my thoughts…
GUN NUMBER TWO
The first additional purchase one should make is to acquire a semi-automatic rifle. I advise this for two reasons, one is the versatility the rifle offers and the second is due to the current political environment. If any weapon type is likely to be banned in the future, it will be the semi-automatic rifle. It is often the poster child example of an "evil" gun that anti-gunners use to justify additional firearms restrictions. You never know when future legislation will be enacted. Get one now while you still can.
The rifle is also the only weapon type that will allow you to engage at a distance. Shotguns reach out farther than pistols (with the right ammunition) but even the best shooter is unlikely to get reliable hits beyond 100 yards using one. Rifles are faster and easier to shoot than the shotgun and hold more ammunition. The stopping power of a centerfire battle rifle is better than any handgun and the equal to the best shotgun. The military uses automatic rifles for good reason.
While many rifles will work for self protection and hunting, I think your first rifle should be a semi-automatic rifle. They are the most durable and best suited for a role in self protection. There are many options available, but like the pistols I recommended, there are only a couple guns that have a long term history of reliability, accuracy, ammunition availability and ease of use. I recommend either an AK-47 or an AR-15 as the best first rifle. Both weapons have an excellent record of reliability and are easy to customize to your individual needs.
There are advantages and disadvantages for each weapon system. The AK-47 shoots a more powerful bullet and may be somewhat more reliable than the AR-15 under battlefield conditions. It once was a cheaper option, but in the current market, the low end AR-15 rifles are often cheaper than the average AK-47. The AR-15 is lighter, has less recoil, is more ergonomic and more accurate. Either weapon will serve you well. If you are worried about reliability in very dirty or wet conditions, or you want a bullet that will shoot through intermediate barriers; choose the AK-47. If you want more accuracy, a lighter weapon, or the ability to better customize your rifle, choose the AR-15.
If you want an AR-15 don't buy the cheapest rifle you can find. The parted-out "Frankenguns" generally don't hold up well. Expect to pay somewhere in the neighborhood of $1000 for a high quality new AR-15. For an entry-level rifle, consider brands like Colt and Smith and Wesson. In my experience, the Colt and Smith and Wesson rifles tend to be the most reliable of the lower-priced AR-15s. Most Bushmaster, DPMS, and Rock River rifles display more problems than the Colts or Smith and Wessons. If you want to spend more money, look at the AR-15s made by Bravo Company, Daniel Defense, and LMT.
When buying an AR-15, you should look for a couple of worthwhile features. First, get a rifle with a removable carry handle (often called the A-3 model) or flat top. The removable carry handle has sights, but can be removed if you want to later install an optic like a red dot sight or scope. The A-3 models give you the ability to do use open sights or optics.
Next, make sure you get a rifle that is chambered for 5.56mm rather than .223 Remington. While the two cartridges are dimensionally similar, they are not the same. The 5.56mm is loaded to a slightly higher velocity and pressure. Because of this, a .223 Remington round can be safely fired in a 5.56mm rifle, but doing the opposite may be unsafe. Get the more versatile 5.56mm chamber. The newer .223 Wylde barrels handle both rounds as well.
You will also want a collapsible stock to allow different sized shooters to comfortably shoot the rifle. Get a rifle with a 14.5"-16" lightweight or M-4 profile barrel with a flash suppressor. Make sure NOT to get a muzzle brake instead of a flash suppressor. The muzzle brakes are designed to reduce muzzle rise on recoil but do so at the cost of dramatically increasing noise and muzzle blast. The muzzle rise isn't enough of an issue with the 5.56mm rifle to warrant their use. If you ever have to shoot the rifle indoors or in a vehicle without hearing protection, you'll be glad you got the flash hider instead.
Brand and country of manufacture isn't as important when choosing an AK-47 as it is when choosing an AR-15. Almost all AK-47 rifles run reliably no matter where they are manufactured. I've had great experiences with even the cheapest (under $600) Century Arms AK-47 rifles.
If you buy an AK-47, make sure it has a muzzle brake or flash hider. The AK-47 muzzle brakes look like slanted, cut off sections of the rifle barrel. They do not have the blast and noise intensifying properties of the AR-15 muzzle brakes. They reduce the flash signature at night and are very useful. If you want more flash suppression, you can buy the "birdcage" type flash hiders that will screw onto the same threads that the slanted muzzle brakes use for attachment.
The other useful feature to have on an AK-47 is a chrome lined barrel. A lot of the surplus 7.62x39mm ammunition is corrosive. If you don't clean your rifle immediately after firing corrosive ammunition, the barrel and internal parts will rust. The chrome lined barrel will delay the start of this process.
No matter which rifle you buy, don't load it up with extraneous equipment. There are just a few useful accessories that need to go on a rifle. The first necessity is a sling. I like the slings by Viking Tactics and Blue Force Gear, but even a simple military carry strap will work fine.
You will also want a light on your rifle. There are many good options ranging from $50-$500. Pick the one you like. I personally prefer the Surefire brand of lights on my fighting rifles.
Beyond slings and lights, you will want plenty of extra magazines. Get at least 10. High capacity magazines have been the target of legislatures in the past. They were restricted so that civilians couldn't purchase newly manufactured magazine from 1994-2004. During that time frame, magazines that today cost $10-$15 rose in price to over $100. Buy your magazines now before they are too expensive. Get P-Mags or the aluminum GI mags from Brownells.
GUN NUMBER THREE
After you have purchased your first handgun and a semi automatic battle rifle, what's next? My suggestion may surprise you. I don't recommend buying a shotgun, sniper rifle, or rimfire. I recommend buying a DUPLICATE COPY of your primary handgun. Even the best firearm will break if you shoot it enough. Having a spare handgun identical to your primary keeps you armed in case your gun breaks and gives you an extra "parts gun" to strip in the case of a long term breakdown. Between the two identical pistols, you should be able to keep at least one of them up and running at all times. Having a duplicate copy also minimizes training time, provides an extra stock of magazines for your primary weapon, and allows you to arm a partner if necessary. All of those are good things.
GUN NUMBER FOUR
Your next weapon purchase should be a .22 rimfire. The .22 serves several purposes:
– Inexpensive practice
– A lower recoiling self defense option for children or people who are exceptionally recoil sensitive
– Hunting small game
– The ability to have a gun which fires the most commonly available cartridge in the world combined with the ability to stockpile thousands of rounds of ammunition very cheaply
– The ability to shoot quietly when it may be dangerous to make loud noises
For some people, a .22 pistol or revolver will work for these purposes. Other people will be better served with a rifle. If you are primarily concerned with having a weapon for small game hunting, the rifle will be a better option. If you want a lower recoiling self defense weapon, maybe the handgun would be better. You'll have to make that decision for yourself.
Something that you should consider is buying a .22 rimfire copy of your centerfire battle rifle or self defense handgun. This will provide you with a cheaper shooting gun with identical controls to your primary weapon, thus allowing you to practice more for less money. More practice is good. Besides having a cheaper practice option, the lookalike .22 will also serve as a weapon for hunting, self defense, or quiet shooting.
I really like the Smith and Wesson M&P 22 rifle for this purpose. It's an identical copy to the AR-15 rifle and is very reliable and accurate. If you want a less aggressive looking .22 rifle, it's hard to beat the Ruger 10/22. The 10/22 is accurate, reliable and can be easily customized. It can also be purchased for under $200.
As for pistols, if you don't have an identical copy of your self defense pistol, consider the Ruger SR22, the Ruger 22/45, Smith and Wesson M&P, or the Browning Buck Mark. All are relatively inexpensive, reliable pistols. Rimfire revolvers made by Smith and Wesson and Ruger are also good options.
It's easy to stockpile thousands of rounds of .22 ammunition. With most .22 ammunition costing around $30 for 500 rounds, put away as much as possible. You should look at three types of ammo. The first is cheaper practice ammunition. Rimfires tend to be somewhat finicky about the types of ammunition that they reliably fire. Try as many types of cheap ammunition as possible until you find one that works and then buy as much of it as you can afford. Keep it in a cool dry place and it will last virtually forever. I've successfully fired .22 cartridges over 50 years old.
After you amass some practice ammunition, you may want some self defense or hunting bullets. These are loaded to a higher velocity and are generally more reliable than the bulk pack practice .22s. For this ammunition, I prefer the CCI "Velocitor," "Stinger" or "Mini-Mag" cartridges. I've found them to be reliable and effective.
If you want a cartridge that will make the least amount of noise, check out the CCI "CB Caps". They are bullets that are loaded with less gunpowder. They are less powerful and much quieter. They may not function in all weapons, especially semi automatics.
GUN NUMBER FIVE
The next gun you should purchase should be a shotgun. The shotgun has versatility both as a self defense weapon and as a firearm used for hunting. Shotguns are classified by "gauge" rather than caliber. The smaller the number in the gauge, the more powerful the shotgun is. 12 gauge and 20 gauge are the two most popular shotgun choices.
Both 12 gauge and 20 gauge are effective for self defense. The primary difference is range. A 12 gauge loaded with buckshot is effective out a range of about 35 yards. A 20 gauge loaded with the same ammunition is only effective to about 25 yards. At the close ranges that most gunfights occur, the wound channels between 12 and 20 gauge are virtually identical.
I generally prefer the 12 gauge for its added range, but it does recoil more than the 20 gauge. If someone is smaller statured and sensitive to recoil, a 20 gauge might be a better choice.
If you are going to buy a shotgun, you will want either a pump action or semi automatic weapon. The pump action is inherently more reliable, but in practice, I've found the semi automatic to be more reliable because it reduces the chance for operator error. With pump action weapons, a shooter under stress is likely to "short stroke" the weapon, meaning he doesn't pull the pump mechanism fully to the rear when pumping it. This will cause a malfunction.
As for pump action shotguns, some of the best models to look at are the Remington Model 870 and the Mossberg Model 500. If you are looking for a semi-automatic, the firearms manufactured by Benelli (M1, M2, M4) and Remington (1100 and 11-87) and Mossberg are the best. Most of these weapons are available with shorter barrels (lighter, quicker, and handier for self defense purposes) and alternate long barrels (better accuracy and range) for hunting. If you can afford to do so, buy both barrels.
There are many misconceptions about the best types of ammunition to use in the shotgun. Essentially, you have three choices: birdshot, buckshot, and slugs. Birdshot is the smallest in size and is normally used for hunting. Because of its small size, penetration with these pellets isn't as deep. For this reason, some people advocate its use for self defense in the home. The people who advocate its use say that it is less likely to penetrate walls and hit other people in the house. The fact that birdshot doesn't penetrate deeply is well known, and it is true that birdshot is less likely to penetrate through multiple walls. Despite this potential advantage, I don't recommend it for self defense. The very lack of penetration that some will use to justify its use, is its primary downfall. If your attacker is well muscled or extremely fat, birdshot may not penetrate deeply enough to reach the vital organs. Sometimes birdshot fails to stop birds.
Even though I don't recommend birdshot for self defense, you should still have a stockpile of some. It is very good for both practice and for hunting. A few hundred rounds of number four or number six birdshot will be useful additions to your preparations.
Buckshot and slugs should be your primary self defense loads. For most people and ranges size 00 Buckshot will work the best. If you anticipate needing to shoot through intermediate obstacles or at long range, use slugs (single projectiles). Both buckshot and slugs recoil more than birdshot. There are "low recoil" cartridges available, but they may not work in all semi-automatic shotguns.
Do not purchase a shotgun that only has a pistol grip (no stock). Recoil is excessive with only pistol grips and accuracy in non-existent beyond 20 feet. If you want a more portable package, purchase a folding stock. You can shoot it with pistol grips at very close range or extend the stock when more accuracy is needed.
Like the battle rifle, not many accessories are really needed. Get a sling and a light. Shotgun gunfights do not tend to be use many rounds. If you think you need more than the four to eight rounds in the shotgun, you can get a "sidesaddle" ammunition carrier or an extended magazine. Other than the extended magazine, sling, and light, no other accessories are really useful. One other tip about the light…you will need a sturdier light and mount. The shotgun's more intense recoil breaks lights far quicker than lights mounted on a rifle. I recommend a very sturdy mount and a bulbless LED flashlight. If you use an incandescent light, the bulb must be shock isolated or will be quickly broken on recoil.
Conclusion
There are my recommendations for your first five firearms purchases. Some folks my not want or need that many guns. Some people think a five gun arsenal is woefully inadequate. The important thing isn't following my list word for word, but thinking about your own needs and establishing your own purchase criteria.