Written by: Greg Ellifritz
My friend Claude Werner recently wrote an article where he postulated most shooters don't do any real structured practice with their firearms.  They plink or play, but they generally don't perform drills designed with realistic standards in order to improve performance.  In the article, Claude talked about sharing details and photos of his practice routines to give novice shooters an idea about how they might better spend their practice time.
I think that is a wonderful idea.  I plan on sharing the drills I shoot in my weekly practice sessions.  Hopefully, you will get a little value out of my posts and come up with some new drills to make your own practice sessions more effective.
Before this practice session, I hadn't shot in two weeks.  That's unusual because I rarely miss my weekly practice session unless I am out of the country.  I didn't have much time.  I ran to the range solely to "knock the rust off" of my shooting skills as I had to teach a pistol class the following day.
I got to the range and turned practice session #10 into a dumpster fire.  Do you ever have a practice session that just doesn't go well?  I do.  This one was a prime example.  I don't know what happened with my shooting, but it seems like the wheels just fell off.  I started out by shooting Dave Spaulding's new The 5 in 5 Drill.
Using my Glock 19, I did pretty well at the five and 10 yard stages (left target below).  The 15 and 20 yard stages were absolutely horrible.  Only about half of my shots hit the box at those ranges (right target below).  You don't even want to hear about how poorly I shot the 25 yard stage.  I think I was having a bad shooting day.  I'm going to have to try that drill again soon.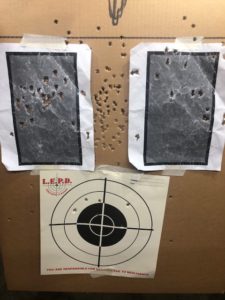 I shot the practice session using 17-round magazines in my G19.  That made it easy to shoot each of Dave's five shot stages three times.  With the two rounds remaining in the magazine, I fired a single shot each right hand only and left hand only at the bullseye target.  After my miserable performance, I did some slow fire bullseye group shooting at 30 feet to end the session.
Total: 127 rounds 9mm Glock 19