Written by: Greg Ellifritz
My friend Claude Werner recently wrote an article where he postulated most shooters don't do any real structured practice with their firearms.  They plink or play, but they generally don't perform drills designed with realistic standards in order to improve performance.  In the article, Claude talked about sharing details and photos of his practice routines to give novice shooters an idea about how they might better spend their practice time.
I think that is a wonderful idea.  I plan on sharing the drills I shoot in my weekly practice sessions.  Hopefully, you will get a little value out of my posts and come up with some new drills to make your own practice sessions more effective.
I've been starting every practice session with the Consistency Target.  Unfortunately, I printed out a stack of targets and promptly forgot to take them to the range.  I substituted Dot Torture instead.  I did it at four yards with my Glock 17  and threw one shot right handed only.  Not a great performance, but not horrible either.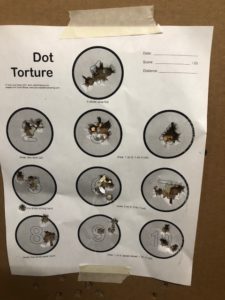 A couple days after this practice session, I had to attend a function where I couldn't conceal my normal carry gun.  I planned to carry my S&W Shield and my Ruger LCP in place of my Glock 19, so I decided to practice with those weapons.
I ran the "Ohio CCW Competency Exercise" as described on page 23 of Claude Werner's excellent Indoor Range Practice Sessions book with all three of my pistols.  That drill required one and two handed shooting at both 10 and 15 feet.  It's designed to be shot on a silhouette target, but I used a bullseye instead.  I also added a couple of left-hand only strings to the course of fire for additional practice.
Not too bad considering how much I hate shooting the little LCP.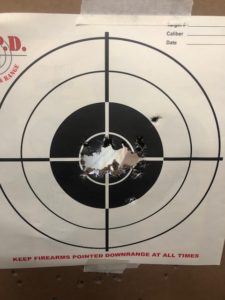 Total
– 85 Rounds Glock 17
– 65 Rounds S&W Shield
-36 Rounds Ruger LCP