Written by: Greg Ellifritz
This series consists of the details of recent shooting practice sessions I have completed.  It is my hope that by sharing some of my practice routines, more shooters will be inspired to add structured drills with measurable progress standards into their own practice sessions.
-Greg
My stated practice plan this year was to begin each session with the Guerilla Approach Consistency Drill.  I ran the drill three times with my Glock 17 pistol.  I managed to do pretty well despite not having shot for two weeks previously.
Round 1-  with no misses = 27.25
Round 2-  with one miss = 26.05
Round 3- with no misses = 23.14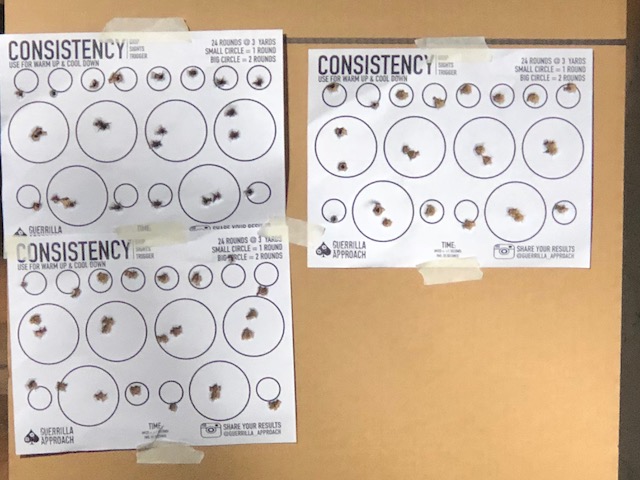 At a recent shooting class I took with Pat McNamara, I recognized that my one handed shooting skills needed some improvement.  To accomplish that goal, I then did the Police Marksman One Handed Shooting Drill course with my police backup gun (S&W Model 12 snub) and then again with my duty pistol (Glock 17)
I finished up with a couple magazines of two handed "tempo shooting" with the Glock 17.  I shot six-shot strings at one second intervals, half second intervals, and then as fast as I could go shooting a B8 Bullseye repair.  I really like those tempo shooting drills and try to include them often in my practice sessions.  I think many of you would benefit by shooting some six round strings in that fashion.
Total rounds fired:
52 .38 spl S&W Model 12
136 9mm Glock 17
Total rounds fired:
137 rounds 9mm Glock 17
52 rounds .38 spl S&W Model 12