Written by: Greg Ellifritz
This series consists of the details of recent shooting practice sessions I have completed.  It is my hope that by sharing some of my practice routines, more shooters will be inspired to add structured drills with measurable progress standards into their own practice sessions.
-Greg
Unfortunately, this will be my last post about my practice sessions.  I really don't get it, but no one reads these things.
I've written up 18 different practice sessions this year.  None of the 18 articles got over 1000 pageviews.  The very best performing of the 18 articles was ranked 237th in popularity among all my posts this year.
I realize I'm not Rob Leatham.  With that said, I shoot better than 98% of you reading this website.  If someone who shot a whole lot better than me posted the EXACT practice routine that he used to make improvements, I would be extremely interested in reading it.  I guess most of you aren't like me.
If I post a #DON'TDIGTHERIG article, it is guaranteed to reach 10,000 readers.  My practice session posts average about 800 readers.  Everybody wants to read about gear.  No one wants to read about hard work.  Message received.  No more practice session posts for 2019.
My stated practice plan this year was to begin each session with the Guerilla Approach Consistency Drill.  I ran the drill three times with my Glock 17 pistol.
Round 1-  with four misses = 22.94
Round 2-  with four misses = 21.60
Round 3- with two misses = 23.82
Compare those results with the first time I ran the drill about a year ago.
Round 1-  with one miss= 33.0
Round 2-  clean = 29.0
Round 3- with four misses = 23.4
I would have to say that my pistol shooting (at least with this drill) showed some measurable improvement in the past year.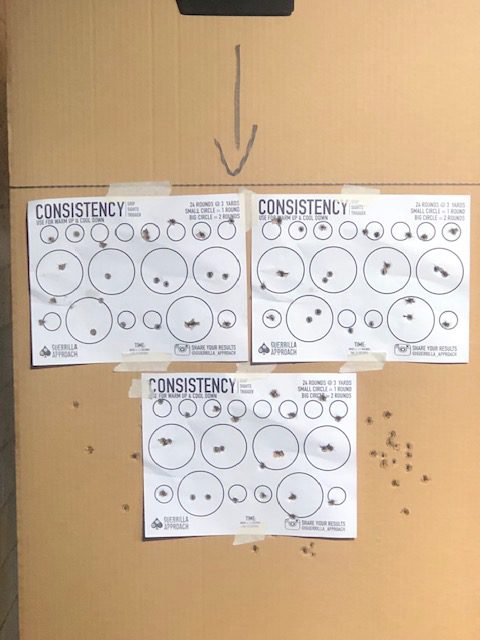 After running the Consistency Drill, I chose to shoot  Larry Vickers' "The Test" shooting drill.  I chose this one because I plan on using it as my benchmark for shooting improvement in 2019.
I ran it three times with my Glock 17.
Round One-8.96 seconds/94 points
Round Two- 8.81 seconds/95 points
Round Three- 8.55 seconds/94 points
I then finished off with a couple of Bill Drills with the 17.
I moved on to my backup gun (S&W 12 .38 spl) and shot the "Checking Your Baseline" drill from Claude Werner's Indoor Range Practice Sessions book.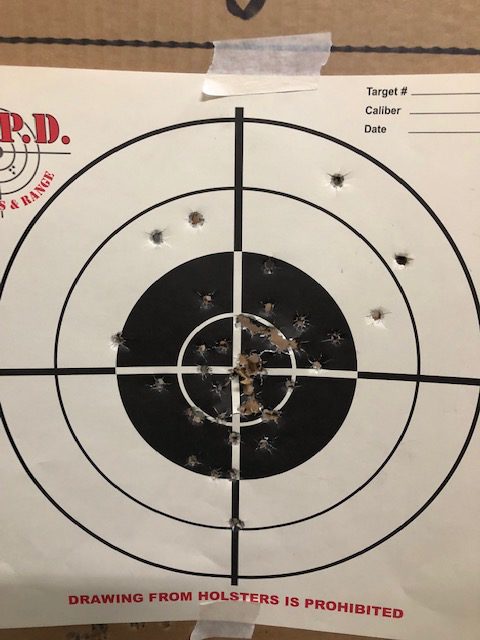 I got another old gun and had to shoot that one as well.  I ran my new (to me) FN 1905 .25acp through the same drill.  It ran flawlessly, but elevation was tough to control with no sights!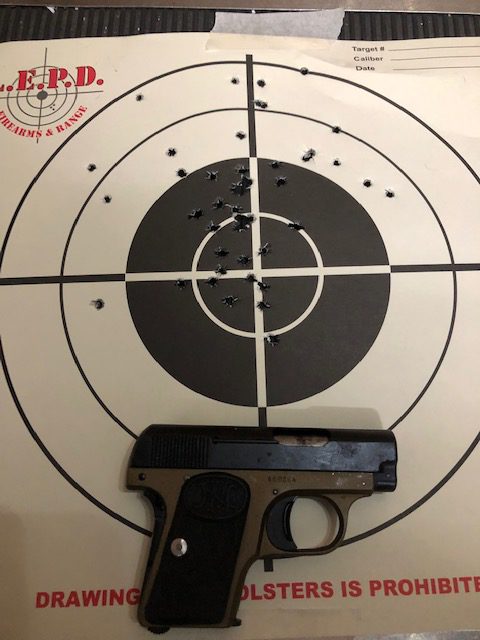 Total Rounds fired:
– 114 9mm Glock 17
-48 .38 spl S&W 12
-48 .25acp FN 1905