Written by Greg Ellifritz
I wrote the article below in May of 2012, shortly after starting this blog. It has been the single most-read article on my site and continues to get approximately 5000 pageviews a month years after I published it. You folks like your .380s. Technology has changed significantly in the last few years. I updated the article to add a new gun and change some of the rankings based on seeing countless additional .380 auto pistols come through my courses. Enjoy the new information.
-Greg
Now that almost every state allows its citizens to legally carry a concealed handgun, there has been an explosion of interest in .380 acp pocket pistols. Many people who are new to carrying guns haven't yet made the transition to "dressing around the gun". They want to wear the same style clothes that they have always worn. Sometimes that isn't amenable to carrying a larger pistol.
These folks sacrifice by carrying a smaller pistol that is both lighter and easier to conceal. The micro .380 automatics fit the bill.
They aren't perfect. None of them are exceptionally easy to shoot. They don't have great stopping power. Most are not nearly as reliable as their average full size counterparts. But some people refuse to carry a full sized gun. That's OK. It's your life and your choice. I'd rather have you packing a small .380 than nothing at all. If you want some more information about the ballistics and stopping power of the cartridge, check out mt article Is the .380 auto an adequate caliber for defensive use?
The problem starts when you begin to decide WHICH .380 is best for you. Unfortunately, most people who carry these weapons don't shoot them a lot. They don't compare the various models by shooting them on the range before making a purchase decision. They are forced to rely on sleazy gun salesmen and paid-off gun writers for information. That's not acceptable. If you are going to carry a sub-optimal pistol, you should at least do your homework and choose the best of the bunch!
I've owned, carried, and shot the majority of the available .380 autos. I see others in the hands of the police officers I train. On top of that, teaching classes at TDI exposes me to seeing even more of these pistols. I've developed some pretty strong opinions about which work the best over the long term and which have problems. I haven't shot everything. there's always something new coming out. The list I've created below are guns with which I have had extensive experience. There may be other good ones that I just don't feel confident enough to recommend.
Don't trust my information. Do your homework and try these things out for yourself.
I'm going to list these guns from best to worst. Worst on my list doesn't really mean worst overall. There are lots of guns that I would never even consider carrying that are considerably less reliable than even the worst gun on this list.
Please don't write to complain about how I slammed your CCW pistol. Don't tell me about how your gun is the exception. I'm sure it is. In your mind. I'm basing my experience on seeing dozens of examples of each of these guns. I bet if anyone actually shoots their guns extensively, they'll come to the same conclusions as I did. Here is my ranking of the best .380 pistols:
First Choice- Glock 42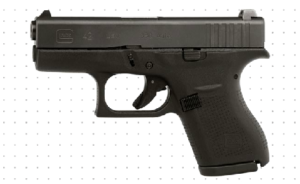 Specifications from Glock's website:
Caliber: .380 ACP
Capacity: 6 +1
Barrel Length: 3.25 "
Overall Length: 5.94″
Height: 4.13″
Slide Width: .94″
Weight (unloaded): 13.76 ounces
The Glock 42 is the only new addition to the list, having not been released when I originally wrote the article. I now own two Glock 42s and I love them. The older one has more than 600 rounds through it with no malfunctions. The Glock is the gentlest recoiling of all the .380 pistols on the list and is amazingly accurate. Its primary downside is the fact that it is one of the larger .380s. I can't carry mine in a back pocket like I can my Kahr or Ruger. It's just too big. This one conceals just fine in a cargo pocket or in an ankle holster. When I grab a .380 out of my gun safe, I find myself choosing this one more frequently than any of the others I own.
Second Choice- Kahr P-380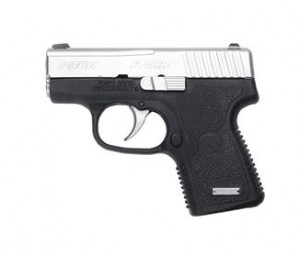 Specifications from Kahr's website:
Caliber: .380 ACP
Capacity: 6+1
Operation: Trigger cocking DAO; lock breech; "Browning – type" recoil lug; passive striker block; no magazine disconnect
Barrel: 2.53″, Premium Lothar Walther Match Grade Barrel
Length O/A: 4.9″
Height: 3.9″
Slide Width: .75″
Weight: Pistol 9.97 ounces (w/o magazine)
Grips: Textured polymer
Sights: Drift adjustable, white bar-dot combat sights
Finish: Black polymer frame, matte stainless steel slide
Magazines: 2 – 6 rd, Stainless
While not the absolute smallest of the .380 micro pistols, this one gets my vote for it's combination of best reliability, adequate sights, and one of the better triggers. If I was forced to carry only a .380 pocket pistol, this would be a top choice. It's accurate, reliable, and easy to shoot.
The downsides are cost (more than twice the price of its competitors) and the fact that the slide is fairly difficult for many people to rack due to the stiff recoil spring.
Third Choice- Ruger LCP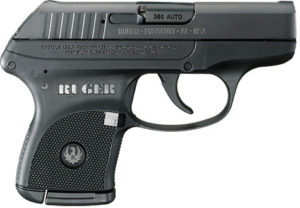 Specifications from Ruger's website:
| | |
| --- | --- |
| Caliber: | .380 Auto |
| Capacity: | 6+1 |
| Length: | 5.16″ |
| Width: | 0.82″ |
| Height: | 3.60″ |
| Barrel Material: | Alloy Steel |
| Barrel Finish | Blued |
| Slide Material | Alloy Steel |
| Slide Finish | Blued |
| Grip Frame | Black, High Performance, Glass-Filled Nylon |
This one could arguably be placed higher. I own one and carry it quite a bit. I've never had a single malfunction with it. Some others I've seen have performed horribly. The quality control seems somewhat spotty. Some guns work great. Other guns barely work at all.
This is one of the smaller feeling guns available, which may be good or bad depending on your needs. It is inexpensive, reasonably reliable, and easy to carry. The downsides are the stout recoil as compared to other .380s and the virtually non-existent sights. The newer version with the larger sights and the skeletonized aluminum trigger fixes many of the faults inherent in the stock gun. If given the option, I would go with the newer version. This is quite possibly the best "fits in a back pocket" .380 auto currently available.
Fourth Choice- Smith and Wesson Bodyguard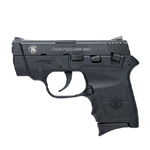 Specifications from Smith and Wesson's website:
Caliber: .380 Auto
Capacity: 6+1 Rounds
Barrel Length: 2.75″ / 7.0 cm
Frame Size: Compact
Action: Double Action Only (Hammer Fired)
Front Sight: Stainless Steel
Rear Sight: Drift Adjustable
Grip: Polymer
Overall Length: 5.25″ / 13.3 cm
Weight: 11.85 oz / 335.9 g
Frame Material: Polymer
Material: Stainless Steel w/Melonite® Finish
Finish: Matte Black
The Bodyguard is one of the more reliable .380 autos, but I don't think it is nearly as shootable as the Kahr. It is very flat and small. It also has a manual safety that some find desirable. It comes standard with a laser sight.
Negatives for the Bodyguard are the horrible trigger (probably the worst of all the micro .380s) and the fact that the slide will "bite" meaty hands. I can't shoot it without bleeding. One other potential issue is the location of the switch to activate the laser sight. It almost can't be activated in a firing grip. Smoothly integrating the laser activation into your draw stroke isn't realistic. If you want to use the laser, you'll need some forewarning to turn it on.
Fifth Choice- Diamondback Tactical DB380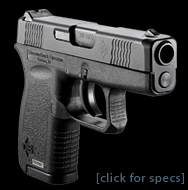 Specifications from Diamondback's website:
Capacity: 6+1 Rounds
Weight: 8.8 Ounces
Width: .750″
Barrel Length: 2.80″
Firing Mechanism: Striker Fire
Trigger Pull: DAO 5 lbs
This is a relatively new entry to the micro .380 auto market. When you take it apart, the upper half (slide and barrel) looks identical to a Glock. The lower half looks just like a Kahr. Those are two great guns to emulate! I like this one better than most of the .380s on the market because of the good trigger and excellent sights.
The long term reliability is a little questionable since it is a new gun. One of my friends has had tremendous problems with his DB380. Several other friends shoot them regularly and report no issues. As I've seen these in my classes over the years, the Diamondback has been a varied performer. Some are fine. Others are not. Unfortunately, it seems that the quality control in the Diamondback has been declining since they originally came out.
Sixth Choice- KelTec P3AT
Specifications from KelTec's website:
Calibers:
.380 AUTO
Weight unloaded:
8.3 oz.
235g
Loaded magazine:
2.8 oz.
81g
Length:
5.2″
132mm
Height:
3.5″
89mm
Width:
.77″
20mm
Barrel Length:
2.7″
68mm
Sight radius:
3.8″
97mm
Muzzle Energy Max:
250ft-lbs
340J
Capacity:
6 + 1 rounds
Trigger Pull:
5 lbs
This gun just looks and feels cheap. In my experience, about half of them stop working after firing a relatively small number of rounds. If you send them back to the factory when they start to malfunction, they'll usually return a working gun back to you. I just don't think you should buy a gun with the plans of having to get it overhauled by the factory in order to work right. It's cheap, but not that much cheaper than the Ruger or Diamondback. Interestingly the .32 acp version of the same gun runs a lot better.
Last Choice Walther PPK (currently distributed by Smith and Wesson)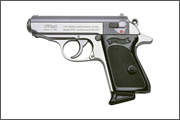 Specifications from Smith and Wesson's website:
Caliber: .380ACP
Barrel Length: 3.35″
Dimensions, L/H/W: 6.1″/3.8″/.98″
Weight (without Mag): 20.8 oz.
Sights: Fixed
Magazine Capacity: 6 Rounds
Trigger: DA/SA
Trigger Weight: 13.4 lbs./6 lbs.
At more than twice the weight of the other choices, this one is stretching the "pocket pistol" definition. But since so many people have one, I had to include it. If it was what James Bond used, it has to be good! Not really. This gun should stay on the silver screen and not be used for self protection!
The double action trigger is horrible. Slide bite is atrocious and I've never seen a single PPK that functions reliably with hollowpoint ammunition without extensive gunsmithing. Leave this one to Her Majesty's Secret Service and choose one of the other models instead.
There's no doubt I criticized some of your self defense pieces here. Sometimes the truth hurts. If you are in the market for a micro .380, please choose carefully. Not all of them work well. Pick a reliable one…or better yet, upgrade to 9mm.