My friend Jeff Gonzales published a book titled Concealed Carry Manual. I think that it is the best gun-related book I've read in 2022.
I was honored when Jeff asked me to "blurb" the book. This is what I wrote:
"I first trained with Jeff more than a decade ago and have followed his innovations in the training community ever since. His book masterfully describes current best practices for effective carry and use of concealed handguns. Anyone who carries a pistol should read this book."
Jeff's description of his book is as follows:
"People want to live their lives peacefully. Yet more and more are recognizing that evil exists in our world. They are taking personal safety as a personal responsibility. I want to live my life to the fullest and enjoy all there is to offer. I just choose to be armed in the process. Many times you are told to dress around the firearm. That is one option; I prefer to find a better fit. One that allows me to enjoy life while being armed. The Concealed Carry Manual will help you on your journey.
Whether new to concealed carry or a seasoned veteran, this manual will a provide invaluable information on your path to personal protection. Taken from over 20 years of operational and instructional experience, Jeff condenses the subject of concealed carry into a simple system. There are no single answers to solving the mystery behind carrying concealed. However, there is a system that allows you to match your environmental, social and legal requirements with what you have available.
Looking for answers to commonly asked concealed carry questions:
Are you unsure of what type of firearm to purchase?
How do I pick a good holster and belt?
Should I carry all the time, some of the time or when needed?
Why do I need to have a simple defeat methodology?
What's the best tactic to avoid a critical incident?
Carrying a firearm for self-defense is a huge step for many people. There are lots of lingering questions. Good questions that need well thought-out answers. This manual will provide many of those answers. It will also help to build a sustainable and user-friendly system for carrying confidently, comfortably & discreetly. The goal of this manual is to help identify your needs so you can live your life, and be armed in the process."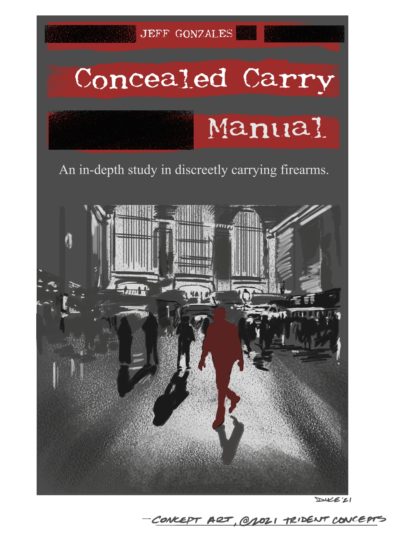 I enjoyed all of Jeff's book, but I think the single most important thing he wrote was:
"I warn against waiting or learning as you go. While people have, this isn't the best method to follow. Just because something bad didn't happen doesn't validate your methods as good. It means you were fortunate not to have needed to use your skills. I would much rather you develop the mindset of 'I am ready.' or in a sense, to always be ready. To be ready with your mindset, gear, and training."
In the book, Jeff masterfully covered criminal victimization, equipment selection, clothing selection, training, and issues around integrated combatives. I especially liked his summaries of each chapter providing actionable suggestions to better understand the concepts he previously explained.
This is one of the better books on concealed carry on the market. Buy it now and pay attention to what Jeff says. You won't be disappointed.