Written by Greg Ellifritz
Concealed Nation has a regular feature on its website called #DIGTHERIG. It consists of reader submitted photos about their individual chosen concealed carry weapon and holster choices.
A huge variety of guns and holsters are featured. All are carried by someone. Unfortunately, some of the choices are less than optimal. Concealed Nation doesn't provide any commentary about whether the CCW choices are good or bad. I fear that leads a lot of uneducated readers to think they are making good choices with regards to CCW weapons just because they are carrying a gun that is similar to one of the guns featured on the website. That's not a good idea.
While most of the gun/holster combinations featured are completely adequate, some are less than ideal. When I see some of these sub-optimal choices, I will highlight them here, telling my readers why I think that they should be making better choices. I'm going to call my series #DON'TDIGTHERIG.
This installment takes a look at Jimmy and his Springfield Armory EMP4 with factory holster.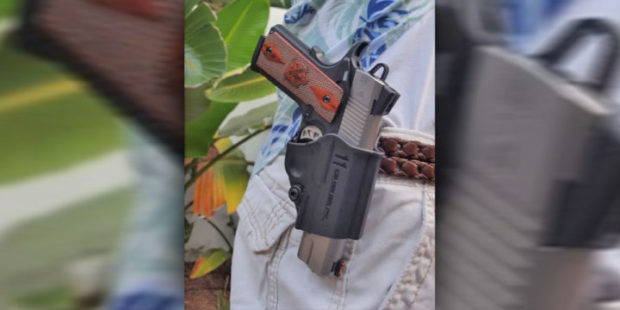 Let's start with the gun…
If you've read this site for any time, you'll know that I'm not the world's biggest 1911 fan. Quite honestly, I think most shooters would be better served with a different pistol. I know there are reliable 1911 pistols out there. I also know that there are competent gunfighters who carry 1911 pistols. If I'm playing the odds, however, I see more problems in general with 1911 guns and their owners than I do with most other weapon types.
Springfield is generally at the top of the heap with regard to factory 1911 reliability. With that said, this particular model might be more problematic. In general, 9mm 1911s are less reliable than .45s. In general, the "commander" length barrels are less reliable than the full sized barrel. This gun is a 9mm with a commander length barrel. If I had to place a bet on it's reliability sight unseen, I would bet that this one will have problems. I could certainly be wrong, but I don't see very many short barreled 9mm 1911 pistols that are as reliable as a Glock or M&P.
Beyond the reliability issue, Jimmy is carrying this gun with the hammer down. That either means that the chamber is empty (slow) or the hammer is down on a live round (also slow, and may be dangerous as well). If you carry a 1911, you should carry it cocked with the safety on. Any other carry condition may not be fast enough for defensive use (assuming you'll even remember to chamber the round or cock the hammer in the middle of your fight). If you don't feel comfortable carrying "cocked and locked," you shouldn't be carrying a single action autopistol.
The holster is a horrible choice. It may be comfortable and fast, but it is an extremely poor design. Holsters like this (that gun companies include with the pistol) are almost universally a bad idea for carry. This holster doesn't have enough retention. The gun can fall out during a fight or hard physical exertion. I often see guns fall out of holsters like this (with the muzzle exposed) when the student falls to the ground and is mounted in a fight. The attacker's knee bumps the muzzle up and out of the holster as the attacker straddles the gun carrier's waist.
This particular holster also looks to be either badly adjusted or the wrong size for the gun. See how the trigger is not properly covered? That's bad. Modern holsters should fully cover the trigger for safety purposes. When carried in this manner, something could get wedged inside the trigger guard and make the gun fire. Maybe that's why he's carrying chamber empty. A better holster would make it safer to carry this gun.
Finally, Jimmy needs a new belt. Braided leather belts don't have the stiffness or durability to reliably carry most pistols. The holster will flop around more on a belt like this, leading to an inconsistent drawstroke. I generally recommend a belt that is purposely made for carrying a gun. Most holster manufacturers make pistol gun belts. Absent buying a pistol belt, a solid thick leather work belt may be suitable, depending on your build and the gun you are carrying.
The belt and the holster combine to create a comfortable and safe method of carry. Skimping on either of these items will could lead to a lost gun, a fumbled draw, or a situation that is so uncomfortable that you will never carry your weapon. Spend some money on a decent belt and holster. Here are some of my recommendations. You'll be glad you made the investment.
Equipment isn't the most important factor in winning your defensive encounter. With that said, you don't want to intentionally diminish your performance by using bad gear. It's hard enough to win a gunfight when everything goes well. It's a lot harder when you have sub optimal equipment.