Written by Greg Ellifritz
Concealed Nation has a regular feature on its website called #DIGTHERIG. It consists of reader submitted photos about their individual chosen concealed carry weapon and holster choices.
A huge variety of guns and holsters are featured. All are carried by someone. Unfortunately, some of the choices are less than optimal. Concealed Nation doesn't provide any commentary about whether the CCW choices are good or bad. I fear that leads a lot of uneducated readers to think they are making good choices with regards to CCW weapons just because they are carrying a gun that is similar to one of the guns featured on the website. That's not a good idea.
While most of the gun/holster combinations featured are completely adequate, some are less than ideal. When I see some of these sub-optimal choices, I will highlight them here, telling my readers why I think that they should be making better choices. I'm going to call my series #DON'TDIGTHERIG.
This installment takes a look at Dominick and his Kimber Solo.

Let's start with the Kimber Solo. I'll honestly admit to not having a tremendous amount of experience with this weapon. I've shot a couple that students have brought to classes. They seemed to shoot well, but universally the functionality was poor. Malfunctions were extremely common with every sample I've actually seen in real life. I don't see many because most students don't trust them as carry guns and consequently don't bring them to my classes.
Be careful with any Kimber pistol, especially one that is "new" like this one. As a brand, I've seen more problems with Kimber guns than with any other brand I've seen in my class. It seems they have inconsistent quality control. Some guns run great. Most of the rest don't. You may be the statistical anomaly and get a good Kimber, but for my money, it isn't worth taking a shot at the cosmic lottery.
Even more worrisome to me than the gun is the holster. There is nothing wrong with the holster iteself, it appears like a well built inside the waistband holster. My problem is with how it is carried.
According to the link Dominick carries his Solo in "a Winthrop in the waist band, right hand draw from a left handed holster, from the small of my back. Its perfectly unnoticed wearing a T-shirt over jeans."
Why would a right handed person use a left handed holster carried small of the back? For some people, that particular drawing angle is easier on the shoulder than a traditional right handed holster when carried far to the rear. For anyone with inflexible shoulders, the grip orientation will be easier to access with a left hand holster than with a right hand holster when carried small of the back.
I've written about small of the back holsters before. They are universally a bad idea. Don't carry your gun this way. There are no advantages and many disadvantages (see my earlier link for details).
The right handed carry of a left handed holster brings even more issues. Take a look at the photo below. This is an unloaded Glock 19 carried small of the back in a left handed holster being drawn by a right handed person.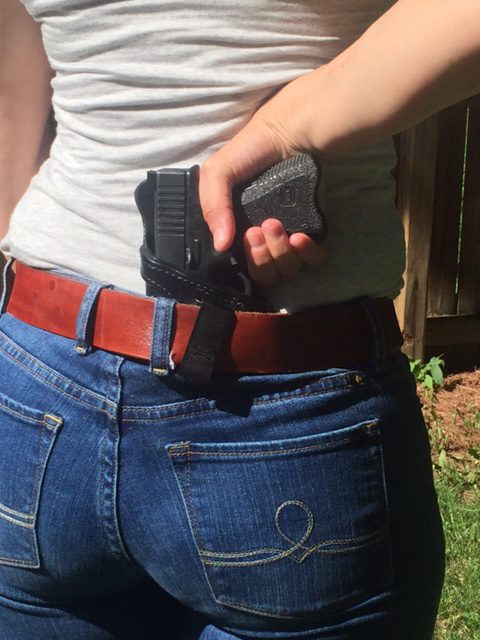 This is an awkward drawstroke that is easy for a criminal at close range to foul. Even worse, most people muzzle themselves when drawing from this position. When they try to draw quickly and bring the gun up to the target in a rapid manner, it ends up looking like the picture below.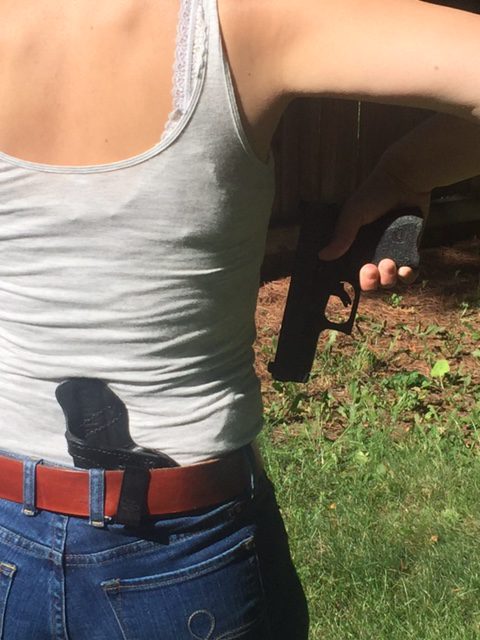 See the problem? Pointing your own gun at your midsection is problematic.
There is a safer way to draw a pistol from this position that involves keeping the muzzle pointed at the ground as the shooter rotates the gun. It's significantly slower, however, and most shooters just end up pointing their guns at their bellies when they draw from this position.
Questionable gun combined with an awkward and dangerous drawstroke. Don't dig this rig.
Equipment isn't the most important factor in winning your defensive encounter. With that said, you don't want to intentionally diminish your performance by using bad gear. It's hard enough to win a gunfight when everything goes well. It's a lot harder when you have sub optimal equipment.