Written by Greg Ellifritz
Concealed Nation has a regular feature on its website called #DIGTHERIG. It consists of reader submitted photos about their individual chosen concealed carry weapon and holster choices.
A huge variety of guns and holsters are featured. All are carried by someone. Unfortunately, some of the choices are less than optimal. Concealed Nation doesn't provide any commentary about whether the CCW choices are good or bad. I fear that leads a lot of uneducated readers to think they are making good choices with regards to CCW weapons just because they are carrying a gun that is similar to one of the guns featured on the website. That's not a good idea.
While most of the gun/holster combinations featured are completely adequate, some are less than ideal. When I see some of these sub-optimal choices, I will highlight them here, telling my readers why I think that they should be making better choices. I'm going to call my series #DON'TDIGTHERIG.
This installment takes a look at George and his Two Wiley Clapp Colt 1911's in a One In The Chamber Gear Holster.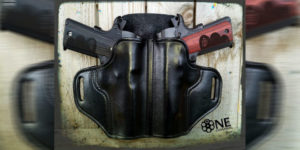 I honestly don't even know where to start here. This may be the stupidest "rig" I've ever reviewed here.
To begin with, small of the back carry is quite possibly the worst position in which to carry a gun, let alone TWO guns.
The drawstroke is slow, awkward and can be easily fouled by a resisting opponent
You muzzle everyone on the range when practicing your draw
The holster prints every time you bend forward
It's easy to be disarmed in an attack from behind
If you fall and land on the gun(s), you may injure your spine.
It's very difficult to draw from a seated position when your back is up against a chair
Don't carry your guns in the small of your back, boys and girls. If my logic does not convince you, watch the video of the December 2019 active killer attack on a Texas church. The video shows graphic violence. Don't watch it at work or around kids. The first victim shot by the killer in this incident was trying (and failing) to draw from a small of the back holster.
What about the guns? You all know I'm not the biggest 1911 fan. I regularly see them exhibit more malfunctions than modern polymer striker fired pistols in my classes. With that said, some are reliable. Colts (and Springfield Armory) are at the top of the reliability list for production 1911s. They are the only ones I'd consider carrying. I'll give him a pass on the guns.
What I won't give him a pass on is the left side 1911. It's set up to be drawn and fired with the left hand. Look at the photo. It doesn't have an ambidextrous safety. It would be tough to get into action quickly. My guess is that he's never actually drawn the left side gun and fired it under stress. He may not even realize how difficult it is to remove the safety.
I can't say anything more than this rig if full of failure. Please don't carry your pistols like this.
Equipment isn't the most important factor in winning your defensive encounter. With that said, you don't want to intentionally diminish your performance by using bad gear. It's hard enough to win a gunfight when everything goes well. It's a lot harder when you have sub optimal equipment.
If you would like to read more articles like this one, please sign up for my email updates.