I haven't given you any new shooting drills for awhile, so I thought I'd write up one that I shot last week.
I got the drill from Tom Givens' most recent Rangemaster monthly news letter (opens to PDF).
It's called the 6/5/4 Drill. Tom's drill instructions follow:
"You will need a cardboard backer or target, to which you will affix three objects: an approximately 8" diameter paper plate; a standard business card; and a 3X5 card (see photo). This drill is shot from five yards, drawing from concealment.
On signal, draw and put 2 rounds into the paper plate, two rounds into the business card, and 2 rounds into the 3X5 card, in that order, all in 4 seconds or less. That is 6 shots, at 5 yards, in 4 seconds, hence the name, 6/5/4 Drill.
This drill requires a fast concealed carry presentation, and an adjustment of firing cadence to match the target size. You will have to shoot very quickly on the paper plate in order to have time to engage the smaller targets. The business card requires a bit of precision. Then, you have to speed back up on the 3X5 to make the time limit. So, this drill covers a lot of skills in just six rounds. Give it a try."
I liked the drill idea and wanted to shoot it. The only problem was that the indoor range where I shoot doesn't allow shooting anything other than paper targets. Paper plates and index cards stapled to a backer are against the rules, so I did some brain storming.
I settled on using the excellent Langdon Tactical LTT-1 target. I use this target a lot in my training sessions. Many of you have a stockpile of them at home.
Using this target in place of the targets Tom recommended required some adjustments to complete the drill.
A paper plate is an eight-inch circle. The LTT-1 Target has two eight inch bullseyes, so that wouldn't be a problem. The issue is that there are no 3"x5" or business card boxes on the LTT-1 target. I substituted the four inch and two inch circles on the Langdon target for the 3″x5″ box and the business card respectively.
It's time for some math.
The eight inch circle and the paper plate were the same size. No adjustment necessary.
A 3″ x 5″ box has an area of 15 square inches. The four inch circle on the Langdon target measures 12.57 square inches in area. The circle is 16% smaller than the 3″x5″ box.
A business card measures 3.5″ x 2″. That gives it an area seven square inches. The two inch circles have an area of 3.14 square inches. The circles are 55% smaller than the business card.
Let's average out the differences.
16% difference on the four inch circles
55% difference on the two inch circles
No difference on the eight inch circles
Shooting the Langdon Targets meant that my targets averaged 23% smaller than the targets Tom used. I couldn't easily change the targets, but I could alter my distance to compensate for the smaller target areas. Twenty-three percent less than the 15 foot range Tom recommends for this drill is 11.5 feet. I shot the drill at 12 feet to compensate for the smaller targets.
It was a challenging drill. I ran it cold six times with my Glock 19 CCW gun.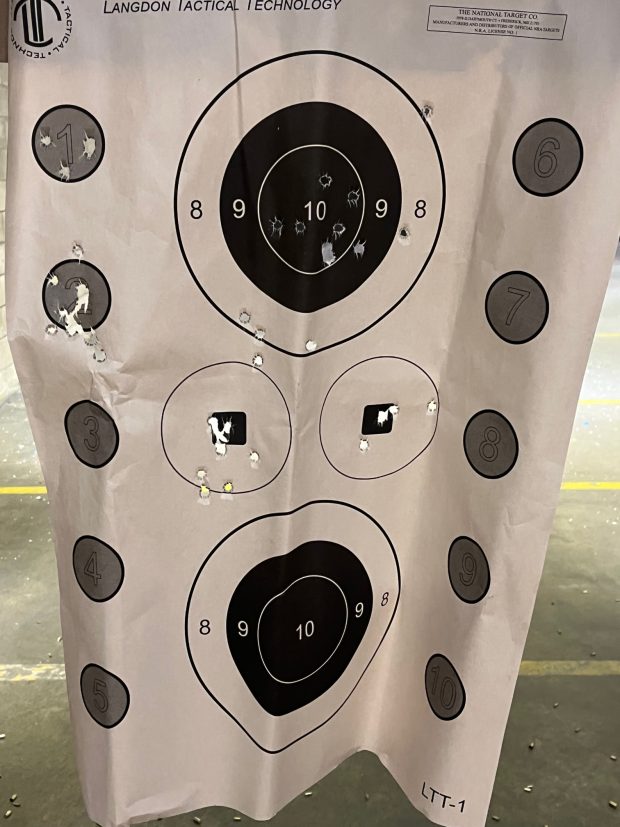 My times were (in seconds):
4.73 with one miss
4.39 with two misses
3.95 clean
3.93 with two misses
I finished it up with one round not using the timer and concentrating on perfect hits.
Out of six tries, I only passed Tom's standard once. You can see that the majority of my misses were on the two inch circles. Those are significantly harder to hit under time pressure than a business card.
Even though I mathematically compensated for the enhanced difficulty, I don't think it was enough. If I had to run the drill again, I'd probably reduce the distance to 10 feet instead of the 12 foot range that I shot it.
Then just for fun, I then shot the drill using my .22 Ruger LCP pocket pistol.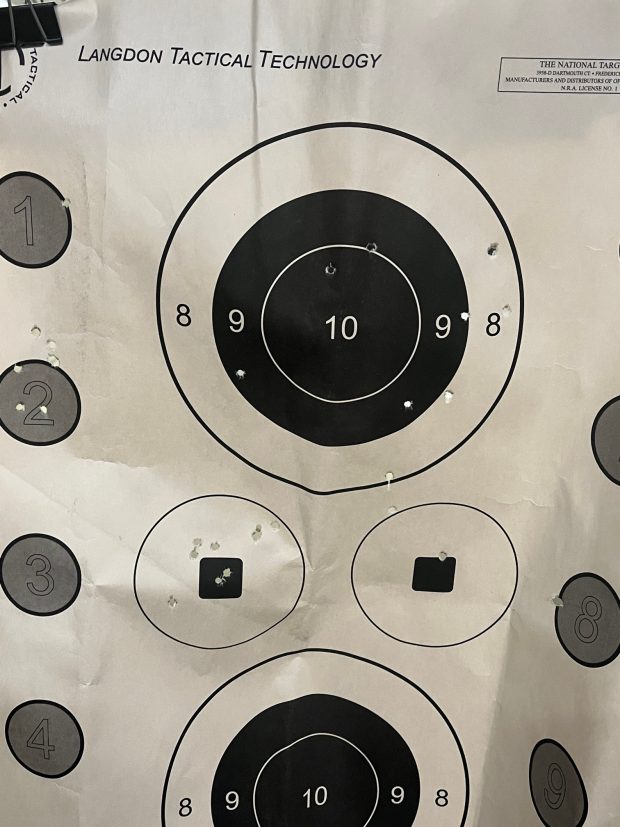 The tiny pistol's black on black sights combined with crappy indoor range lighting and my aging eyes made these rounds a little tougher. I found myself shooting high as I was trying to find the black front sight against the black rear sight and the black bullseye. I'm definitely going to paint the gun's front sight red before I ever consider carrying the weapon defensively.
My times/score with the .22 Ruger are as follows:
5.52- two misses
4.24 clean
4.7- one miss
4.19- one miss
3.85- two misses
Again, most of my misses were on the two inch circles. I was surprised that is didn't perform that much more poorly with a .22 pocket pistol than I did with my full size carry pistol. In fact, my fastest time was with the Ruger .22, not my 9mm Glock. That gives me some things to think about.
This is a fun drill that I will most certainly shoot again. If you have a spare LTT-1 target and a timer, give it a try. Then sign up for Tom's monthly newsletter to get a different shooting drill every month. Even better, support Tom on Patreon for even more exclusive content.