Written by: Greg Ellifritz
The Casino Drill was devised by Rangemaster's Tom Givens as an exercise designed to evaluate/train multiple skill sets in the context of defensive handgun shooting. Tom provides a description of this drill in his September 2017 Rangemaster news letter (opens to PDF).
If you are a video person, watch this short clip where Tom talks about the purpose of the exercise as well as specific instructions for performing the casino drill.
I've liked the casino drill since I first shot it years ago. I find it useful for my own practice and use it on the range when I'm teaching some of my classes.
The only downside of this drill is that you must use a very specific target. A lot of people don't want to spend the money to buy a special target used just for a single practice drill.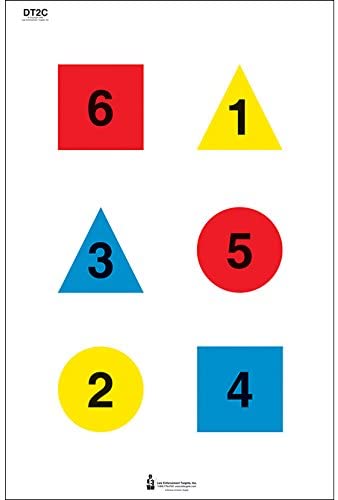 The folks at Sly Tac Training Solutions found a way to overcome this issue. They created a free printable target with smaller scoring areas to allow shooters to try a version of Tom's original drill without buying a whole bunch of targets they may not want to use again.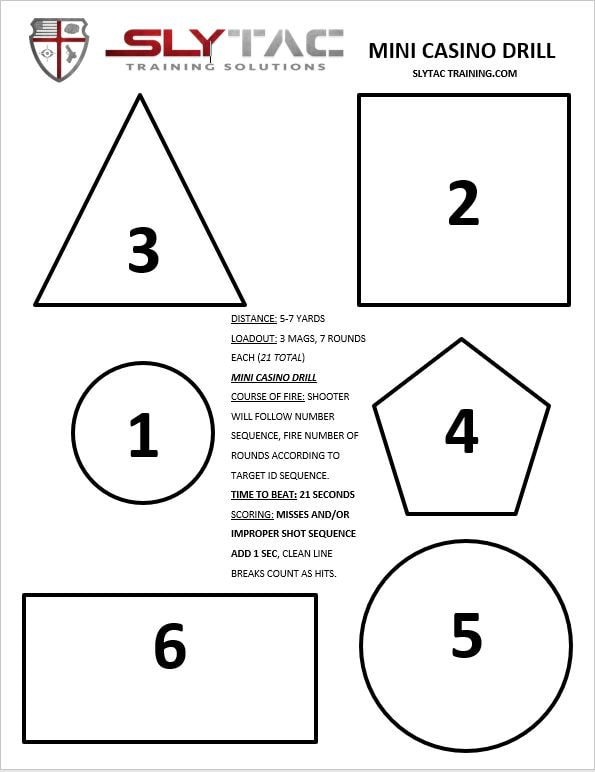 The drill description is as follows:
DISTANCE: 5-7 YARDS
LOADOUT: 3 MAGS, 7 ROUNDS EACH (21 TOTAL)
COURSE OF FIRE: SHOOTER WILL FOLLOW NUMBER SEQUENCE, FIRE NUMBER OF ROUNDS ACCORDING TO TARGET ID SEQUENCE.
TIME TO BEAT: 21 SECONDS
SCORING: MISSES AND/OR IMPROPER SHOT SEQUENCE ADD 1 SEC, CLEAN LINE BREAKS COUNT AS HITS.
You can download a copy of the target and instructions at the Sly Tac website or at my own link below. Click on one of the links and download the target. Print out a few for your next shooting session.
I shot the drill for the first time during a recent live fire practice session. I shot the first three rounds of the drill at five yards just to get a feel for what was going on. On the final drill, I moved the target back to six yards. Here are my results:
Run one- 21.35 Clean = 21.35
Run two 20.93- 1 miss= 21.93
Run three 18.35- 3 misses+= 21.35
Run four (6 yards)- 21.45- 2 misses = 23.45
It was curious to note that the times from all three of my five yard runs had no more than about half a second in variance. I seldom perform that consistently in the other shooting drills I use for practice.
Look at my numbers. I didn't pass. Even after four attempts. I was close on all of them, but that's not good enough. I need to keep working.
For what it's worth, my normal time to completion of the traditional casino drill is usually around 15 seconds and well under the par time of 21 seconds suggested by Tom. I have to conclude that this modification is significantly harder than Tom's original casino drill. It's still a lot of fun and will most certainly improve your skill levels.
I'm going to add this drill into my standard rotation. Give it a try the next time that you shoot.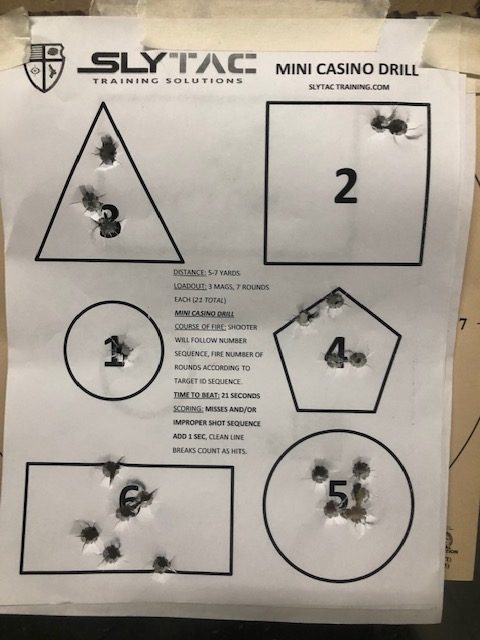 Some of the above links (from Amazon.com) are affiliate links. As an Amazon associate I earn a small percentage of the sale price from qualifying purchases.
If you would like to further support my work, head over to my Patreon page.