Here is a guest post submitted by Don Boal, lead investigator for Ron Borsch's PACT organization. Don has a very simple and useful idea for protecting pedestrian areas from terrorist vehicle attacks. Thanks to Don for submitting the article!
-Greg
HOW TO PROTECT YOUR COMMUNITY FROM TERRORIST VEHICLE ATTACKS FOR FREE
By Don Boal
ISIS publishes an online magazine, and in this magazine, they teach their followers how to commit low cost terrorist attacks that anyone can carry out.
Driving into a crowd with a vehicle to run down and kill as many people as possible is one of their ideas. All they need is a driver's license and a credit card and they can rent a car or truck and they have their weapon. We've seen numerous vehicle attacks in Europe and our country. Every time one of these demons commits this attack he inspires others to do the same. Our country is filled with thousands of ISIS sympathizers that want to commit acts of violence. We will have additional vehicle attacks and more people will die.
There is a simple way to keep vehicles from being able to drive into crowds. You put a barrier in the way. Something heavy enough to stop the attacking vehicle. Big cities are parking dump trucks full of sand along parade routes. This works, and is good for a mobile crowd. But they have only so many dump trucks, they can't be everywhere.
To keep vehicles away from crowds that stay in one area, you place heavy barriers in the way. Big blocks or walls of concrete can be placed and removed as needed. If you have ever driven through a construction zone on an interstate, you have probably seen the concrete barriers used to narrow the road down to a single lane while protecting the workers on the other side. These concrete barriers are a series of 8 foot long blocks of concrete that are lowered into place by a crane. This is expensive, and it also does not allow pedestrians to move easily.
Steel poles, called bollards, can be inserted into the ground to form a series of posts that are close enough to keep a vehicle out, but spaced so people can pass through them. You see bollards everywhere, but might not have noticed them. Nearly every drive through restaurant has them to keep people from hitting their signs and the building. Some businesses have them near their front doors to prevent vehicles from smashing the doors to commit smash and grab robberies. Look around and you will see them everywhere.
In May, a car slammed into dozens of people in Times Square, New York City. The driver was prevented from causing more death by a series of steel bollards that stopped the car. Check out the following link for details: https://www.usatoday.com/story/news/2017/05/18/what-stopped-car-times-square-closer-look-bollards/101851466/.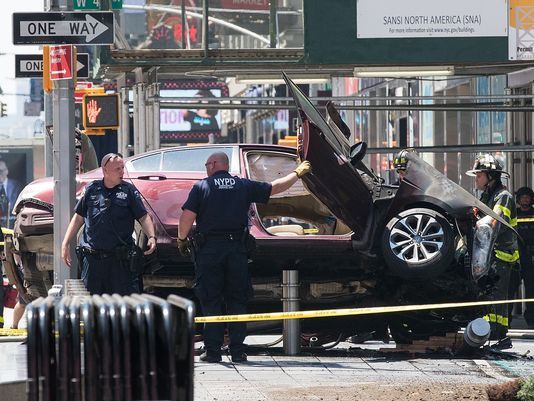 With the security bollards costing as much as $600 each, many smaller cities do not have the money to install them. They can, however, be improvised from steel pipes filled with concrete (cheaper) or made free from used utility poles.
Every day utility poles are replaced due to damage from storms, vehicle accidents, etc.. These poles are then disposed of. They are long enough, that if cut up you would have 5-6 shorter posts to use as bollards. Save up damaged poles for a while and you'll end up with a lot of posts for a project.
This idea will require some activism from you (translation: get off your butt and do some work), and the help of a politician that wants to get some good publicity to get re-elected (they all want that), a utility company that wants good publicity and some help from the media.
The utility company is required to dispose of these poles a certain way due to EPA regulations. If they are removed from the ground and then re-inserted into the ground they are being used the same way they were designed to be used, but for a different purpose. This is where you need a politician to jump in and help. If the EPA regulations get in the way, a politician is the one that can work with the federal government to overcome this problem. With President Trump wanting to cut regulations and having a common sense head of the EPA, this should not be a major obstacle. The politician can take the initiative to coordinate the project and get credit for it.
The utility company has the equipment to drill a hole and place the posts. (They are not hard to handle. They can be cut up with a chainsaw and can be moved by two people) If they are given the opportunity to get involved as a project to help the community while recycling the poles, they have a reason to be involved. Make them look good and benefit and they are more likely to help. They will offset the expense of doing the work by saving money that they would have to pay to dispose of the old poles. Their cost would not be high.
The media involvement is needed to give the politician and utility company publicity. If each person involved in this sees a benefit to themselves, they are easier to be persuaded to help.
If having rows of short utility poles placed in pedestrian areas looks ugly, they can be painted. If local businesses are given the opportunity to put advertising on the poles, they can pay for the expense of painting them. They have the opportunity to benefit and are more likely to help. Or sleeves to cover the posts can be bought, although this cost will add up fast.
If you want to protect your community, schools, etc., take the initiative to get this article to your local politicians and law enforcement. Get involved and the project started, allow them to take the credit and get the work done.
About the author: Don Boal is a former Army Military Policeman, civilian policeman and Associate Consultant/Chief Researcher for PACT. He can be found at gun shows in northeast Ohio selling military surplus and tactical gear.