Written by: Greg Ellifritz
My friend Claude Werner recently wrote an article where he postulated most shooters don't do any real structured practice with their firearms.  They plink or play, but they generally don't perform drills designed with realistic standards in order to improve performance.  In the article, Claude talked about sharing details and photos of his practice routines to give novice shooters an idea about how they might better spend their practice time.
I think that is a wonderful idea.  I plan on sharing the drills I shoot in my weekly practice sessions.  Hopefully, you will get a little value out of my posts and come up with some new drills to make your own practice sessions more effective.
My stated practice plan this year was to begin each session with the Guerilla Approach Consistency Drill.  I ran the drill twice with my Glock 19 pistol.  I definitely don't shoot as well on this drill with my 19 as I do with my 17.
Round 1- 26.99 with four misses = 30.99
Round 2- 28.95 with four misses = 32.95
Since I performed so poorly on the consistency drill, I decided to run a session of Dot Torture in order to work on my sight alignment and trigger squeeze.  I ran it at four yards and only had one miss.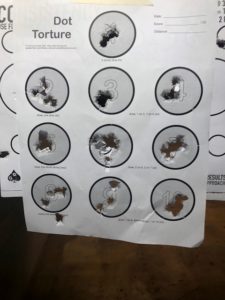 Following that I ran the 30 round Nevada Qualification Course drill from Claude Werner's excellent Indoor Range Practice Sessions book .  Instead of using a silhouette target, I used a bullseye.  It involved six rounds fired at three yards, 12 rounds fired at five yards, and another 12 rounds fired at seven yards.
I started it with my Glock 19.
After that, I did the drill with my Glock 42 in .380.  I needed to test its function after replacing a bad trigger spring.  I'm happy to report it fired all 30 rounds without a hiccup.
I finished out with an 18 round version through my Browning Baby .25.
Total Rounds Fired:
114 9mm Glock 19
30 .380 acp Glock 42
18 .25 acp Browning Baby