Written by: Greg Ellifritz
My friend Claude Werner recently wrote an article where he postulated most shooters don't do any real structured practice with their firearms.  They plink or play, but they generally don't perform drills designed with realistic standards in order to improve performance.  In the article, Claude talked about sharing details and photos of his practice routines to give novice shooters an idea about how they might better spend their practice time.
I think that is a wonderful idea.  I plan on sharing the drills I shoot in my weekly practice sessions.  Hopefully, you will get a little value out of my posts and come up with some new drills to make your own practice sessions more effective.
As I plan to do every session this year, I started out shooting the Consistency Target.  Two passes through this one.  Both under the par time.
After that I followed up with Mike Seeklander's "Extend and Press" Drill.  I fired 40 rounds with my Glock 17 and an additional 40 with my Glock 42 on this drill at 15 feet.  I used a seven inch bullseye for the "large" target and a large post-it note for the "small" target.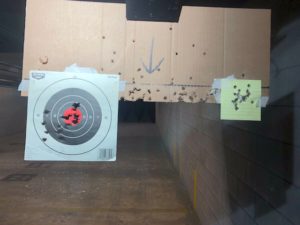 I finished up with one magazine each hand of slow fire single handed shooting with both guns.  I used the post-it note target at 15 feet for that.
One other noteworthy occurrence…
Before today's shooting session, this particular Glock 42 had 1137 rounds fired through it.  I think I managed to break the trigger spring.  While shooting, the trigger stopped returning to the normal position after I had fired a round.  The trigger would work, however, if I pinned it to the rear on recoil and slowly let up to "catch the link."  That type of functioning is indicative of a broken trigger spring.  Since I don't have any spares for that particular gun, I haven't broken the gun down to verify exactly what happened.  When I do so, I'll share some photos so you can see what things look like on the inside of a broken gun.
What most of you don't realize is that ALL guns fail at some point.  If you shoot enough, you'll break every gun you own.  I wouldn't have expected this gun to start puking so early in its service life, but stranger things have happened.  Have a backup firearm in case your primary breaks.  Learn how to fix your carry guns.  It's a skill that will be tremendously useful to you in the future.  I personally don't carry guns that I can't fix if they break.
Rounds fired:
119 9mm Glock 17
56 .380 acp Glock 42