This is a guest post from my friend Darryl Bolke. Darryl is currently writing a book about the history of formal firearms training throughout the 20th century. I'm very excited to read his book when he gets it on the market. Until then, follow Darryl's writing at DB's Shooting Adventures on Facebook.
-Greg
Tonight's post is a bit of both a history lesson and a bit of a rant on one of those esoteric topics I love deep diving into. Between some stuff I have seen on social media the last few months and a valid question that came up today, I felt the time was right. So tonight's topic is a look into appendix carry for deep concealment work.
I'll just start with making a bunch of folks angry so they can move on to YouTube videos. Carrying a handgun in the front of the body at somewhere between about 11:00 and 2:30 (for right handed folks) is not new, it wasn't invented recently, and it is not cutting edge. It is simply something that has sort of recycled like many things in the world of firearms do, and has been helped by some advances in holster ideas and products focused on this mode of carry.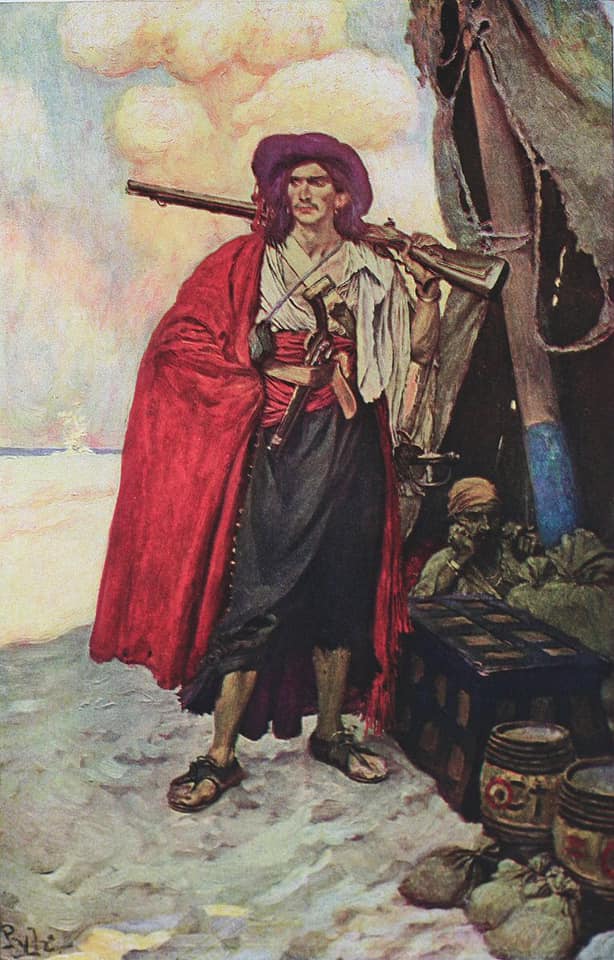 The Buccaneer picture above should dispel the idea that appendix carry is a new thing. Due to an early shoulder injury that was not fixed my rookie year as a cop, I have primarily been carrying my concealed firearms this way since 1988. Let's take a look at this from the perspective of appendix carry evolution through the last 50 years.
In the heyday of double action revolvers, this was a popular way to carry a small revolver particularly for police officers in plainclothes. It timed well with fashion trends where the constant wearing of suits and more formal clothing was changing. Jeans and t-shirts or pull over type shirts allowed for alternate carry methodology.
Often revolvers were simply shoved down the front of the pants. When secured with a belt, it "worked" but was not a good idea and many people learned the hard way about the drawbacks of what was commonly called "Mexican Carry". It is used often to this day by many criminals for the reason it may have gotten its name. In places where it is illegal to carry a firearm (like Mexico or in many cities in the United States), or when criminals are illegally carrying firearms, it is really hard to deny you were carrying the recently discarded firearm when you are wearing an empty holster for it.
This did lead to some efficient carry options that became very popular with undercover officers working narcotics or other assignments that required being immersed in criminal culture. One invention was the Barami Hip Grip. This was a set of grips or a single side grip that has a protrusion at the top of the grip that is hooked over the pants to prevent the revolver from sliding down your pants.
I have posted a picture of my "truck gun" that is set up just like a 70-80's dope cops gun. A S&W K frame Model 12 2" barreled revolver with a clip grip, t-grip and rubber bands. It needs no holster and can be used in anything from sweat pants, board shorts to jeans with no belt. It can also be dropped in a rear pocket but they are normal used placing the gun inside the waistband right above the crease of the leg. It lays the revolver down with just the grip above the belt line and the cylinder below the belt line.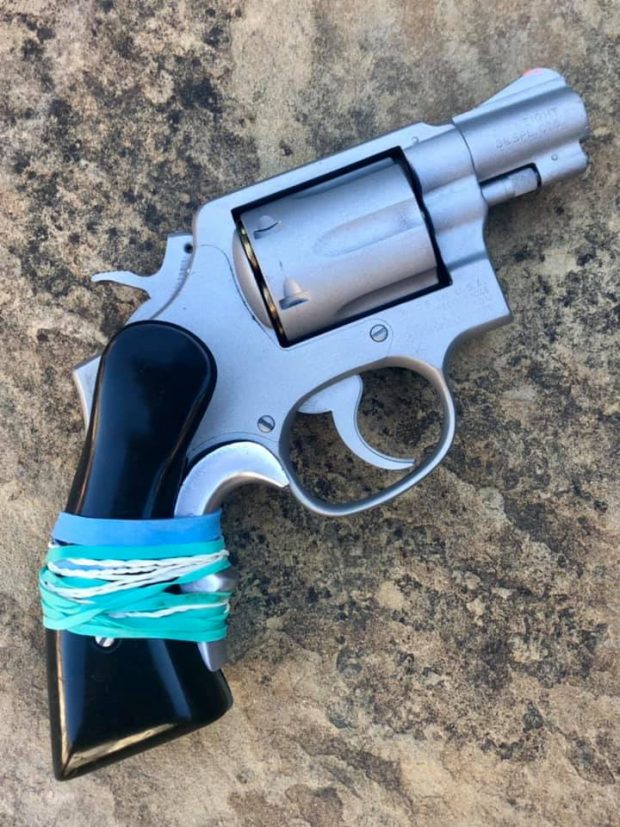 The T-grip helps to establish a good grip by filling in the sinus area of the revolver and the rubber bands help stabilize it. This is actually a very solid carry method for those who need a system that can be quickly just shoved into the pants without a holster or belt. With a double action trigger and a hammer either on a DA revolver or DA/SA semi automatic pistol, this type of carry is viable without the safety issues of a striker fired pistol.
On a historical note, it was critical for many of these folks using these systems to not get "made" as a police officer. Like life and death critical. A big tell dope cops would avoid was wearing a belt, as this was one means that criminals would "make a cop" in that era. The other option was thin holsters with a belt clip. This often were terrible because the clips were not strong enough to hold the pants on the draw. Holsters coming out with the gun was not uncommon.
A good example of this style is a holster used by Pat Rogers with his two inch model 36. It cost 7 dollars and was custom made to carry the small revolver deep below the the belt line and was worn behind the dump pouches on Pat's uniform duty belt. The same rig also worked for him off duty and working in plain clothes to deep conceal the firearm by eliminating the bulge of the grip that is accentuated the further above the belt line it rides. I used a nearly identical set up a decade later and 3000 miles away to carry a 3" Model 13 revolver behind my speed loader pouches in uniform and off duty to carry it under a t-shirt in jeans or jean shorts that were my normal dress.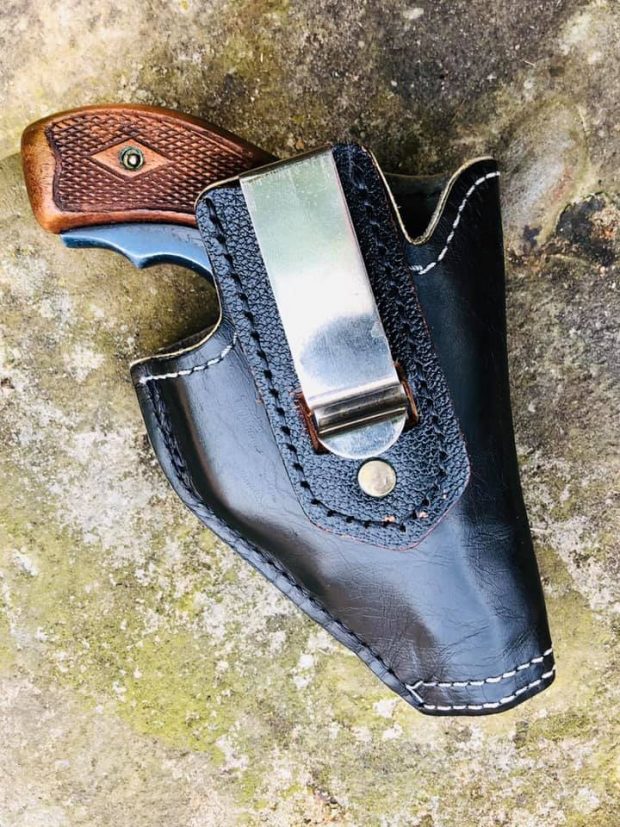 I used a light nylon belt and an Eagle Nylon inside the waistband holster with a single loop. The leather versions of these holsters like the Bruce Nelson and later Milt Sparks Summer Specials used to have a single loop that swiveled. When carried in the front of the body instead of the more common FBI carry behind the hip, the muzzle would cant forward and the butt of the pistol would lay along the belt line very low. The goal was concealment versus an efficient grip and the draw was accomplished by using the thumb and inside base of the index finger to pinch the gun to start the draw and the grip finished as it cleared the holster enough to close the fingers around the grip.
It is important to draw the distinction between a "Covered" handgun, "Concealed" handgun and "Undetectable" handgun. Many folks, especially law enforcement officers are really just covering their handguns. It keeps from panicking the public and is covering the firearm enough that it doesn't stand out. This kind of carry is normal when using full size service guns.
No matter how many pictures people take in their bathroom with their stomach sucked in and showing how it is invisible….it's not. The butt will often print and many of these look like colostomy bags. The reality is that a covered pistol is fine for most folks with either a police ID or who are legally carrying a firearm with no real criminal or professional consequences if a firearm is suspected being carried.
Concealment is when the firearm is really not visible to a trained observer or someone who is looking for it. This is really a good goal when you are actively trying to not be discovered or to avoid attention that might indicate to you are carrying. It usually involves smaller guns built for concealment (not necessarily small or tiny, just better proportioned to hide). The first day the Glock 26/27 was released I had a Glock 19 and 23 get their grips cut down to accept the short 10/9 round magazines of the small 26 size guns. This gave me and a friend guns with a long enough barrel to really anchor it inside the pants, but the very short grip did not print at all when carried in low or muzzle forward canted holsters. We also cut Glock 17's to take 19 magazines and this was what I carried in front appendix holsters for over a decade off duty. This was about ten years before many of the folks credited with "inventing" it started making guns like this.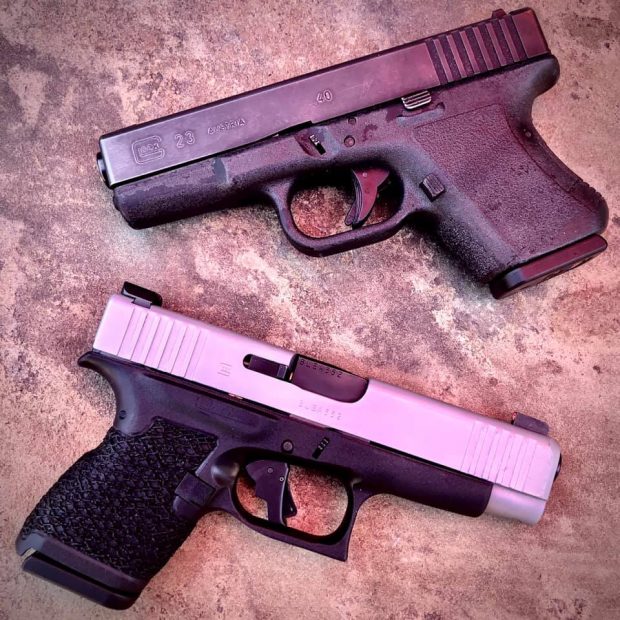 Then we have "Undetectable". This means the firearm is basically invisible and can actually remain undetected even after a physical pat down or bump-search looking for it. Many folks have questioned my expertise on this because "you were a cop". Yep. I also spent a year early in my career working a nighttime proactive unit that was hard focused on Vice. I spent a year picking up hookers undercover and trying to buy dope or sex in strip clubs and the type of bars where you buy meth and hookers. When you are regularly being searched by experienced street prostitutes and both bump searched and patted down in bars and clubs and never had a gun discovered (usually an HK P7 and/or a S&W 442) probably means I may have this figured out.
I often used a "holster" made of 550 cord for the P7 to secure it below the belt line. Later I had a special kydex holster made for the 442 that I designed and was made by Frank Oleson to tuck the butt in and ride the but just above the belt line and it worked with a super light Eagle BDU belt to pull the gun in tight yet not look like a gun belt. That was in about 1998. The tucked butt kydex holster that was popularized by Custom Carry Concepts and essentially perfected by several makers today is not new, but technology and hard focus by several makers and users has gotten us to some exceptional designs.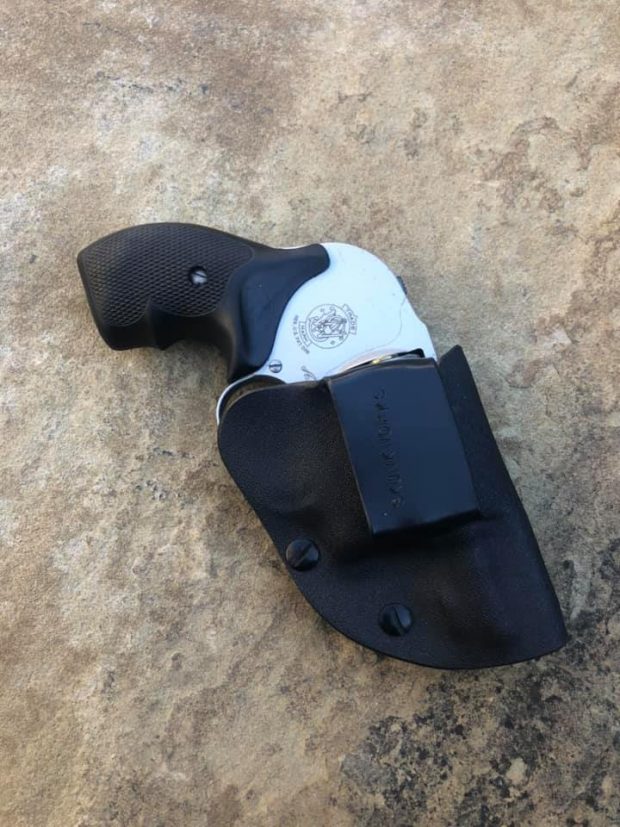 I currently use very AIWB specific kydex holsters from Keepers Concealment, JM Custom Kydex, Dark Star Gear and Phlster. For very deep concealment and undetectable carry with neatly tucked in shirts my current go to guns are modified Raven Vanguards for a custom Glock 43 with a 48 slide built by Boresight Solutions or a custom S&W M&P 340 with a Titanium cylinder. I want to point out that a drawback to kydex holsters is they are hard. If getting bump searched is a reality in your world, leather is a very good option.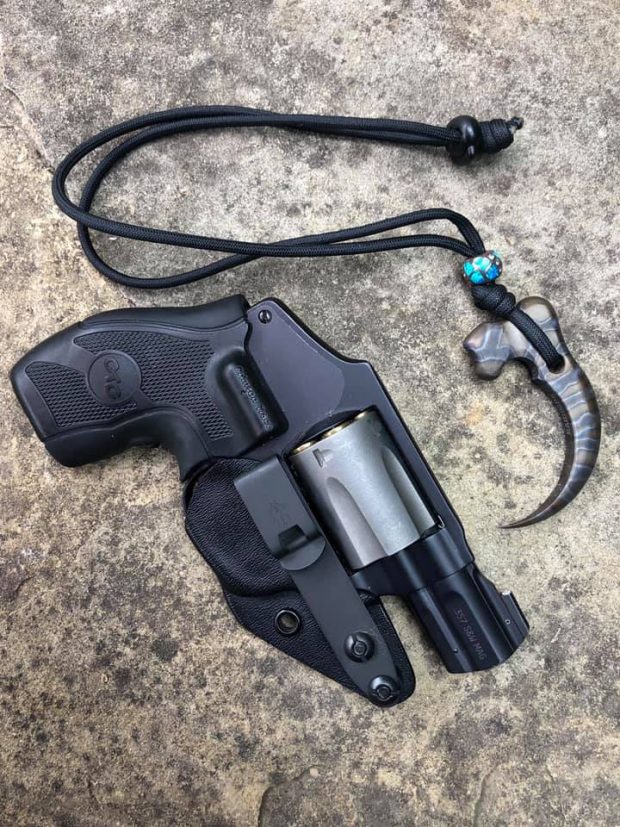 Another option I really like is the Unity Tactical Clutch belly band system. For carry where I may be required to lift up a shirt to show that I am unarmed, or for under a fully tucked in dress shirt I also use a pouch rig with an Airlight revolver worn below the belt line. It is tough to access, but the goal is to have a gun more than rapid access and the consequences of discovery are a serious issue. I will be working with PHLster's new Enigma system set up for a steel J frame soon. It is looking to become a new very solid option for concealment without any reliance on a belt or even pants.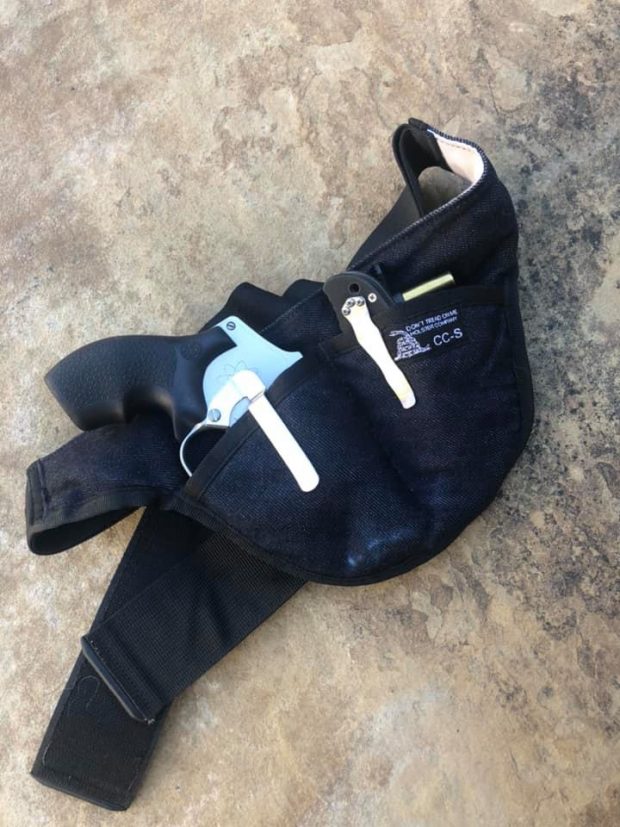 I want to clarify something for many of the internet experts out there on undetectable carry. The goal is to never be discovered with a firearm. When you are facing arrest, termination and destruction of your professional career, really understanding this is critical and FAR more important than your draw speed on your red dot comped service pistol with a gigantic light on it. If you can get away with that and think you need it for your normal life, awesome. That is not reality for many.
I got into a bit of a disagreement recently with a young police officer about this issue. He was critical of those who aren't carrying their super gun in a speed appendix holster, because he can, and basically the rest of us don't get how to properly conceal a pistol. I asked if that is how he carries in an airport, federal court, or correctional facility. His response was that you can't carry there. This made my point that he did not understand what real concealment actually is for many people.
Many "experts" from the law enforcement, military and training world do not really understand the plight of many folks not protected by status in how they carry. A good example is many people I know who work in Emergency medicine. Emergency rooms are flat out dangerous places that usually have very strict rules against any kind of weapons carry, yet often have less than optimal security for those working there. Thinking about a medical doctor carrying a deeply concealed firearm in scrubs in an environment where if discovered they will be immediately be terminated and likely become completely unemployable in the future. No one paying back medical school loans, no financial support and instantly becoming persona non grata in a profession that they likely have a minimum of a decade invested in just to get in on the ground floor.
That is a huge risk and requires some serious thought and dedication to gear and firearm selection. I have spent much of my retirement working in environments where if someone knew I was armed, I would be immediately terminated. For many years I worked in a very sensitive environment that required being in very dangerous situations and locations but also required absolute discretion. It was work that was well outside my cop job. I have a deep understanding that sometimes, you have to carry less than what you would like to in a manner that is not easily accessible because of the consequences to weapon discovery. It is a major factor.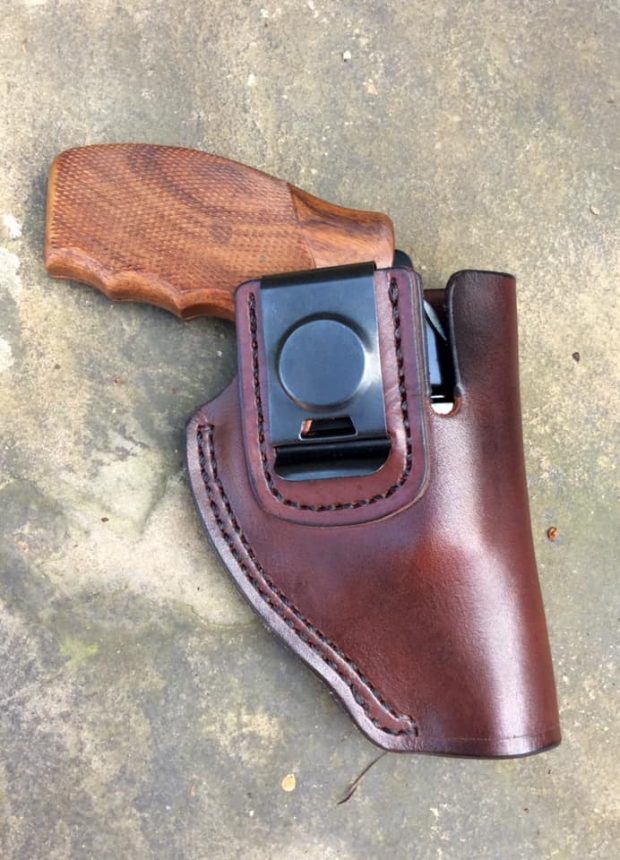 Going back to weapon ride height and size in this regard, in most cases the deeper the firearm is sunk into the belt line, the harder it is to detect. By the same token, the deeper it is sunk into the belt line the slower and harder it is to access. The goal is to find the right set up for the desired result. For "Covered" carry, high and the ability to establish a full grip is the way to go. For "Concealed Carry", riding just above the belt line and use of a pinch grip will be the best option. For Undetectable carry, very deep carry to actually below the belt line and covered by tucked in clothing is the best way to attain this.
Pocket or ankle, or off body carry may be viable options as well. It is likely a good idea to be open to various options to cover a variety of situations. We live in interesting times in which the world is becoming more dangerous, criminals are not facing prosecution or consequences while decent citizens are being heavily scrutinized for any actions they take to protect themselves. This is combined with law enforcement officers being re-tasked to administrative enforcement against decent citizens and not concentrating on criminal enforcement. When we add a new push for highly restrictive gun control while businesses and other entities are also having zero tolerance for citizens taking responsibility for their own safety…..and we have some serious decisions to make in what, how, and where we carry firearms.