Written by: Greg Ellifritz
I found a couple articles yesterday that I would like to share and comment upon. Both articles cover some behavioral characteristics two recent active killers displayed before their attack.
The first one is about the active killer in Dayton.
Surveillance Video Shows Shooter Preparing to Carry Out Mass Murder in Dayton
From the article:
"Surveillance showed him leaving the bar, and then walking back to the parking lot, where he spent the next eight minutes seemingly gathering items from the trunk of his car, just out of sight of the cameras.
Then, he's seen walking back into view, wearing a hoodie and a black backpack, which law enforcement described as "weighed down." He then made his way into the alleyway, around the corner from the bar Blind Bob's. Police said that he had been in communication with his sister for the past hour. They talked on the phone briefly, and then texted back and forth. During that exchange, she informed him that she was by the taco stand adjacent to Blind Bob's.
That was also where the shooting began, and his sister was one of the first three people he killed. He then ran down the street toward Ned Peppers, and continued to shoot."
He spent eight minutes loading up his gear and assembling his rifle in a parking lot. That provides a small window of opportunity for engagement. Do you think anyone observed his suspicious actions during those eight minutes? If you saw someone assembling a rifle, loading magazines, and donning body armor outside a bar, what would you do?
I would suggest at minimum you should call the police. As a cop, I hate bogus "suspicious person" calls more than anyone, but this is suspicious activity completely appropriate to call the police about.
Beyond calling the police, if you were carrying a gun, would you hold the man at gunpoint? Would you shoot? How would you maximize your handgun's advantage against a guy armed with a rifle containing a huge drum magazine full of cartridges? There are no "right" answers to these questions, but you need to at least consider the questions in advance.
One other note…
Take a look at how he was dressed. Beyond the body armor, he was wearing all black. He had a hoodie with the hood up (it's summer time) and what appears to be some type of mask. If you saw someone walking around dressed like that in a popular bar and nightclub district, would it set off warning alarms? How would you react?
Also take note of his backpack full of extra ammunition. Who wears a heavy backpack out to a bar? I've mentioned it before, but almost all active killers and terrorist bombers carry gear to the scene in backpacks. Look at the Mumbai terrorist attacks, the London tube bombing, the Madrid train bombing, the Boston marathon bombings, and the Turkish airport attack. See any recurring themes?
The presence of inappropriate clothing and/or a heavy backpack may be the only warning signs we get before an attack like this. Pay attention to things like that.
The second article covers the El Paso mass killer. It is an analysis of photos published of the killer looking at facial "micro-expressions." It's fairly telling.
El Paso Mass Shooter – Using Body Language as a Threat Assessment Tool
From the article…
"From a nonverbal and specifically a threat-assessment perspective, it's crucial to analyze the three images of the suspect included here.
In the first image, above, the suspect's eyebrows and forehead are lowered. His eyebrows are also mildly drawn together. The left side of his mid-face is contracted in what many would colloquially term a 'snarl'. This is primarily an expression of contempt with a secondary component of anger.
An additional sign in this photo is the suspect's mild Forward Lip Pursing. A forward lip purse signals a full or partial undisclosed disagreement and/or a clandestine plan. A person configuring their lips in this fashion believes they are a relative alpha to (who they perceive to be) beta personalities with whom they're interacting. They also believe they have a good chance of successfully carrying out their plan/action."
Read the rest as well. I find this stuff fascinating. Having the skills to essentially "read peoples' minds" through analyzing their facial expressions is an incredibly useful talent.
If you're not familiar with micro-expressions, please check out Paul Eckman's book Emotions Revealed. There is a lot of science behind analyzing facial expressions and what they might mean.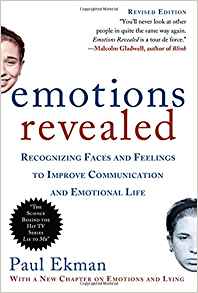 Get off your phones. Pay more attention to the people around you. Look for inappropriate clothing and heavy backpacks. Watch out for people who have hateful snarls as facial expressions. Noticing these things might be your only forewarning of an active killer attack.