About 20 years ago, I attended a seminar taught by Dr. Kevin Gilmartin. It was one of the single most useful training seminars I've ever attended and I used the information I learned in that class every single day of my police career until I retired.
Gilmartin distilled his lecture concepts into a short book called "Emotional Survival for Law Enforcement." I re-read the book on a regular basis to keep his strategies in mind.
If you are a cop, firefighter, medic, or work in an emergency room, I think you can benefit from the ideas presented in the book. It has value not just for cops, but for anyone who has a job that involves huge adrenaline dumps or requires instantaneous life-changing decisions.
The book provides two absolutely invaluable bits of information.
The first is to explain the idea of biological homeostasis. It explains why cops (and people in other high stress occupations) act differently at work than they do at home. Because of the constant adrenaline dumps at work, the cop feels a constant "high." Being "on" and making constant life- saving decisions leads to a level of excitement that overwhelms the body's ability to cope.
As a response, your body needs to recover. That explains why after work or on your days off, you don't feel like doing anything. It's almost like a temporary depression after living the day or the week in a constant state of hypervigilence. If you feel like a slug on your days off or spend hours just zoning out watching TV after work, recognize that this is your body trying to recover from the heightened state of alertness demanded by your job.
This book spends a lot of time explaining the details of the up/down cycle of a cop's life and provides good suggestions to reduce the negative interactions that can occur during your "recovery time."
The second bit of invaluable wisdom that this book provides is the one basic rule of police work:
"Nobody, but nobody, escapes with their professional virginity intact. Everyone gets screwed with at least one time."
If you recognize this fact before it happens, you will be less devastated when your command staff or political jurisdiction screws you over even when you didn't think you've done anything wrong. It happens to ALL COPS at least once during their careers. It's unavoidable. You will get screwed at work. You will be unjustly disciplined. It's part of the job. Especially in today's world. The last few cops I defended as an expert witness were charged criminally when they did nothing wrong.
I remember when my department first screwed me over. I went from agency golden child to "persona non-grata" in a matter of a couple days. I also remember thinking:
"Dr. Gilmartin told me that I was going to get fucked by the administration at least once in my career. He was right. Now it's happening, and I can just roll with it rather than developing psychological problems or adopting a victim mentality."
Knowing that it isn't always your fault when you get screwed over by the bosses makes it easier to deal with the situation when it actually happens. Get it through your head right now. There will be a time in your career when you get fucked. Don't let it affect you more than it has to.
My spirit animal Officer Van Hauser from the movie End of Watch explains it quite well in the clip below. Don't play the clip if you are offended by harsh language. You've been warned.
After you get screwed over, you will likely to start hating your job. Think about this quote as well:
"If you hate the role of police officer and at the same time you define yourself only by the role of police officer, you begin a cycle of self-hatred and destructiveness."
You need hobbies, activities, friends, and interests outside of police work. I've worked hard on myself to cultivate these attributes. It makes leaving the profession much easier if you are not emotionally identified with the job you do.
If you are a cop, you absolutely need this book. Buy it and read it every couple years. If you are the family member/spouse of a cop, you need the book as well. It will explain a lot of puzzling aspects of your loved one's personality.
Emotional Survival for Law Enforcement is available at Amazon.com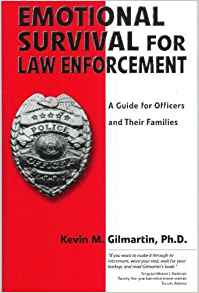 If you would like to learn more, check out my Recommended Reading Page as well.
Some of the above links (from Amazon.com) are affiliate links. If you purchase these items, I get a small percentage of the sale at no extra cost to you.