Written by: Greg Ellifritz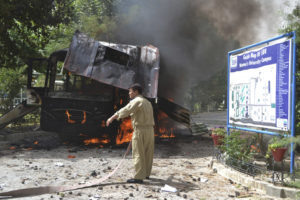 I find it very instructive to pay attention to the tactics that suicide/homicide bombers use in other countries. Those tactics eventually get exported to places like the USA after they've been perfected by the terrorist bombers.
The most recent large attack occurred in Pakistan. Bombers placed a large package bomb of some type on a bus filled with students from a women's university. It was either on a timer or remotely detonated. At last count, it killed 12 of the students and wounded 20 more.
The wounded people from the bus were taken to a nearby hospital. As the hospital filled with the injured girls' families and loved ones, a suicide bomber walked into the emergency room and blew himself up, killing 11 more people. The people who survived the bomb blast fled the hospital, only to be attacked by snipers placed on roofs around the area. This three-pronged attack was very successful and would likely work just as well here in the USA. For more information, check out the article below:
Let's take a look at some of the lessons we can learn from this horrible attack:
1) The terrorist seek targets that will cause an emotional reaction. They chose a bus filled with women and girls for this attack. They likely wouldn't have received the same response if they had blown up a bus full of male construction workers on their way home from work. One way to analyze the vulnerable targets in your life is by thinking about which ones would likely create the greatest emotional response if attacked.
2) The bomb was left inside the bus and no one noticed. We don't yet know how the bomb was packaged, but historically most bombs of this type have been concealed in backpacks, luggage, or boxes. Be alert for any abandoned property in any public place!
3) The secondary device. Bombers will often use the initial bomb primarily to create a reaction or funnel people in a certain direction. They then set off a second bomb in the crowd that is created by the first. Hospitals are increasingly becoming popular secondary device targets. If you hear of one bombing, expect another! Stay away from any vulnerable secondary targets. If you are a police officer, you need to think about providing additional security to protect our medical resources after a bombing. Put officers in place to protect hospitals and medical clinics. Don't forget firehouses and ambulances either. If you are a medic, consider sending casualties to multiple hospitals (if possible) to help reduce the death toll as well.
4) The three-pronged attack. Terrorist groups inspired by Al-Qaeda use similar battlefield tactics. One doctrine to which they subscribe is that of the three pronged attack. They build redundancy into their plan. They expect one attack to be thwarted by police. They expect another attack to fail. Having a third will guarantee success. If all are successful, even more casualties will be created. If you are in the area of one terrorist attack, expect at least two more! If you are a police or fire commander, don't deploy all of your available assets to the scene. Keeps some people in reserve to respond to additional threats.
5) Combining bombs and active shooters. The terrorists here combined a bus bombing, a suicide bomber in the hospital, and a firearms attack/siege to accomplish their goals. This tactic is becoming more and more popular. It causes more chaos and a larger body count. If you are in an area that is bombed, expect the surviving casualties to be fired upon. Stay away from large groups of evacuees or predictable evacuation areas. Conversely, if you find yourself in the middle of an active shooter event, be especially alert for explosive devices as well.
The only way we can prevent or counter such events here in the USA is to study the terrorists' tactics abroad. Pay close attention because we will be seeing the same things here soon.