Written by Greg Ellifritz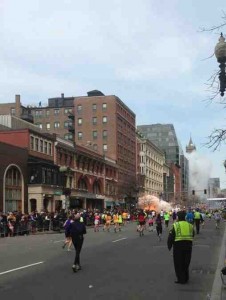 Yesterday, at least two bombs exploded near the finish line of the Boston Marathon.  At least three other secondary devices were located in the area before detonation.  At last check, three people have died and more than 100 were injured.
In July of 2011, I wrote an article called All About Bombs, covering bombing tactics and countermeasures for potential victims.  In it, I wrote:
"We haven't seen many bombings (specifically suicide bombings) in the USA, but they are coming. Bombs are the weapons of choice among terrorists worldwide. It's only a matter of time that they become more commonplace here. Read the information below NOW, so that you'll be ready when it happens here!"
I'm sad to say that for many, it is too late.  I fear we are going to see an ever-increasing number of bombs being used against our citizens in the USA.
I re-read the article I wrote a couple of years ago.  The information hasn't changed.  It's still up to date and provides the best advice I can give about dealing with bombing incidents.  It's a long one, but it's worth your time.  You can find it HERE.  I urge all of you to take the time to read it.
As for some issues specific to yesterday's attack….
– The bomber(s) placed multiple secondary devices, some several hundred yards away from the original explosions.  If you are around an explosion and aren't injured in the blast, GET AWAY!  Don't linger in the area where the bomb went off.  More explosions are coming.
– Some witnesses described a man carrying two backpacks placing the devices in trash cans.  Who carries two backpacks?  Who puts full backpacks in trash cans?  Recognize that almost all recent western bombs have been concealed in backpacks or luggage.  Be alert for people carrying luggage in strange places.  Look for exceptionally heavy luggage or odd amounts as well.  If you see something strange, get out of the area and contact police.
– Speaking of luggage, if you do survive a bomb going off, please don't dump your purse or backpack on the ground as you make your escape.  It will be viewed as a suspicious package and will tie up bomb squad resources that would be better deployed defusing actual bombs.  Don't make the problem worse.
– I expect several copycat bombings in the next few days.  Crazy people will see the notoriety that the bombing created and will want to cash in on the fame.  Be especially alert in any situation where multiple people are attending an event of importance with movements constrained by natural or artificial barriers.  That's where terrorist bombers tend to strike.
– The next few days are also historically important dates, placing us in even more danger.  Today is the 6th anniversary of the Virginia Tech massacre.  April 19 is the 20th anniversary of the Waco incident and the 18th anniversary of the Oklahoma City bombing.  April 20 is the 14th anniversary of Columbine.  These dates are significant for both terrorists and crazies.  Be especially on guard.
If you want more advice, check out All About Bombs.  Be careful.  Things are about to get exciting.