During my last range practice session, I started out with the Rangemaster "Armada" drill as described in the January 2023 Rangemaster newsletter.
I really enjoyed the drill. It's simple to perform and only 20 rounds. It's an excellent opportunity to test your skills and test your relative abilities with all the guns you carry. Every stage of the drill is shot at the 18 foot distance. Here are the details and stages as described in the newsletter.
Target- B8, B8-C or FBI-IP1. Scored as printed, except anything further out than the 7 ring is zero points.
Hit factor scoring- record the time for each string. Total points divided by total time = score.
Both hands, draw and fire 6 rounds.
Start at Ready, gun in dominant hand. Dominant hand only, 4 rounds.
Start at Ready, gun in non-dominant hand. Non-dominant hand only, fire 4 rounds.
Start with 4 rounds in the gun, holstered. On signal draw, fire 4 rounds, reload immediately, and fire 2 more rounds, using both hands.
20 rounds total. 200 raw points possible. Par score is 8. Your goal is a score higher than 8, the higher the better
I started the drill with my .22 magnum S&W 351C. The reloads suck with this gun. I used a SpeedBeez speedloader for this drill and drew the gun from inside the waistband using a Clipdraw. This was my worst performance, but I still met the minimum standard Tom wants to see (barely).
181 Points
22.01 seconds
8.22 score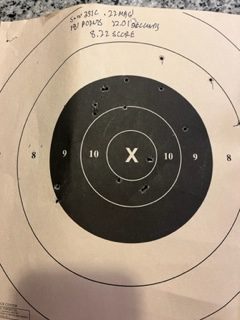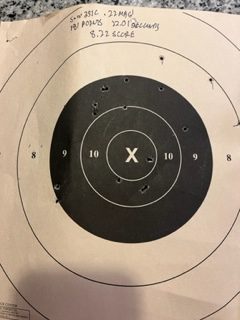 I then shot the drill with my 9mm Smith and Wesson Shield out of a Keepers Concealment Errand Holster.
183 points
16.76 seconds
11.18 score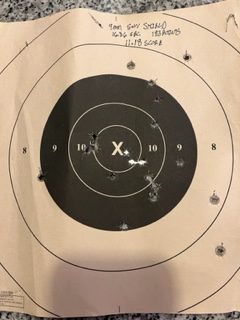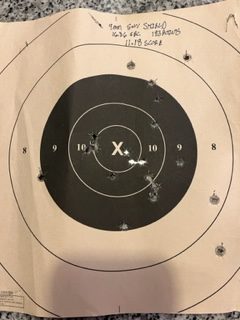 Next, I shot my Glock 19 out of a Keepers Concealment Cornerstone holster. I got my best score with this combination.
187 points
14.95 seconds
12.48 score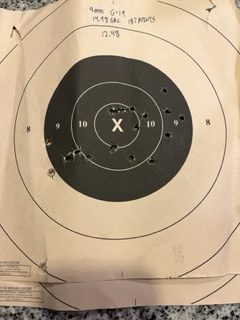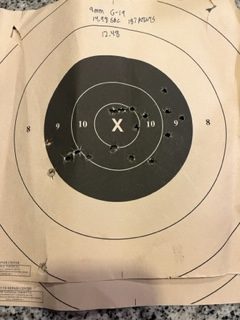 Finally, I tried the drill with my Glock 42 shot out of a Dark Star Gear holster.
175 points
17.06 seconds
10.26 score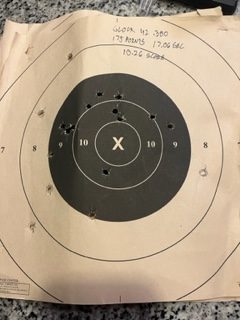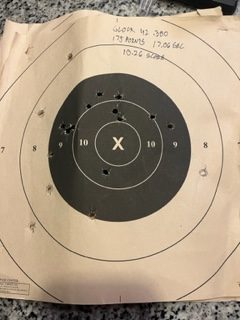 It's interesting to compare the largest gun to the smallest guns I tested. I think you should give this one a try with all your carry guns. If you can pass with some, but not with others, you might re-evaluate your carry choices.